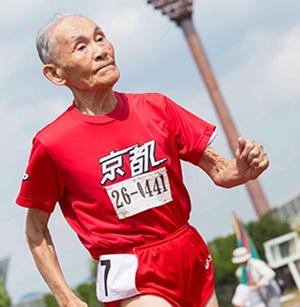 A fleet-footed Japan's 105-year-old raced into the Guinness World Records book on Wednesday.
Hidekichi Miyazaki broke his own record for oldest competitive sprinter after running in the 100m at the Kyoto Masters Athletics Autumn Competition in Kyoto, Japan.
Miyazaki was born on 22 September 1910, finished the race in 42.22 seconds. He declared himself a 'medical marvel' as he continues to stalk sprint king Usain Bolt.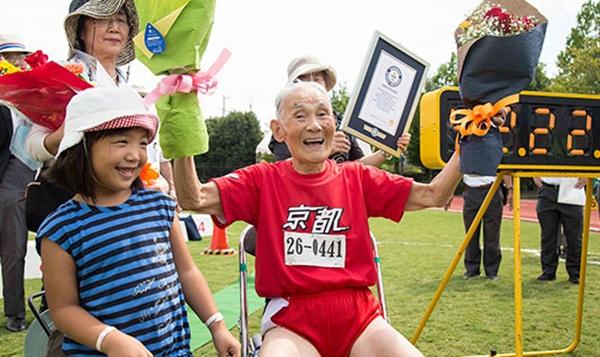 Japan's Hidekichi Miyazaki poses. Photograph: Guinness World Records
Dressed in red tight shorts, Miyazaki, got off to a wobbly start before finding a gentle rhythm and trotting across the finish line to loud cheers.
Miyazaki is often referred to as the 'Golden Bolt' because he boldly imitates Usain Bolt's renowned lightening pose.
The 'Golden Bolt' had previously set the record on two occasions, the first time in 2013 at the age of 103, after finishing 100m in 34.10 seconds.
Job done on the track, the Japanese Japanese centenarian dabbed his hands at the shot put, tossing a best effort of 3.25 metres.
"My secret is that health comes first," added the poster boy for Japan's turbo-charged geriatrics.