Angel di Maria's move from Real Madrid to Old Trafford was such a disaster that Manchester United was more than willing to incur losses of more than 15 million pounds on their investment.
Bikash Mohapatra/Rediff.com looks at the Argentina star's nightmare year at the 'Theatre of Dreams'.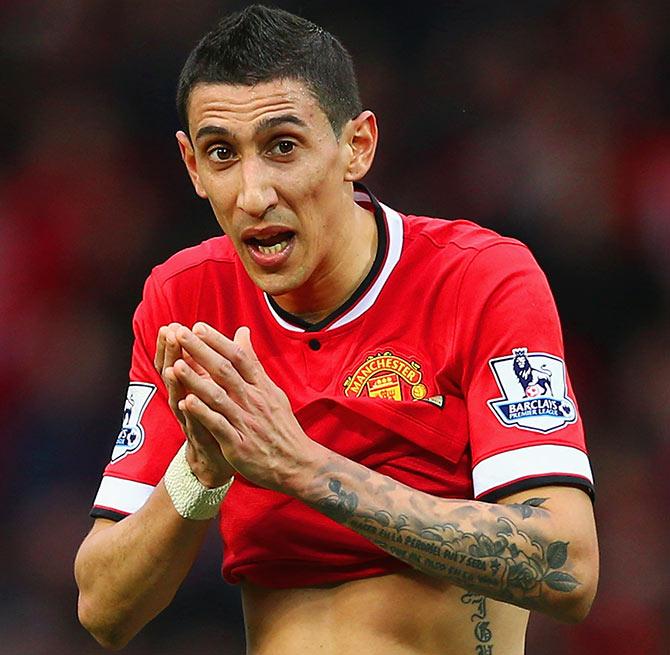 Image: On August 26, 2014, Angel Di Maria officially became a Manchester United player. At 59.7 million pounds, it was a British record signing. Photograph: Clive Brunskill/Getty Images
It was a 'deal' flawed from inception to conclusion.
On second thoughts, it wouldn't be apt to call it a deal. It was rather, a statement of intent, from both the parties concerned.
For Angel di Maria, it was a means to show Real Madrid that he can command, and get, a hefty pay package.
For Manchester United, it was part of strategy to show the world that they could still attract big names.
So, on August 26, 2014, Di Maria officially became a United player, signing a five-year deal, and, in the process, became - at 59.7 million pounds - a British record signing.
'United is the only club that I would have left Real Madrid for,' he declared upon arrival.
Less than 12 months later, Di Maria has left United and joined Paris Saint-Germain. The player was such a disaster at Old Trafford that the club was more than willing to incur losses of more than 15 million pounds on their investment.
So what exactly went wrong?
Money was all that mattered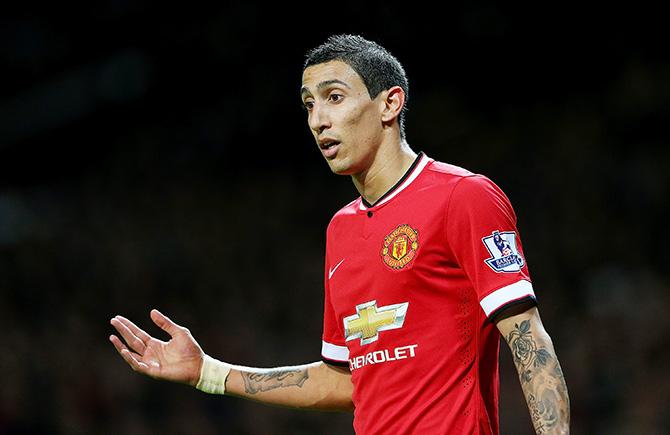 Image: Angel Di Maria gestures during Manchester United's Barclays Premier League match against Chelsea at Old Trafford. Photograph: Alex Livesey/Getty Images
Di Maria wanted more money.
Having played a stellar role in Real's La Decima success - a 10th Champions League title in 2014 - the Argentine demanded a pay hike, on par with Cristiano Ronaldo and Gareth Bale, and made his intentions clear to his employers in Madrid.
However, the Spanish club did not heed to the blackmailing tactics and refused to cave in to his financial demands.
Carlo Ancelotti, his coach at Real, revealed the same late last year.
'Di Maria asked for a lot of money and preferred to leave to go find it. The club couldn't give him the money he wanted,' the Italian was quoted as saying.

At the time United was the only club capable of meeting the player's demands.
Suffice to say Di Maria liked, and took, the money United offered, but, mentally, was never there.
To Paris…with love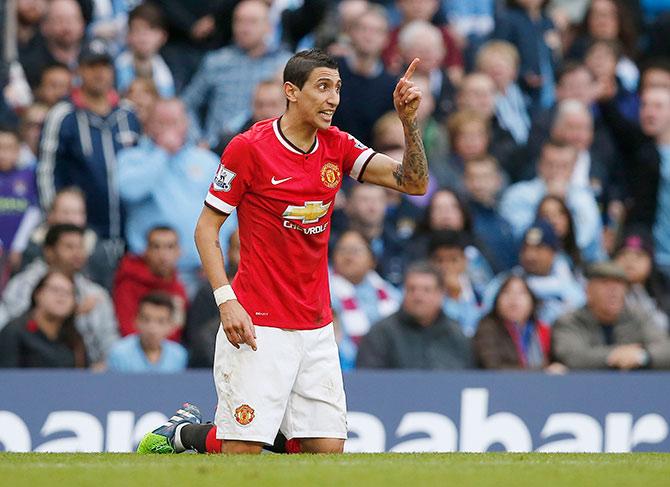 Image: Manchester United's Angel Di Maria reacts during a English Premier League match against Manchester City. Photograph: Andrew Yates/Reuters
The 27-year-old had in fact made up his mind to move to the French capital last year.
As mentioned above, Di Maria to Manchester was not a planned deal. The Argentine winger was poised to join PSG last year.
Both the parties were keen to proceed towards a deal. However, the French champions had already splurged 50 million pounds on David Luiz, and UEFA's Financial Fair Play stopped them from making a big money move.
Last October, Di Maria revealed that PSG's financial problems prevented him from joining the Ligue 1 champions.
'PSG, I think they had a money problem and they couldn't buy players. This is the main reason I didn't go there,' he was quoted as saying by French station Telefoot.
It was also at that time the player did not rule out a future move.
'It could have been a good experience for me to go to Paris. I know I'm still young, perhaps I'll go to PSG one day.'
Now which player makes such statements only a couple of months after joining a new club.
He finally has his wish fulfilled though.
Desperate measures in Manchester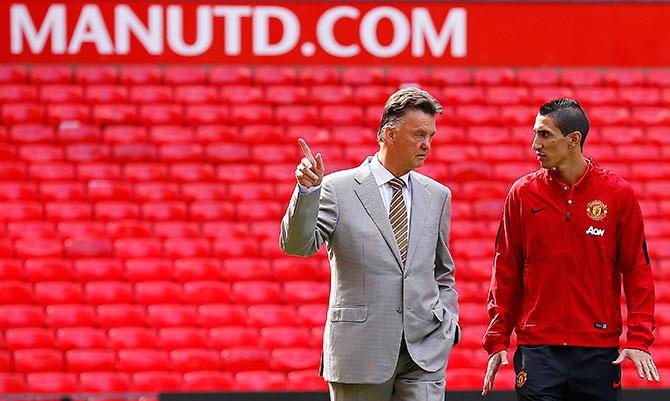 Image: Manchester United's new signing Angel Di Maria (right) speaks with manager Louis van Gaal. Photograph: Darren Staples/Reuters
Manchester United had endured a forgettable campaign under David Moyes the previous year, finishing seventh, and failing to qualify for Europe for the first time in more than two decades.
Palpably, the club was under tremendous pressure.
From signing a proven manager (in Louis van Gaal) to paying shambolic sums to acquire unproven talents - Ander Herrera, Luke Shaw and Marcus Rojo - the club was desperate to turn the tide.
On the positive side, though, their failures on the pitch coincided with successes off it. United's immense commercial appeal had ensured increased corporate sponsorships and the club made a sizeable profit last year.
The need was to make that one big ticket signing.
However, with United not playing in Europe, many top players were hesitant, despite being offered big money.
Di Maria eventually showed interest. And there wasn't much thinking that went behind his signing.
Did he actually fit into the United mould? Could Di Maria adjust to the Premier League? Wasn't the club paying too much? Was he even worth it? Such questions were conveniently ignored.
Needless to say, United paid a heavy price for it.

A player who lost control... more often than not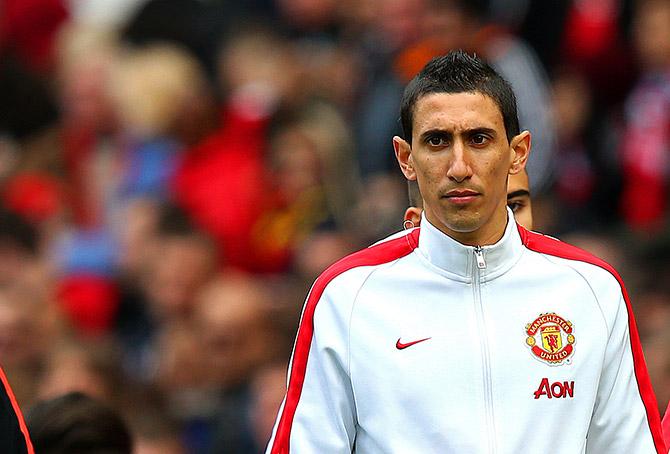 Image: Angel di Maria during a Manchester United training session. Photograph: Alex Livesey/Getty Images
A lot has been said regarding the start Di Maria had in Manchester.
Indeed, the Argentine began his Old Trafford career brightly, racking up three goals and four assists in his opening six matches.
What needs to be understood, though, is the fact that at the time there was a little bit of surprise element about the player. The other clubs took a while to understand how he played.
However, the same can't be said of the player. It won't be an exaggeration to say the winger failed to change his style and adapt to the Premier League, its physical nature. There're a few injuries as well, but nothing serious to offer as an explanation for poor form.
As the season progressed, Di Maria struggled to keep pace, losing the ball easily on many occasions.
After he failed to complete a single one of his 12 crosses against Crystal Palace in November, Van Gaal was left frustrated.
'Sometimes you cannot dribble, so you have to make it a passing game, and Di Maria is not a player who wants to give a pass every time he gets the ball. Therefore, he lost the ball a lot and that was not good for the balance of the team,' quipped the irate Dutchman.
Di Maria subsequently lost his place to a rejuvenated Ashley Young, and never even attempted to win it back. In fact, in his final months in Manchester the only thing the Argentine did was to sulk.
Premier League tougher than Primera Liga?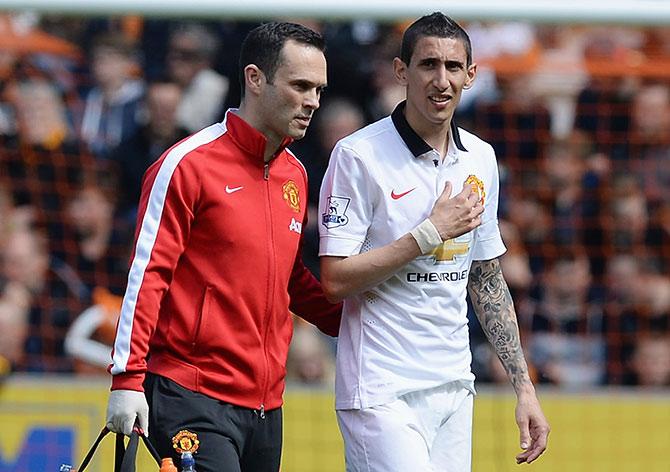 Image: Angel di Maria receives medical treatment during Manchester United's Barclays Premier League match against Hull City. Photograph: Nigel Roddis/Getty Images
A few days later, Ancelotti concurred with Van Gaal's views, while criticising the Argentine's occasional lack of focus during his time in Madrid.
'Di Maria could take matches by storm with his energy, but he also used to lose control sometimes, misplacing important passes,' Ancelotti told Onda Cero.
Van Gaal could be accused of playing the Argentine out of position on occasions, but, in the final analysis, it is up to a player to deliver what his manager wants. Bastian Schweinsteiger did it. So did Thomas Mueller, and Anton Valencia.
It was this reluctance to adapt that cost Di Maria a place in the starting line-up. He started in only one of the final 10 games of last season.
The player admitted his failure.
'I'm not happy with my first year in England. It was another country and this league is harder than the Spanish one. So, I couldn't adapt myself as I wanted to,' Di Maria was quoted as saying, while promising to stay put.
'I will move back to Manchester for next season and do my best there. The fans in England have not seen the real Di Maria.'
United wanted him to be their leader. He clearly wasn't. In Madrid, he took refuge behind star names like Cristiano Ronaldo and Gareth Bale. In PSG, he will have the likes of Zlatan Ibrahimovic and Edinson Cavani covering him.
At United the big names like Robin van Persie and Radamel Falcao were themselves struggling. Di Maria was meant to be their key player, the game-changer. He didn't even try.
Unprofessional… but of course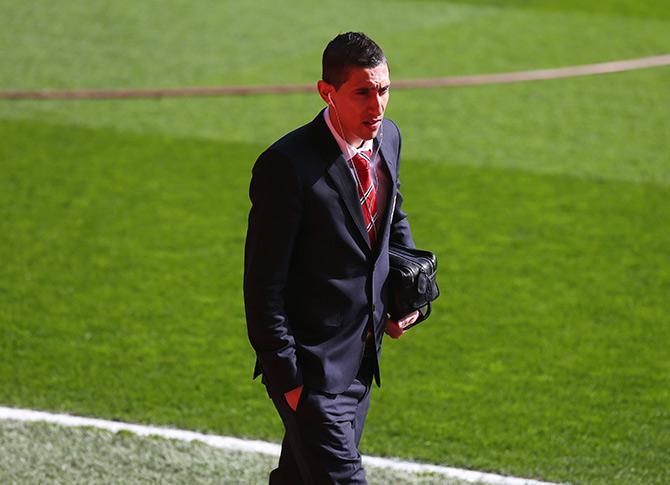 Image: Angel Di Maria arrives for Manchester United's Barclays Premier League match against Liverpool. Photograph: Alex Livesey/Getty Images
Whether he had issues with Van Gaal or not, it was important for Di Maria to be a thorough professional, considering his high fee.
It is here that he was the most disappointing.
First there were reports that his form suffered after an attempted robbery at his Cheshire mansion in January. It need not be said that it is imperative for a player to keep his personal issues away from the field.
Secondly, the Argentine was due to report for duty during the second leg of United's pre-season tour of the United States late last month. Despite being sanctioned an extended break following the Copa America he failed to show, prompting Van Gaal to declare, 'I don't know where he is'.
This was followed by reports of an imminent deal with PSG, with Laurent Blanc claiming it was 'close.'
It is not wrong in looking to leave, securing better deals with other clubs. However, being unprofessional is unpardonable.
Di Maria didn't have to look elsewhere for a good example. His teammate David De Gea has been involved in a similar long drawn transfer saga (involving Real Madrid). However, the Spaniard was professional enough to be part of the team.
Di Maria's unprofessional behaviour, coupled with his inability to adapt or fight for a place, has made Van Gaal admit that signing him was a 'mistake.'
And despite having the player under contract, United didn't hesitate to rectify their mistake, and sanctioned a transfer.
Di Maria now gets his wish. He is a PSG player. But his time at Old Trafford will be remembered as an epic failure, a blot in his career.
Good riddance!