'We are all in shock'
'The game and the goals move into the background on a day like this'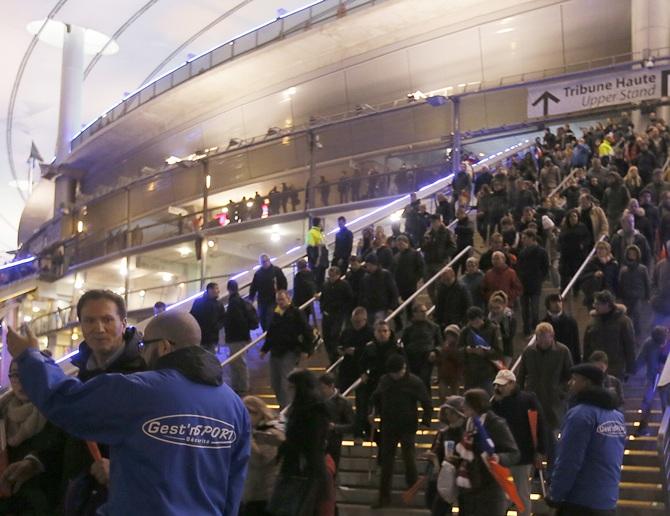 IMAGE: Spectators leave the Stade de France where explosions were reported to have detonated outside the stadium. Photograph: Gonazlo Fuentes/Reuters
German national football team manager Joachim Low has admitted his side were 'scared' ahead of Friday night's friendly with France due to an earlier bomb threat in the capital.
The chilling similarities between Paris tragedy and Mumbai 26/11 attacks
Olivier Giroud and Andre-Pierre Gignac scored as Euro 2016 hosts France beat world champions Germany 2-0 in a friendly overshadowed by attacks in the French capital that, according to early media reports, over 150 dead on Friday.
President Francois Hollande was in the stadium but was rushed away as blasts were heard near the venue north of Paris.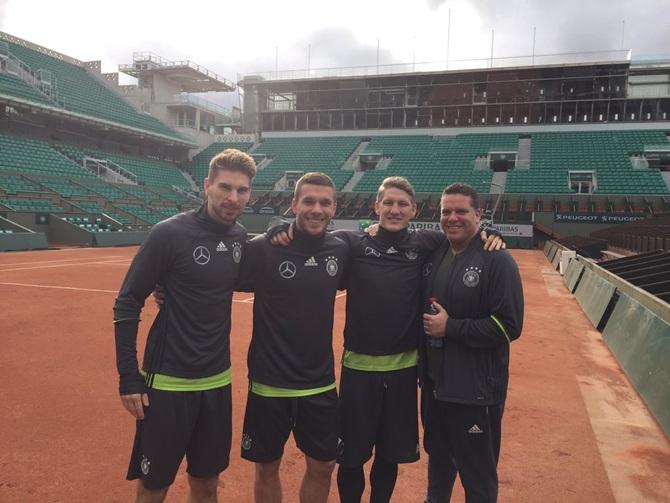 IMAGE: Germany forward Lukas Podolski, second left, Bastian Schweinsteiger second right, pose. Photograph: Twitter
The French, missing the injured Karim Benzema and Mathieu Valbuena following a sex-tape scandal, had to wait until the stroke of halftime to make an impact with Giroud continuing his fine scoring run this season by slotting the ball in from an Anthony Martial cut-back.
Gignac headed the second goal in the 86th minute to seal victory in a game during which several explosions were heard in the first half and the crowd briefly panicked at the end.
Police helicopters circled the stadium at the final whistle after Hollande had left for the interior ministry.
"We are all in shock," said Germany coach Joachim Loew. "The game and the goals move into the background on a day like this.
"We were told in the changing rooms what had happened. All of us on the bench were a bit scared because of a bomb threat earlier today when we spent three hours outside (our hotel)."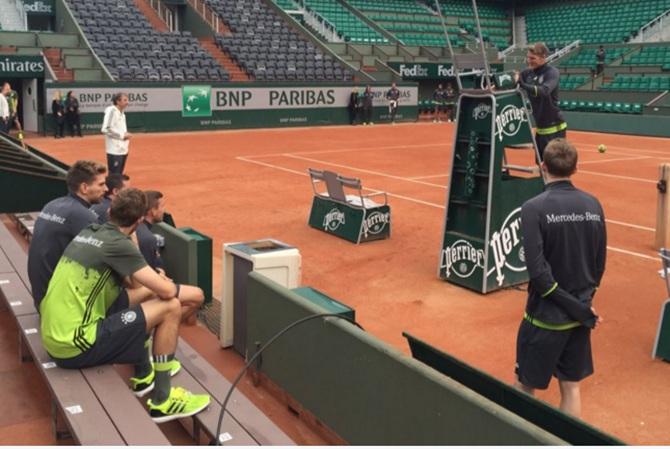 An anonymous caller phoned in the threat at 9.50am (French time) and that members of Germany's squad and all other guests were evacuated.
While the police did their searches, Germany's players spent some time at Roland Garros, home of the French Open.
If we can't be at the hotel, we may as well do some sight-seeing!, said Die Mannschaft on Twitter.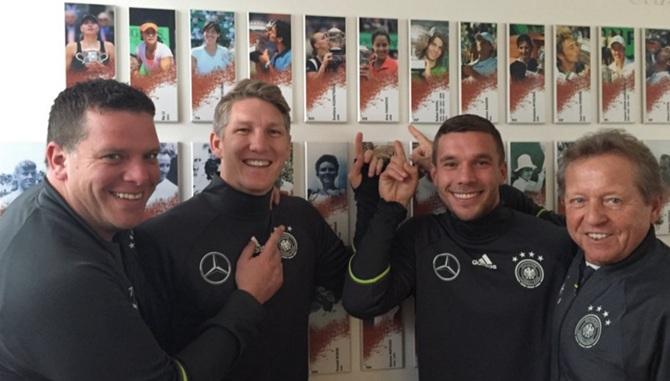 Germany forward Lukas Podolski posted a photo on his Twitter account of himself standing on court alongside midfielder Bastian Schweinsteiger and two other Germany team members.
Die Mannschaft came for a little visit in Roland Garros this morning. No cleats on the clay guys!, tweeted Roland Garros