McLaren set their sights on celebrating their 700th Formula One race with a win after Lewis Hamilton led a one-two with Jenson Button in a wet Korean Grand Prix practice on Friday.
Button won in Japan last Sunday, after setting the pace in all three practice sessions there, and team principal Martin Whitmarsh hoped they could mark the milestone with another triumph.
"We've only had a few days to celebrate it (Button's victory), that's the trouble with winning the first of a back-to-back, but hopefully we will be able to move on from there and be successful here," he told reporters.
McLaren have already lost out in the drivers' championship, with Germany's Sebastian Vettel becoming the sport's youngest double champion at Suzuka while his Red Bull team moved closer to the constructors' crown.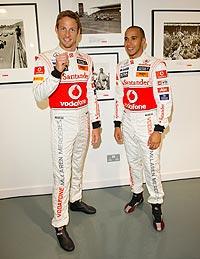 Red Bull will clinch that for the second year in a row if McLaren, who have not won the team title since 1998, fail to score more points than them in Yeongam.
The champions remain mere newcomers, however, in comparison to McLaren, who have been around longer than any team other than Ferrari.
The team founded by the late New Zealander Bruce McLaren in 1966, made their debut in Monaco that year and took a first win in Belgium two years later.
"We are very proud of it," said Whitmarsh of the achievement in racing through the decades. "Our friends at Ferrari have been around longer than us but 700 is still an important milestone.
"It's just a moment of reflection but apart from that clearly we've got to look forward. It would be nice to think we'll be here still alive and competitive in another 700 grands prix.
"I think it's a great achievement for the team and for the brand."
McLaren have won 12 drivers' championships, their first with Brazilian Emerson Fittipaldi in 1974, and eight constructors' crowns.
Ferrari, the only team to have competed in Formula One since the first world championship in 1950, will be starting their 828th grand prix on Sunday.