Sahara Force India has conceded that sixth place is out of their reach with just two races left in the season as the side prepares for the US Grand Prix, which is making a Formula One comeback after five years.
The gap between the Indian team (95) and the sixth-placed Sauber is 29 points.
"With two races to go, Sauber are almost out of reach and Williams are just 22 points behind us. The opening lap (at Abu Dhabi) was frustrating, but we all recognise that these things can happen in racing. The important thing is to look forward and make sure it doesn't happen again," Team Principal Vijay Mallya said.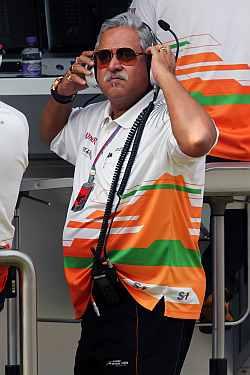 Paul Di Resta also felt the same but exuded confidence of staving off the challenge from Williams.
"I think under normal circumstances you'd probably say Sauber are out of reach. Williams looked good in Abu Dhabi, but I think we're in a strong enough position to defend from them," the Scot driver said.
The F1 action will return to the United States at the brand new circuit in Austin.
"It's such an important market for the teams and the brands associated with the sport so it's a very welcome return to the calendar. Visiting a new venue always presents us with new challenges, but from what I've heard we can expect a first class facility. As for the city, Austin is a friendly place with good hospitality and I'm sure we will receive a very warm welcome," Mallya said.
Nico Hulkenberg, who is leaving the side for Sauber, said he has learnt about the new track but finds it interesting.
"I've driven the lap on a simulator so I've got the layout in my head. It's pretty much an average medium-speed track with a lot of elevation changes. Turns three to six are high-speed with lots of change of direction -- a bit like Maggotts and Becketts at Silverstone. There are some big stops and some low-speed sections towards the end of the lap too. So pretty much a bit of everything," the German Paul Di Resta said.
"Austin will be an unknown but it's a new track so it's likely to be similar to Abu Dhabi with new tarmac and a smooth surface. So there's every reason to believe we can be competitive there."
Photograph: Buddh International Circuit