Sanchez will stay at Arsenal, says captain Mertesacker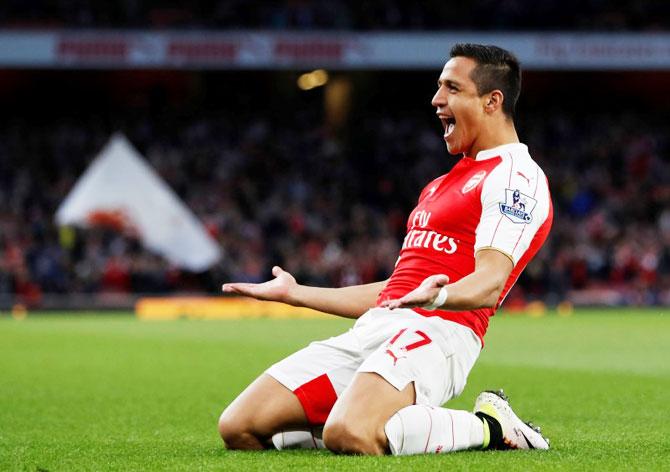 IMAGE: Arsenal's Alexis Sanchez celebrates. Photograph: Paul Childsdetails/Action Images via Reuters
Arsenal captain Per Mertesacker believes Alexis Sanchez will not leave the Premier League club in the transfer window, despite the Chilean striker entering the final year of his current contract with no new deal in sight.
Sanchez scored 30 goals in all competitions as Arsenal lifted the FA Cup but endured an underwhelming league campaign, finishing fifth in the standings and failing to qualify for the Champions League for the first time in two decades.
Sanchez's contract negotiations dragged on during the latter stages of last season but German central defender Mertesacker is confident that the 28-year-old will remain at the Emirates for the next campaign.
"Yes, definitely," Mertesacker told Fox Sports when asked if Sanchez was staying. "We have a strong squad and we do not want to lose any players.
"Even in their final contract year we need them. We cannot afford to lose them. If you're talking about championships, to keep our best player is key.
"I think he was impressive in the Confederations Cup, he's now on holiday... But he's a warrior on the pitch. I think he wants to come back as quickly as possible -- he hates holidays, he hates to calm down."
Sanchez, who is his country's record goal scorer and helped the team reach the Confederations Cup final earlier this month, had previously expressed his frustration with Arsenal's failure to challenge for the league title.
Arsenal are currently in Australia where they play two pre-season friendlies, starting against Sydney FC on Thursday.
Carrick succeeds Rooney as Manchester United captain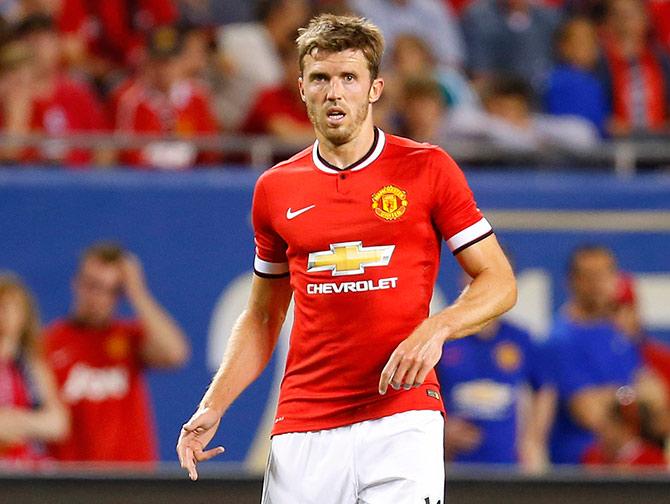 IMAGE: Manchester United's Michael Carrick. Photograph: Jeff Haynes/Action Images via Reuters
Manchester United's long-serving midfielder Michael Carrick will replace the departed Wayne Rooney as captain, the Premier League club said on Tuesday.
Former England skipper Rooney's return to his boyhood team Everton left the armband vacant, with 35-year-old Carrick, whose testimonial was held at Old Trafford last month, taking over.
"It feels great and it is such a huge honour to captain such a great club," the long-serving Carrick told MUTV.
"It is my 12th year now and I came as a 25 year old. I never thought I could be here for so long and achieve so much.
"I will just be myself, you can't change and it is wrong to come into the role and then suddenly change, shouting and screaming at everyone, telling them what to do.
"I will speak when I need to speak, but I am quite laid back and chilled out really. I will try to lead by example."
Carrick has made 459 appearances for United, scoring 24 goals, and penned a one-year contract extension in May to keep him at Old Trafford for the coming season.
Bayern's Costa undergoes medical at Juventus
Bayern Munich winger Douglas Costa is undergoing medical tests at Juventus ahead of his expected move, the Italian champions said on Wednesday.
"Douglas Costa is currently undergoing a routine medical ahead of a proposed transfer from Bayern Munich," Juventus said on their website (www.juventus.com).
The Brazil international, capped 21 times, will join Juventus on a loan for a fee of 6 million euros ($6.88 million), according to Italian media.
The contract should also envisage the option to make the move of the 26-year-old permanent for 40 million euros.
Costa spent five years at Ukrainian top-tier club Shakhtar Donetsk before joining the Bundesliga champions in 2015, making 23 league appearances last season and scoring four goals.
Alves joins Paris Saint-Germain on free transfer
Dani Alves has completed a surprise move to Paris Saint-Germain, the French club said on Wednesday.
"I am extremely happy to have joined PSG," Alves said after signing a two-year contract following his release by Juventus.
"The past few years I saw the formidable growth of the club and its place as one of the strong teams in European football. It is exciting to be a part of this grand project," added the 34-year-old full-back.
The Brazilian had seemed likely to link up with his former Barcelona manager Pep Guardiola at Manchester City.
Alves spent four years under Guardiola in Spain, winning the Champions League twice in that time, but a reunion never materialised.