This and more from the happenings in the world of football
Former Manchester United defender Brown joins Indian side Kerala Blasters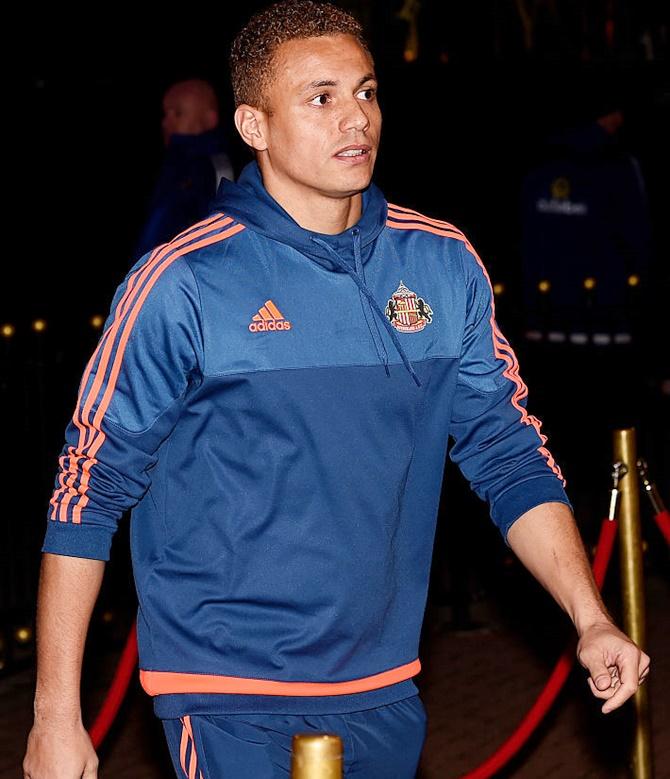 IMAGE: Wes Brown set to arrive in Kochi. Photograph: Stu Forster/Getty Images
Indian Super League's Kerala Blasters have signed former Manchester United defender Wes Brown ahead of the 2017-18 season, the Kochi-based franchise said on Tuesday.
The 37-year-old was a free agent after making five appearances for Blackburn Rovers in the English Championship last season.
"Hello India, Happy Independence day! I'm coming soon to the exciting Indian Super League to play for Kerala Blasters," Brown tweeted, shortly after Kerala made the announcement.
A United academy product, Brown made 362 appearances for the first-team between 1998 and 2011, winning five Premier League titles and two Champions League trophies.
Brown, a former England international, will link up with Kerala's new head coach Rene Meulensteen, who worked with the him during his time at Old Trafford.
Confusion over transfer dealings underlies Chelsea's woes
After a season in which they dominated the Premier League, winning the title by seven points, Chelsea are looking far from comfortable after just one game of the new campaign.
The 3-2 loss to Burnley on Saturday, in a game where Chelsea ended with nine men on the field, was a disappointing start. But the problems at the club go deeper than just one setback on the field.
Nor is the standoff with Brazilian-Spanish striker Diego Costa the source of the malaise at Stamford Bridge. It does, however, point towards the possible source of Chelsea's problems - tension between the manager, Antonio Conte, and the club's hierarchy.
Chelsea's Russian owner, Roman Abramovich, remains, as always, silent in the background. But Conte has done little in his public statements to challenge the view that he is unhappy with the club's transfer dealings.
The club have invested a combined 124 million pounds ($159.59 million) on Alvaro Morata from Real Madrid, Antonio Rudiger from AS Roma and Tiemoue Bakayoko from Monaco, but Conte has been clear that he has a "small squad" for the double challenge of a title defence and a Champions League campaign.
Asked on the eve of the season why more new players have not been bought, he said: "Everyone is trying to do their job but, for sure, I think this question is good for the club – not for me.
"What do they tell me? We have to wait for the best moment, the best solution. We have to wait," he said.
The sale of midfielder Nemanja Matic to title rivals Manchester United appeared to many a strange decision. Whether the club or the manager wanted him to leave is a matter of dispute.
Injured Tevez to return to China after Argentina treatment
Carlos Tevez has been granted a return to his native Argentina for treatment on a calf injury, but only after agreeing in writing to return to Chinese Super League side Shanghai Shenhua before the end of the month.
Speculation has been mounting in local media that the former Manchester United and Juventus forward was attempting to orchestrate a move back to Boca Juniors, who sold the 33-year-old to Shenhua for 11 million euros ($12.93 million) in January.
He has played just 11 times in the league for Shenhua, scoring twice, with his fitful performances blamed on the injury that first occurred in April.
Tevez asked Shenhua to allow him to return to his native Buenos Aires for further treatment.
"According to the request from Carlos Tevez to our club, after discussion, we now approve his request," Shenhua said, according to the South China Morning Post.
"He's permitted to go back to Argentina and receive treatment at the Clinica Jorge Bombicino and he must rejoin the team on August 30 and participate in training."
Tevez signed a two-year contract with the CSL side in January and according to media reports earns wages in the region of $800,000, making him one of the highest paid players in the world