News of all that's transpired on and off the football field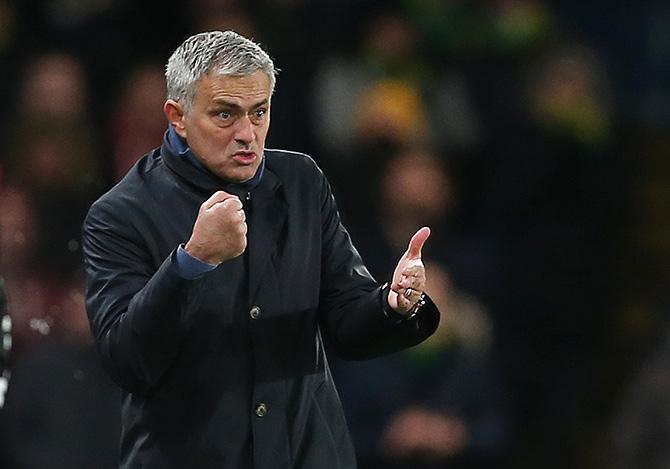 IMAGE: Manchester United boss Jose Mourinho during the Premier League match . Photograph: Matthew Childs Livepic/Action Images via Reuters
Manchester United boss Jose Mourinho insists he still has a good relationship with former club Chelsea despite a recent war of words with his Stamford Bridge successor Antonio Conte.
Mourinho's side host Chelsea in a crucial top-four Premier League battle with much of the pre-match talk centred around the apparent bad feeling between himself and Conte.
The Portuguese opted not to talk about that spat at his news conference on Friday, describing Conte as a "very good manager".
Instead he spoke of his relationship with the Chelsea hierarchy, for whom he delivered three Premier League titles in two stints as manager.
"I have a good relation with the board, I don't forget how nice they were to me in a difficult period with departure of my father," he said. "They show me in that moment they feel me as a friend that did his best for the club and respects the club.
"So in relation to the board they know the relation with me is always good, with the players, I don't have many problem, any regret, any stone on my shoes."
Mourinho's return visits to Stamford Bridge with United last season, in the league and in the FA Cup, ended in two defeats and some sections of the home crowd heckled him with chants of 'you're not special any more.'
Chelsea also beat United this season at home, so Mourinho will be eager to redress the balance on Sunday when victory would lift them six points above fourth-placed Chelsea.
Whatever the result, Mourinho said he will have no problem with Chelsea's fans.
"No problem at all, and the fans are fans, with many of them in the street I feel that empathy and that relation that normally should be a connection and feeling forever," he said.
"When I play at Stamford Bridge, some reactions from the fans are just reactions."
Mourinho was also quick to praise record signing Paul Pogba after reports of a fall-out with the French midfielder after he left him out for this week's 0-0 draw in Sevilla in the Champions League last-16, first leg.
Pogba did come off the bench after 17 minutes to replace the injured Ander Herrera.
"You saw the game against Sevilla," Mourinho said. "It is always more difficult to come from the bench than to start.
"A player when he is starting the game has a different kind of preparation for it and it is easier. I think he had a very positive game for us.
"Sometimes players on the bench take five minutes to be ready to play. They don't have the shinpads or the strapping or the shirt or this or that. He took ten seconds to be ready to come to the pitch.
"He showed his professionalism and that despite being on the bench he was ready to play and to help the team. And he did."
Conte expects Pogba to start against Chelsea
Chelsea manager Antonio Conte has said it would be better for his side if Manchester United drop midfielder Paul Pogba again but expects his former protege to start when the two sides meet in the Premier League on Sunday.
Pogba, 24, developed into one of the most sought-after players in world soccer under the guidance of Conte after he swapped United for Italy's Juventus as a 19-year-old in 2012.
The France international, who returned to United at the start of last season, has been criticised for his performances in recent weeks and manager Jose Mourinho again benched Pogba for the goalless Champions League draw at Sevilla this week.
"I expect to see him on the pitch. If he stays out it will be better," Conte told a news conference on Friday. "We are talking about a top player, a fantastic player."
Pogba, who came on as an early substitute for midfielder Ander Herrera in Spain, has not completed 90 minutes for more than a month and Mourinho once again faced questions from reporters about his relationship with him after the match against Sevilla.
"Every coach has to find the right way to manage him. Pogba is showing at United as well that he is a top player," Conte added.
Chelsea will be without midfielders Ross Barkley and Tiemoue Bakayoko and defender David Luiz who all have injuries.
A win for the London side will put them level with second-placed United on 56 points and help them in their push to secure a Champions League place.
"It is a massive game for us, we have to give 120 percent and try to get three points," Conte said.
"From now on till the end, every game is important. Getting three points will be very important for us and very important for United too.
"The run for the Champions League is open and we must pay great attention because in this run there are many great teams and someone has to stay out of the next Champions League."
Villarreal suspend, stop paying Semedo after criminal charges
La Liga side Villarreal said on Friday they have suspended defender Ruben Semedo and taken him off their payroll, a day after the Portuguese player was charged with offences including attempted murder and held in custody without bail.
"While always respecting the notion that everyone is innocent until proven guilty, the club has decided to suspend the player from duties without pay until the ongoing case has been settled," Villarreal said in a statement on its website (www.villarrealcf.es).
"Villarreal would like to show its horror at the grave crimes the player Ruben Semedo was charged with," it said.
The 23-year-old defender was arrested on Tuesday for alleged involvement with others in holding a man who they threatened with a gun, according to media reports.
Semedo's agent Catio Balde told Portuguese television network TSF on Wednesday that his client had been tricked.
On Thursday a judge ordered that Semedo be held in custody without bail for charges also including robbery and illegal possession of weapons.
FIFA ends involvement in Neymar bonus dispute with Barca
FIFA has ended its involvement in Brazil forward Neymar's dispute with his former club Barcelona over an outstanding bonus payment of 43 million euros ($53.5 million), world soccer's ruling body said on Friday.
A spokesperson from the organisation told Reuters via email that as the dispute had been submitted to different bodies, understood to be the Spanish court system, FIFA was not in a position to mediate.
"The FIFA administration informed the parties to the dispute that based on the long-standing and well-established jurisprudence of FIFA's deciding bodies, it did not seem to be in a position to continue with the investigation of the affair," the spokesperson said.
"The proceedings were therefore closed for formal reasons."
A spokesperson for Neymar said last month that the Brazilian was suing Barca over the non-payment, saying the Paris St Germain player was due the amount plus 10 percent interest on the bonus he agreed for signing a new contract with the La Liga side two years ago.
Barcelona paid Neymar the first part of a signing bonus after he agreed a new five-year deal in 2016.
But last August the Spanish club said they were suing Neymar for breach of contract and wanted him to return the money he received before joining Ligue 1 club PSG for a world record transfer fee of 222 million euros ($273.13 million) in August 2017.
Neymar refused and the two parties have been at loggerheads since.
Neymar, 26, has scored 19 goals in 19 league games for PSG, helping lift them 12 points clear at the top of Ligue 1, although the French side need to stage a comeback against Real Madrid if they are to remain in the Champions League.
PSG lost the first leg of their last-16 tie at Real 3-1 and host the 12-times European champions in the return leg at the Parc des Princes on March 6.