News of all that's transpired on and off the football field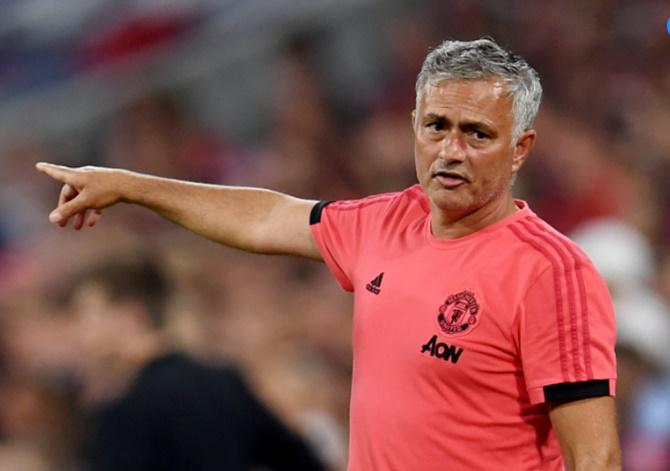 Jose Mourinho has taken a swipe at Manchester United's detractors a day ahead of his side's Premier League opener at home to Leicester City.
United's boss, about to begin his third season at the helm at Old Trafford, has cut a disgruntled figure during the summer, apparently unhappy with the club's transfer window activity.
Mourinho sounded pessimistic that he would make any last-minute signings when talking to media on Thursday.
"I'm not confident, I'm not confident and the market closes today, so is time at least for me to stop thinking about the market because the market will be closed," Mourinho said.
"I will have to focus on the players I have and in relation to this first couple of matches."
But he was quick to point out his United side were closest to runaway leaders Manchester City last season, even if they finished 19 points adrift.
"My view is that, first of all, is difficult for me to believe we finished second," he said.
"When I listen, when I read, not much but sometimes I do, is difficult to believe that we finished second, because you are capable of making people that finish second look like they were relegated, and people who win nothing, finish below us, and you make them look like serial winners.
"Is difficult for me to understand, to feel, to believe we finish second. I won eight championships and three Premier Leagues but I keep feeling the second last season was one of my biggest achievements in the game."
Mourinho, who will be without the likes of Nemanja Matic, Antonio Valencia, Ander Herrera and Marcos Rojo on Friday, once again bemoaned the lack of preparation time for the start of the season, with many of his players having just returned to training after taking time off following the World Cup.
"The target is Leicester match and the tactics to be changed in Championship Manager you can just press a button," he said.
Indian U-15 women's team embarrass Sri Lanka, pump in 12 goals
The Indian U-15 women's national team inflicted an embarrassing 12-0 defeat on Sri Lanka, kick-starting its campaign in the age-group SAFF Championship on a resounding note in Thimphu, Bhutan.
A dominant performance at the Changlimithang Stadium saw the Indian women score six goals in the first half and as many in the second.
Shilky Devi notched up a hat-trick (1st minute, 20', 44') and there were strikes by Lynda Kom (6'), Avika Singh (13', 58'), Sunita Munda (42', 79'), Kritina Devi (47'), Kiran (72') and Anju (87',90').
The floodgates opened in the very first minute when skipper Shilky found the back of the net from close range. Shortly after in the 6th minute, Lynda Kom smashed her shot into the back of the Sri Lankan net to double India's lead.
In the 13th minute, Avika Singh's long-range attempt left the opposition custodian bewildered and found the back of the net to triple India's advantage. Shilky added another in the 20th minute to make the scoreline read 4-0 as India upped the ante.
In the 32nd minute, Priyangka Devi's cross from the right flank was met by Sunita Munda's header but her attempt brushed the side netting on its way out. In the 42nd minute, Sunita Munda netted the ball home to make it 5-0 and Shilky completed her hat-trick just before the half-time break.
Changing over, the Indian women continued their dominant play, scoring six more times.
Etheridge hopes Premier League presence can make impact in Philippines
In the Philippines, where basketball rules the sporting scene and football is a minor player, Neil Etheridge is hoping he can make a positive impact with his Premier League debut this weekend.
Goalkeeper Etheridge will become the first player from South East Asia to feature in the top flight of English football when he makes his debut on Saturday afternoon for Cardiff City against Bournemouth.
But while millions of fans in Thailand, Singapore and Malaysia will be tuning in, Philippines is more likely to be focused on the fate of the nation's basketball team as they hone their preparations for this month's Asian Games.
Etheridge knows his presence in the world's most watched league might not do much to change the sporting landscape in Manila and beyond, but he is optimistic it can have a long-term impact on Filipino football.
No Cahill means new tactics, search for youth for Australia's Arnold
Finding a replacement for the retired Tim Cahill and changing the tactics to produce more goal scoring options will be the key objectives of new Australia coach Graham Arnold ahead of the Socceroos' Asian Cup defence in January.
Former Sydney FC coach Arnold was appointed to the role in March, but was scheduled to take the job after the World Cup in Russia where Dutchman Bert van Marwijk was in charge.
Van Marwijk held the reins in Russia as part of a short-term deal struck in the wake of Ange Postecoglou's shock resignation in November after securing the team's qualification via an intercontinental playoff.
Arnold's first major assignment will be to plot the side's defence of its Asian Cup title in the United Arab Emirates next January but he has to do so without Cahill, who retired from international soccer after the World Cup.