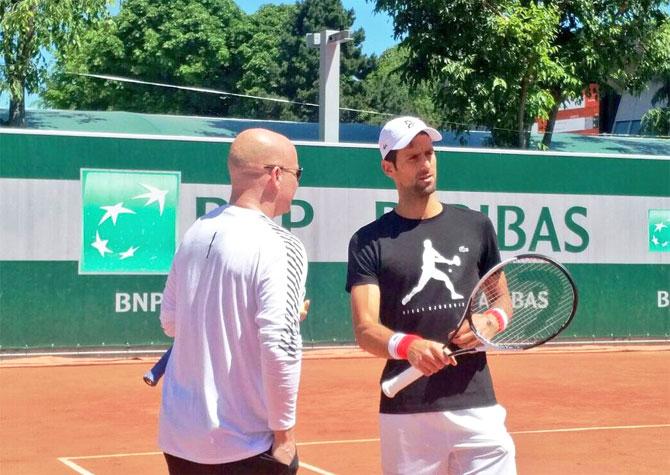 IMAGE: American tennis legend Andre Agassi shares his insights with new ward Novak Djokovic during a training session on Thursday. Photograph: Novak Djokovic/Twitter
World No 2 and defending champion at the French Open has started training in earnest and welcomed his new coach, the legendary Andre Agassi on Thursday.
Djokovic had named Agassi as his new coach on Sunday, following his defeat to Alexander Zverev in the Italian Open final.
"New gear, new coach, new start. How exciting! #NoleFam please welcome our new member @AndreAgassi," Djokovic tweeted, alongside pictures of them training together under the Parisian sun.
World No. 1 Andy Murray had, on Thursday, expressed surprised by at Djokovic's decision to appoint Agassi as coach for the upcoming French Open.
"To be helped by Andre, it's definitely a positive thing for Novak and it's good for tennis. When the great players of tennis stay in the sport, it creates lots of interest," Sport24 quoted Murray, who was beaten by Djokovic in the 2016 French Open final, as saying.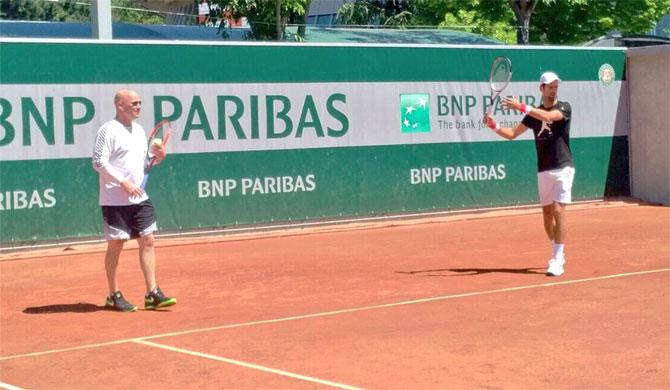 IMAGE: Andre Agassi puts Novak Djokovic through the grind. Photograph: Novak Djokovic/Twitter
"It was a little surprising because I didn't think he (Agassi) would decide one day to become a coach," he added.
47,-year-old Agassi, who won eight Grand Slam titles in his career but has never coached before, has largely stayed away from the tour since his retirement in 2006, though he has occasionally played in exhibition events with other retired players.
Earlier this month, Djokovic parted with long-time coach Marian Vajda, having also ended a three-year relationship with six-time Grand Slam champion Boris Becker at the end of last season, in a bid to get back to his brilliant best.
Out of Djokovic's 12 Grand Slam titles in his career, half came while working with Becker - twice in Australia (2015, 2016) and Wimbledon (2014, 2015) and once in French (2016) and US Open (2016).