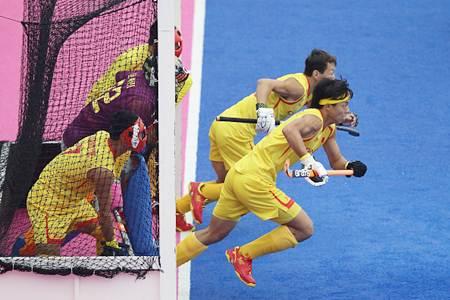 The International Hockey Federation will allow defenders to wear protective face masks as a precaution while defending penalty-corners.
The FIH's playing rules amendment comes in the wake of Australian cricketer Phillip Hughes's death after being hit on the head by a Sean Abbott bouncer in a domestic match last week.
The FIH said the proposal came up for discussion at its recently-concluded Annual Congress.
"A wider range of masks, including metal grill masks, will now be allowed to defend penalty-corners. This amendment has been done to increase player safety. This will be available for worldwide adoption at international level from January 2015," read a statement on the FIH's website.
Other rule changes made by the body include "the ability to take attacking free-hits, awarded within five metres of the edge of the circle, from the point of the offence. The change states that the ball still has to travel at least five metres before it can be played into the circle, or alternatively has to be touched by another player of either team, other than the player taking the free-hit".
The FIH also introduced a change regarding re-start of the match to facilitate more passing options.
"Play will now be re-started with the ball on the 23 metres line and in line with where it crossed the back-line. Taking the re-start from the 23 metres line will open up the play and give more passing options," it stated.
The new rule also allows players to raise the stick above their shoulders.
"The skill adds another dimension to the sport and provides excitement for fans and players alike."
- For more on the latest rules of hockey click here
Photograph: Suhaimi Abdullah/Getty Images