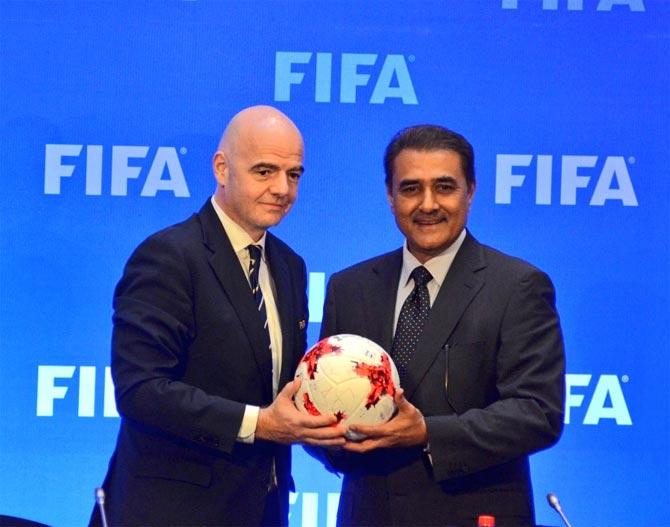 IMAGE: FIFA president Gianni Infantino, left, with Praful Patel, whose election as president of All India Football Federation was set aside by Delhi high court. Photograph: Praful Patel/Twitter
India's football federation (AIFF) has been reminded by FIFA that it cannot be influenced by legal or political inference from inside the country, the global soccer body said.

The warning came after a Delhi High Court ruling on Tuesday annulled the All India Football Federation's most recent presidential election and ordered a re-run to be organised by the country's former election commission chief SY Quraishi
FIFA statutes state that member federations must be free from legal and political interference in their respective countries and the world governing body has suspended other national associations in the past in similar cases.

"FIFA has sent a letter to the AIFF requesting more information about Delhi's High Court decision as well as the steps that AIFF intends to undertake in this matter," FIFA told Reuters in an emailed statement.

"FIFA has also reminded the AIFF that... member associations, including the AIFF, are obliged to manage their affairs independently and without undue influence from third parties."

The High Court ruling came less than a week after India completed its hosting of the under-17 World Cup and was praised by FIFA president Gianni Infantino, who said he wants to make football the most popular sport in the cricket-mad nation.

The AIFF election, held last December, saw Praful Patel re-elected as president. The High Court has ordered a fresh election within five months which it said must be held under rules stipulated by the national sports code.

The AIFF has said it is fully complaint with both Ministry of Youth Affairs and Sports directives, as well as FIFA statutes.