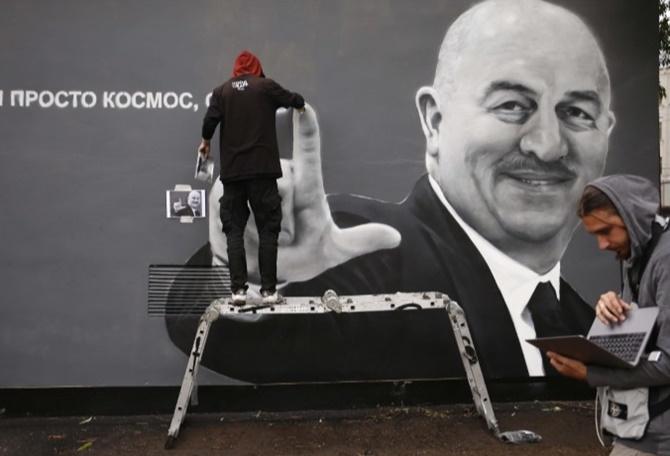 Stanislav Cherchesov is getting the big graffiti treatment in Russia after coaching the home team to the second round of the World Cup for the first time in 32 years.
After Tuesday's 3-1 win over Egypt in St. Petersburg, his familiar moustachioed features appeared at a city intersection, spray-painted across a wall.
"We just had to do it," said local artist Artyom Burzh, who started the painting after watching the match.
"He's just a beauty," he said of the burly and balding 54-year-old former Spartak Moscow goalkeeper. "He's just cosmic," he added, quoting a line from a song which adorns the mural.
Cherchesov has forced Russians to adjust their opinions of a national team most had expected to fail miserably. But as one passer-by, who gave his name also as Artyom, that may not last:
"They had to do this today," he said.
"Next week, who knows."
World Cup matches screened for Moscow commuters in metro carriages
Some Muscovites have found their daily commute on one of the busiest underground systems in the world flying past after city authorities began screening live broadcasts of the soccer World Cup in metro carriages.
The television screens usually carry information and local news items painting Moscow authorities in a positive light, but they have now been set up to show World Cup matches gripping the host nation after they qualified for the knockout stage.
"It's great! If our team was playing right now, I'd be shouting and disturbing other people. But now I am watching it calmly," said Valery Arakelov, a Moscow resident engrossed in Australia's encounter with Denmark on Thursday as he travelled from work.
"I use the metro a lot and time flies by thanks to football," said Bek Usmanov, a Moscow resident who described himself as a passionate soccer fan.
The Moscow metro is used by nine million people a day during the week. Opened in 1935, it was originally named after Soviet founder Vladimir Lenin and is still adorned with Soviet mosaics, marble statues and stained glass.
It now has public wifi in it, and 1,600 television screens were installed in metro carriages this year.
"I've had enough of reading newspapers and watching football is fantastic. Especially during the World Cup," said Sergei Yelokhin, another Muscovite.
Some people in Moscow appear to have been watching entire games while riding on the circle line that loops around the city's centre," Roman Latypov, First Deputy Head for Moscow Metro, said.
"We monitor passenger flows and we see that some of the passengers enter the metro when a match starts and they go around till the match ends. So the circle line now is extremely popular with some of the fans," he said.
Latypov said he believed it was the first time in the world that World Cup matches had been broadcast live inside metro carriages.
Russia are the lowest-ranked team in the tournament and entered the World Cup without a win in their last seven international friendlies dating back to October 2017.
But they have scored eight goals in their first two matches and qualified for the second round.
Russia sprays vanilla to repel World Cup gnats in Volgograd
Russian authorities sais they were spraying the area outside the World Cup stadium with vanilla concentrate to prevent gnats from spoiling soccer matches there, TASS news agency reported.
England and Tunisia players could be seen swatting away swarms of gnats during their opening World Cup game in the southern Russian city on Monday.
Players covered themselves with bug spray before the game and at halftime, but that seemed to have little effect.
Russian authorities said on Thursday they hope that spraying the vanilla concentrate on trees and shrubs around the venue will keep the gnats away.
"The vanilla concentrate will not create inconveniences for fans, but it will be enough to repel the gnats," TASS quoted Volgograd's regional administration as saying.
The area around Volgograd is known for its swamps and wide rivers, the perfect breeding ground for insects during the hot and dry summer in the region.
It was unclear if the measures had already been taken, but a Reuters reporter in Volgograd said on Thursday there appeared to be significantly fewer gnats in the city than during Monday's match.
Volgograd, which is set to host three more group stage matches, will host Iceland's match against Nigeria on Friday.