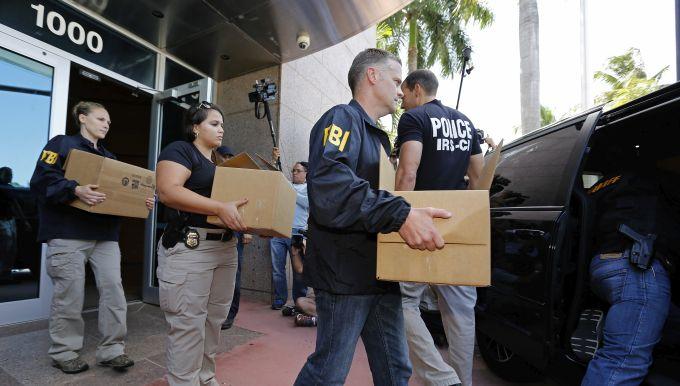 FBI agents carry boxes from the headquarters of CONCACAF after it was raided. Photograph: Joe Skipper/Getty Images
US prosecutors may find it difficult to get a number of the people they have charged in the FIFA bribery scandal to face the music. Several cannot be found, and the authorities in some countries may not agree to extradition requests.
Shocker! FIFA officials 'took bribe' for 1998, 2010 World Cups too!
Of the nine current and former FIFA officials and five corporate executives indicted for running a criminal enterprise that involved more than $150 million in bribes, the whereabouts of three Argentines and one Brazilian remain unknown. Another two former FIFA officials in the Americas - one in Paraguay and the other in Trinidad and Tobago - are expected to resist extradition to the United States.
All of the seven defendants who were arrested in Zurich on May 27 during a surprise raid at a five-star hotel have said they will oppose extradition.
Only defendant Aaron Davidson, the chief of sports marketing firm Traffic's US unit, is known to be in the United States. He pleaded not guilty last Friday in federal court in Brooklyn, New York, and is under house arrest.
The US Justice Department has a good track record of persuading other countries to extradite criminal defendants and has a unit in Washington dedicated to that task, but the size and complexity of the FIFA-related bribery charges present a new test. That test could also increase if US prosecutors, who say their investigation is far from over, bring charges against additional officials and executives.
A US Justice Department spokesman on Wednesday declined to comment on the progress of extradition efforts.
Minimum penalty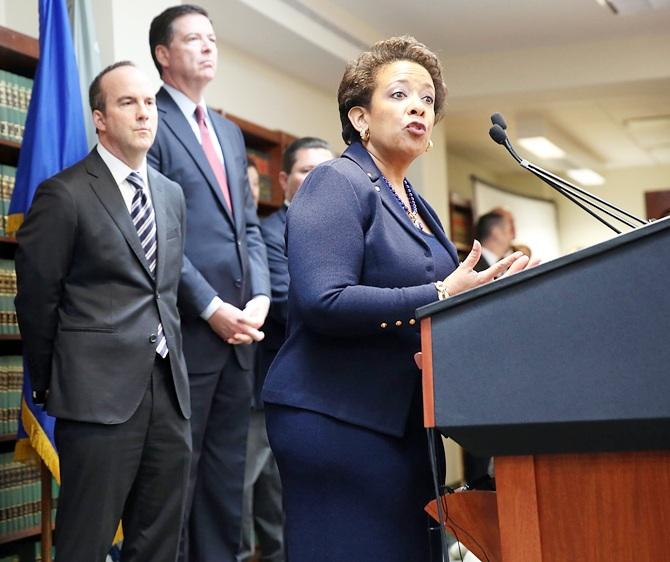 Attorney General Loretta Lynch speaks at a packed news conference following the early morning arrest of world soccer figures, including officials of FIFA, for racketeering, bribery, money laundering and fraud. Photograph: Spencer Platt/Getty Images
More than 100 countries, including Argentina, Paraguay and Trinidad, have extradition treaties with the United States. The agreements with these three are essentially identical, calling for each country to extradite defendants who have been charged with acts that constitute a crime in both nations and carry a minimum penalty of one year in prison, said Douglas McNabb, a lawyer in Houston who specializes in international extraditions.
The nationality of a defendant cannot be used to forgo extradition, according to the treaties, but all defendants have the right to challenge an extradition on a number of grounds, McNabb said.
In Paraguay, age and health may impede US efforts to extradite Nicolas Leoz, the 86-year-old former president of the South American Football Confederation (CONMEBOL).
Leoz quit the CONMEBOL presidency in 2013 citing health issues and was admitted to a private clinic that he owns on the same morning Swiss police made arrests in Zurich. His lawyers later told reporters Leoz received treatment for hypertension, was surprised by the US charges and had nothing to hide.
On Monday, Leoz was placed under house arrest in his upper middle class neighbourhood in Asuncion. Paraguayan law does not allow individuals over the age of 70 to be detained in prison pending trial.
"Procedurally there could be a very long way to go in extraditing Leoz," said Jorge Bogarin, a criminal lawyer and former judge, citing potential court appeals.
Meanwhile, the whereabouts of Alejandro Burzaco, 50, Hugo Jinkis, 70, and his son Mariano Jinkis, 40, all Argentine citizens, are unknown. The indictment alleges they conspired to win and keep hold of lucrative media rights contracts from regional soccer federations through the payment of up to $110 million in bribes.
The Argentine judge who ordered the three men's arrest on May 28 said at the time that he did not know if they were in the country.
A lawyer representing the two Jinkis defendants told local radio his clients wanted to come forward and requested an "exemption from prison" while the extradition request is considered. That request was rejected, and the lawyer, Jorge Anzorreguy, was not available on Wednesday, his office said. Burzaco's sports media company, Torneos y Competencias, declined to comment.
Strained relationship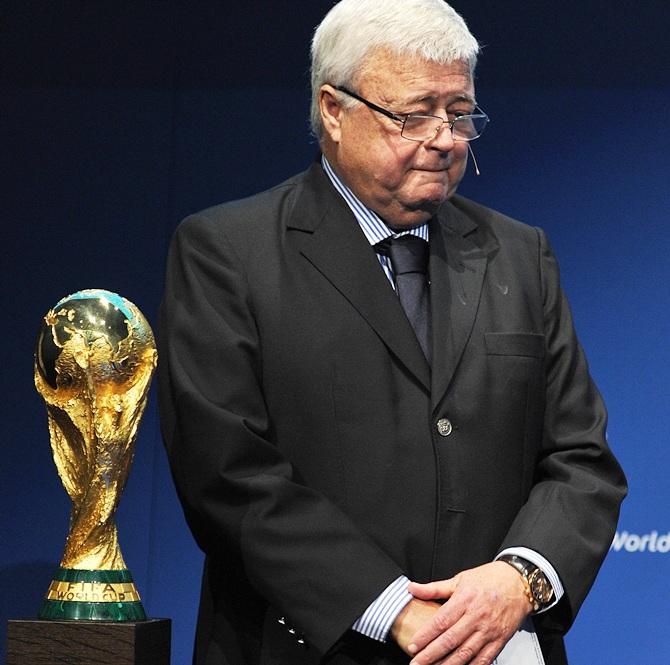 Ricardo Teixeira, looks on after delivering a speech following the FIFA Executive Committee Meeting. Photograph: Harold Cunningham/Getty Imagess
If the trio do come forward, extradition could still be an uphill battle.
Relations between Argentina and the United States have been chilly during leftist President Cristina Fernandez's eight years in power. But they have soured further over the past two years after a court battle waged by US hedge funds over unpaid Argentine sovereign debt pushed Buenos Aires back into default last July.
Fernandez's government has said little beyond confirming it passed the extradition request to the judiciary.
An investigation by the local tax authority into the three Argentines may complicate US efforts. If a tax investigation goes forward domestically, they should remain in the country, said Maximo Castex, a Buenos Aires-based criminal lawyer.
Brazil's constitution, meanwhile, forbids the extradition of Brazilians, and one of the 14 defendants is Jose Margulies, a Brazilian who headed two companies involved in broadcasting soccer matches. His current whereabouts are unknown.
Another Brazilian, Ricardo Teixeira, former head of the national soccer federation, is facing domestic charges of money laundering and tax evasion, a police source said on Monday. Teixeira was not named in the US indictment.
In Trinidad, former FIFA vice president Jack Warner is out on bail. He has said he is innocent and noted he left soccer activities four years ago.
In a sign that US authorities are concerned about tracking down or keeping tabs on some of the defendants, the international police organization Interpol has alerted authorities worldwide to be on the watch for six of the defendants. They are Leoz, Margulies, Warner, Burzaco and Hugo and Mariano Jinkis.