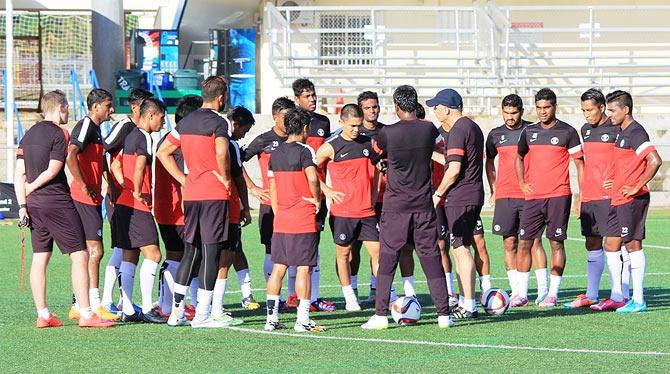 India players at a training session. Photograph: AIFF Media
As the Indian football team continues to paint a grim picture, the country languishes at 156th in the latest FIFA rankings even as World Cup finalists Argentina maintains the top spot.
India dropped 15 places in the rankings issued last month after losing the 2018 World Cup qualifiers against Oman and lowly-ranked Guam.
Meanwhile, Belgium moved ahead of Germany into second place in the updated rankings, released on Thursday, after the World champions had points devalued from last year's triumph in Brazil.
Argentina still top the rankings ahead of the European duo, with Chile, who beat Gerardo Martino's side in the final of the Copa America last month, moving back into the top 10 at the expense of the Netherlands, who fell seven places to No 12.
Mexico rocketed 14 places in the rankings to 26 after winning their seventh Gold Cup last month, while beaten finalists Jamaica moved up 21 places to 55 after their surprise run.
Elsewhere, Wales moved up to a best-ever ranking of 9, just one spot behind rivals England.
The top 10 FIFA world rankings (July position in parentheses):
1. Argentina (1)
2. Belgium (3)
3. Germany (2)
4. Colombia (4)
5. Brazil (6)
6. Portugal (7)
7. Romania (8)
8. England (9)
9. Wales (10)
10. Chile (11)