Red Bull expect Sebastian Vettel to help team-mate Mark Webber win the Formula One world championship should the situation arise but will not be ordering him to do so.
Team principal Christian Horner told reporters after Red Bull had clinched the constructors' title in Brazil with a race to spare that he trusts his drivers to act in the team's best interests.
Webber is eight points behind Ferrari's Fernando Alonso with 25 to be won in the Abu Dhabi season-ender on Sunday. Vettel, who led a one-two finish at Interlagos, is a further seven adrift.
A repeat of the Brazil podium would gift the crown to Alonso whereas a Webber-Vettel one-two would make the Australian his country's first champion since Alan Jones 30 years ago.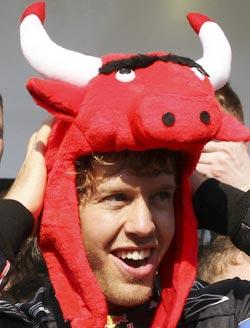 Horner made clear that while Red Bull want both titles, he would not be issuing any orders in favour of either driver from the pit lane wall.
"Nobody has a crystal ball and nobody can predict what will happen," he said. "We back both equally and that has been very much the Red Bull ethos and we will continue to do so as we go into next weekend's round.
"I don't think there are any difficult decisions to be made," he added.
"Of course if they find themselves in a situation where one, because he cannot win, needs to help the other then of course I can only imagine that they will do that. It will have to be a driver decision."
SIMPLE CHOICE
Horner defended the team's decision not to ask Vettel to let Webber win at Interlagos, a move that would have left the Australian just a point behind Alonso -- who has already benefitted from such orders this season.
A Vettel-Webber one-two in Abu Dhabi, with Alonso failing to finish in the top four, would give the 23-year-old German the title 5-4 on race wins with both Red Bull drivers ending the season level on points.
With a multitude of possible permutations, both Red Bull drivers still have every chance of winning the championship.
For Alonso the situation is clear. If he finishes second, he has his third title regardless of which Red Bull driver wins.
Webber's problem could be that, even if he is winning the race, it may all be in vain if Vettel fails to make every effort to get or stay ahead of the Ferrari.
Webber has had a rocky relationship with Vettel, the pair colliding in Turkey in May and the Australian accusing the team as recently as last week of emotionally favouring a youngster seen as their golden boy.
He has also described his own title challenge as 'inconvenient'.
"They will do whatever is right I am sure, at the end of the day, for the team," Horner said of the battle ahead. "I have zero doubt about that.
"Both of them are great team players. There have been pressures and stresses this year but that is because the biggest reward in motor sport is up for grabs."
Webber said of his prospects: "It is still a big, big chance for me to pull it off. We are still absolutely in the hunt."
Vettel's response was more teasing, while dropping a big hint that he would assist if there was no chance of winning the title.
"I think both of us know how to act," he said. "We've had some moments which were probably not representative and which we're not very proud of and we don't want to repeat."
Webber added: "To cut a long story short, I think it depends on how it is on the last lap."