'I don't think that I have done anything great. I haven't won any Olympic gold medal.'
'I am not saying that I won't sleep until and unless I win an Olympic medal, but I will surely give my best performance.'
Rio Olympics-bound gymnast Dipa Karmakar speaks to Laxmi Negi/Rediff.com after becoming the first Indian woman gymnast to qualify for the event.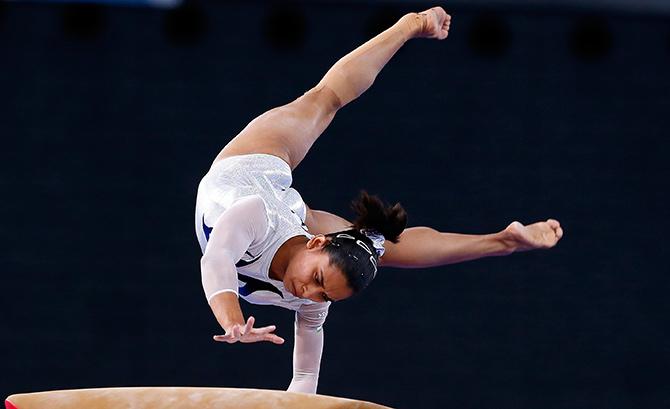 IMAGE: Dipa Karmakar in action. Photograph: Andrew Winning/Reuters
Dipa Karmakar has been trending on social media since April 18.
Accolades have been pouring in: Bollywood superstar Shah Rukh Khan, cricket icon Sachin Tendulkar, chess whiz Viswanathan Anand and Prime Minister Narendra Modi among others on her qualifying for the Rio Olympics.
In 2014, the 22 year old became the first Indian woman gymnast to win a Commonwealth Games medal, winning a bronze.
The girl from Tripura was also the first Indian woman gymnast to compete in the finals of the World Championships in November 2015.
She has now scripted history by clinching a berth in the Rio Olympics, becoming the first Indian woman gymnast to qualify for the event.
After winning a gold in the vaults finals at the test event of the Rio Games she has raised hopes of a medal at the Games.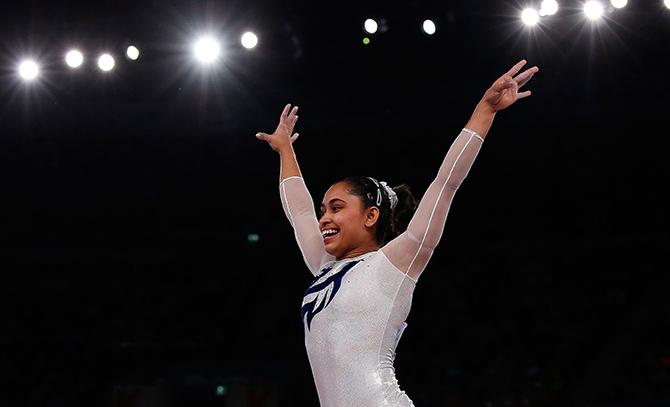 IMAGE: Dipa reacts after a successful vault. Photograph: Phil Noble/Reuters
Dipa spoke with Laxmi Negi/Rediff.com
You have become an overnight celebrity. Do you feel any pressure?
I don't think there is any pressure. I don't feel any pressure. I am happy the world knows that India is doing well in gymnastics and I am happy that the people of my county would know where Tripura is.
With this fame, is there more responsibility to deliver at the Olympics?
I won't have any difficulty. I don't think that I have done anything great. I haven't won any Olympic gold medal.
I won't get disturbed, but all my energies will be channelised towards training and improving my performance.

I am blessed to have a good coach. Now all I need to do is perform well.
Any areas you are focusing on to better your performances?
There are a few technical nitty-gritties that I need to focus on. I will be working very closely with my coach to sort them in time for the Rio Games.
You have never complained about equipment or the federation....
After the New Delhi Commonwealth Games, in 2010, there was a lot of gymnastics equipment in the Indira Gandhi Stadium in New Delhi. I made optimum use of it.
Without that equipment I don't think it would have been possible for me to win any medals for India.
I am thankful to the Gymnastics Federation of India and Sports Authority of India.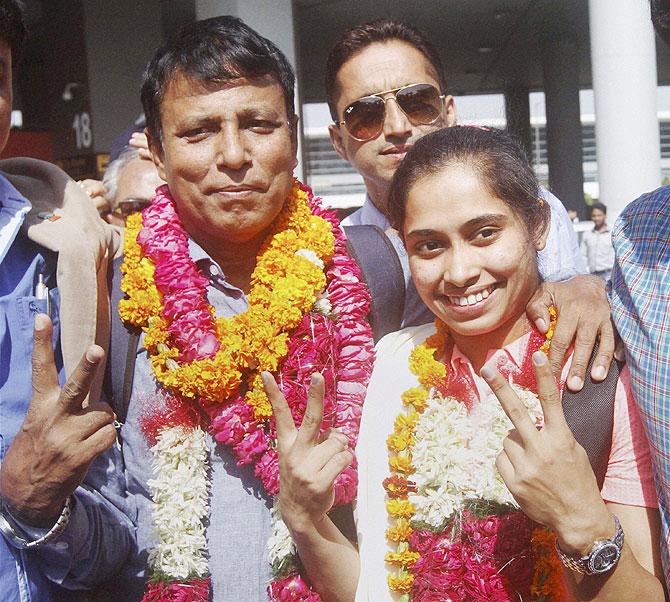 IMAGE: Coach Bisweshwar Nandi and Dipa receive a rousing reception on their arrival at the Indira Gandhi International airport in New Delhi, April 21, 2016. Photograph: PTI
Your coach, Bisbeshwar Nandi describes you as 'ziddi' (stubborn). Has it been helpful in your performance?
I have been stubborn right from birth. If I decide on doing something, then I strive very hard to achieve it.
I won't stop until and unless I have achieved it. I don't even sleep well until and unless I have achieved my goals.
Are you saying that you will be sleepless until you win an Olympic medal?
I am not saying that I won't sleep until and unless I win an Olympic medal, but I will surely give my best performance. That will be my focus.
You never know what will happen that day. Gymnastics is all about what happens in one or two seconds. So no one can really predict.
But I can say that I will give my best performance at Rio.
Did you ever think about taking up weightlifting? (Her father is a weightlifting coach with SAI Agartala)
I have been attached to gymnastics right from the age of six. It was my father who introduced me to this amazing sport and since then it has become part of my life.