Jose Mourinho says referee Chris Foy should not be allowed to take charge of any more Chelsea matches after he dismissed Willian and Ramires in Saturday's 1-0 defeat at Aston Villa and also sent the Portuguese manager to the stands.
Mourinho, who initially kept his views to himself after the game at Villa Park risks being disciplined by the FA for his dismissal and for what he said later.
The two Brazilian players were both sent off in the second half while Mourinho was ordered to the stands after a touchline fracas following Ramires' late red card for his stamp on Karim El Ahmadi.
Mourinho said he had tried but failed to speak to Foy after the match, adding that the Professional Game Match Officials Board (PGMOL) who allocate referees to matches should carefully consider whether to allow him to officiate future Chelsea games.
Foy has sent off six Chelsea players in eight matches and has now twice sent off two in a match after dismissing Jose Bosingwa and Didier Drogba against Queens Park Rangers in 2011-12.
"Maybe it would be helpful that the committee doesn't send him to our matches," Mourinho told reporters.
"I don't have the right to request that. It's just I think they have to analyse the situation and see if every time he has Chelsea - or not every time - but many times he has Chelsea and problems are there, I think maybe it would be a good decision."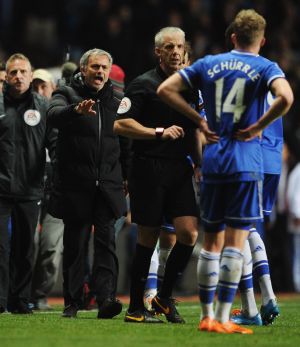 He added that the players were aware of Foy's past dealings with his club and it was on their minds in the build-up to the game.
"The players were speaking about it during the week," he said.
"They had good reason. I never care who the ref is. I don't want to know. But during the week, the players were speaking about the situation and I think from now on the next time we have Mr Foy I have to work my people in a different way."
"Chelsea are normally a very composed team," he continued.
"Not just this season with me, but the last time I remember something like this happening was in a match with QPR at their stadium."
That was the infamous game remembered mainly for John Terry's racist insult towards Anton Ferdinand and after that game Foy did not referee another Chelsea match for more than a year.
Mourinho will learn his possible fate after Foy has sent in his report to the FA and could face both a fine and a touchline ban.
Image: Jose Mourinho manager of Chelsea protests to referee Chris Foy during a Premier League match
Photograph: Chris Brunskill/Getty Images