'There were moments in that game when she stood up'
'The way she has played in this tournament, she has epitomised all the values that England football fans want to see in that white jersey'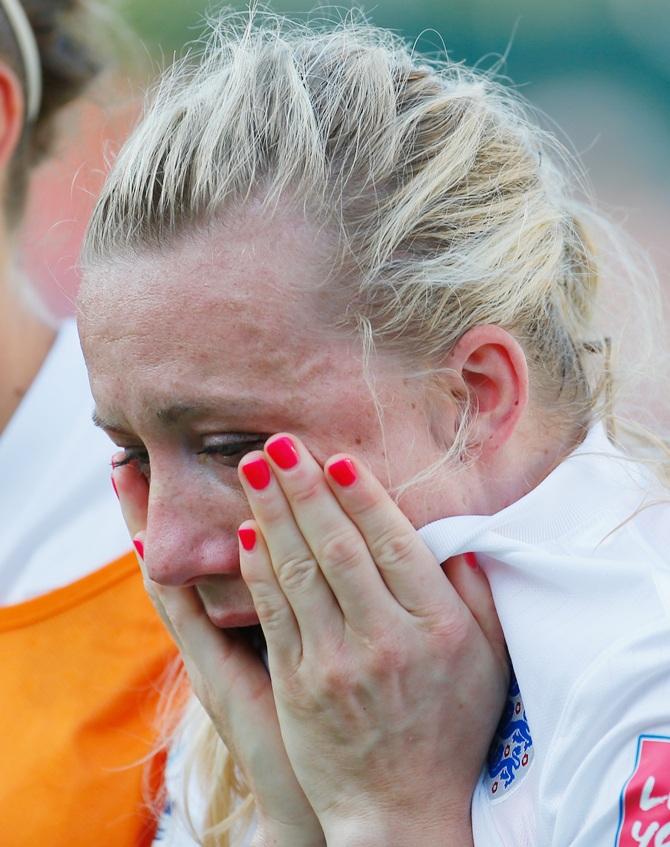 England's Laura Bassett is dejected after the FIFA Women's World Cup semifinal match against Japan. Photograph: Kevin C. Cox/Getty Images
England coach Mark Sampson said defender Laura Bassett, whose injury time own goal gave Japan a 2-1 win in their World Cup semi-final, would head home as a hero.
Women's World Cup: Japan into final courtesy England own goal
Bassett's attempted sliding clearance, in the second minute of injury time, crashed against the under-side of the bar and over the line to rob England of the chance of a place in the final against the United States.
A devastated Bassett was surrounded by team-mates at the end of the game and received remarkable praise from her coach.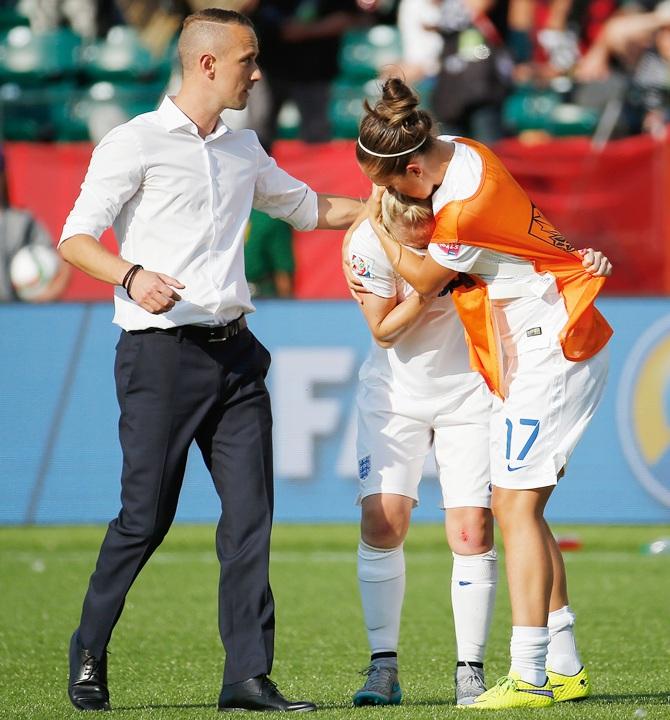 England's Laura Bassett is comforted by Jo Potter and manager Mark Sampson. Photograph: Kevin C. Cox/Getty Images
"When she goes home she will be a hero," declared Sampson to reporters. "There were moments in that game when she stood up, she stopped an incredible strike force.
"Laura Bassett, without a shadow of doubt will go home a hero but we will be there for her. We will stay together and stay strong - this team are friends for life now,"
The cruel loss ended what had been a magical run for England, who dropped their opener to France then steam-rolled their way into the last four winning their next four matches and millions of fans along the way.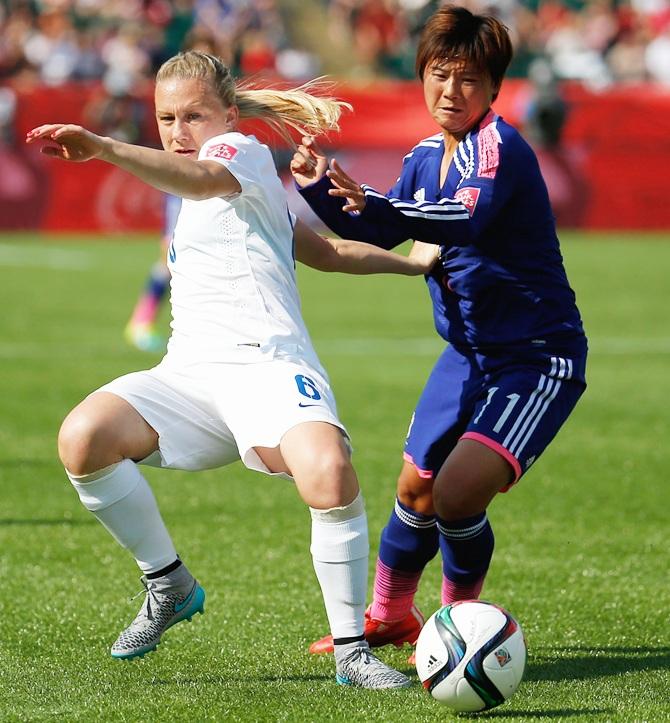 England's Laura Bassett in action with Japan's Shinobu Ohno . Photograph: Kevin C. Cox/Getty Images
Their fighting spirit was on display with quarter-final win over host Canada and again on Wednesday after going down a goal to the defending champions and battling back with an equaliser.
"The way Laura Bassett has played in this tournament, she has epitomised all the values that England football fans want to see in that white jersey," said Sampson.
"She is hurting now but tomorrow morning she will wake up, she will have 22 team-mates, a group of staff who will give her a hug, tell her how proud we are of her and we will do the same to the whole group."
Bassett had been at the heart of an England defence which had ensured their goalkeeper Karen Bardsley had little work to do against an attacking Japanese side.
"It was a horrible moment obviously for Laura but you can see the regard the team hold Laura in by their reaction," defended Sampson. "Every single member of my group is devastated, when that ball went over the line we were devastated.
"But our first point of call is 'look after your own'. Laura is one of us, she is one of our team, we get around her, we console her and we tell her how proud we are of her, because without her we wouldn't be in that semi-final.