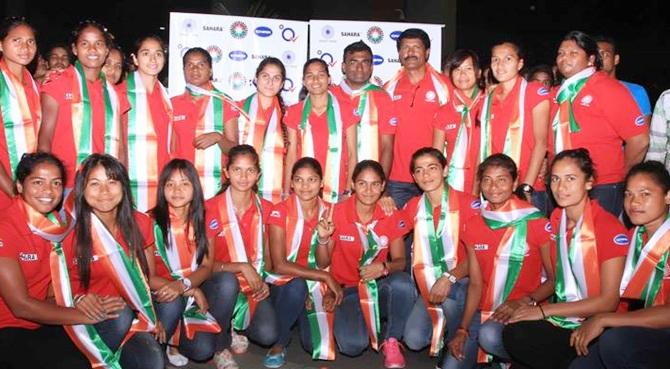 India's women's hockey team in New Delhi. Photograph: Hockey India/Facebook
Having all but booked a berth in next year's Rio Olympics, the Indian women's hockey team returned from Belgium to a grand reception, amidst beating of drums and loud cheers, to New Delhi, on Monday.
A large contingent of officials and media were present at the airport to receive the team, which finished fifth in the just-concluded Hockey World League Semi-finals in Antwerp.
The result enhanced the Indian women's team's chances of qualifying for the 2016 Games.
"We knew we had to be in the top five to stay in contention for the Rio Olympics. The last two games were very crucial for us and the girls kept their cool despite huge expectations and pressure. The young players especially played really well and I can confidently say that the future of women's hockey in India is very bright," said India's coach, C R Kumar.
India's lone appearance in women's hockey at the Olympics was at Moscow in 1980. It was the first time the women's competition was played at the Games. The team finished fourth in the six-team league format that was played, while the men's team went on to win the last of their eight gold medals won from the quadrennial Games.
Effectively, India's fifth place finish at the just-concluded tournament in Antwerp should secure the team an Olympic Games' ticket when the countdown to allocate spots takes place.
Skipper Ritu Rani said the team will begin its preparations for the Olympics instantly, even though official confirmation from the International Hockey Federation (FIH) is awaited.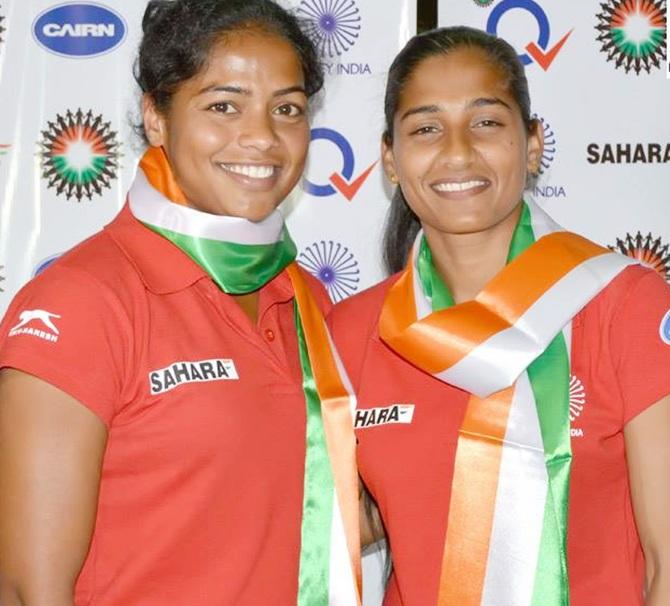 Captain of the Indian women's hockey team, Ritu Rani, right. Photograph: Hockey India/Facebook
"Our target was to qualify for the Olympics and we are still in contention. All the players played to their strengths. We played against some of the higher-ranking teams, which gave us insights on our shortcomings. We will work on them to improve our game and be ready for our Olympics dream," she said.
India goalkeeper Savita emerged saviour, blocking half-a-dozen goal-bearing chances as India defeated Japan 1-0 victory in the fifth-place play-off match.
Star striker Rani Rampal, who scored the match-winner, added: "Qualifying for the Olympics has been a dream come true moment for all of us. The team chemistry of the players, on-field coordination and the coach's guidance helped us tremendously in registering the previous two successive wins. I cannot wait to start the next phase of training for the Olympics."