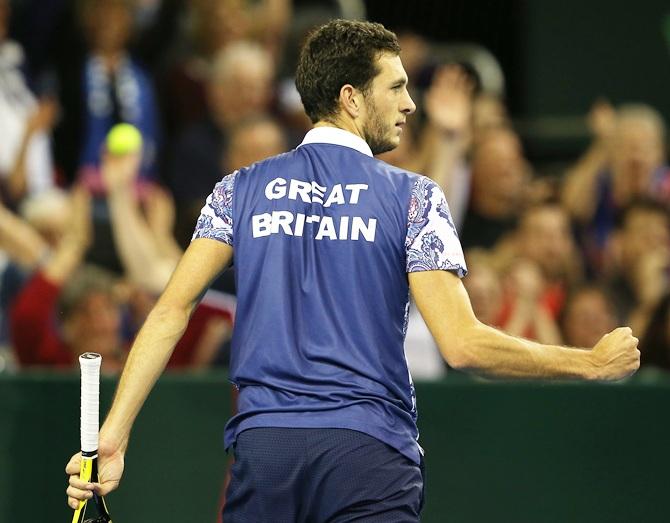 James Ward of GB Davis Cup Team celebrates. Photograph: Jan Kruger/Getty Images
James Ward defied the odds to beat American marathon man John Isner 6-7(4), 5-7, 6-3, 7-6(3), 15-13 as Britain took a shock 2-0 lead in their Davis Cup first round tie against the United States in Glasgow on Friday.
After Andy Murray beat Donald Young 6-1, 6-1, 4-6, 6-2 in the first rubber, Ward battled back from two sets down to tame an opponent ranked 91 places above him in a match where the final set alone stretched to 107 heart-pumping minutes.
Ward had missed five match points before Isner guided a desperate low backhand into the net to end an energy-sapping battle that lasted four hours 56 minutes.
As 7,000 roaring fans leapt to their feet in Glasgow's Emirates Arena, Ward lapped up the applause before falling into the arms of Murray, who had been shouting words of encouragement throughout the contest.
Isner is no stranger to being kept on court for hours on end, having beaten Frenchman Nicolas Mahut in an 11 hour, five minute marathon in the first round of Wimbledon in 2010.
But on Friday he trudged off court a beaten man, with a large white towel draped around his shoulders, and knowing that the US now faced an uphill task to reach the quarter-finals of the men's team competition.