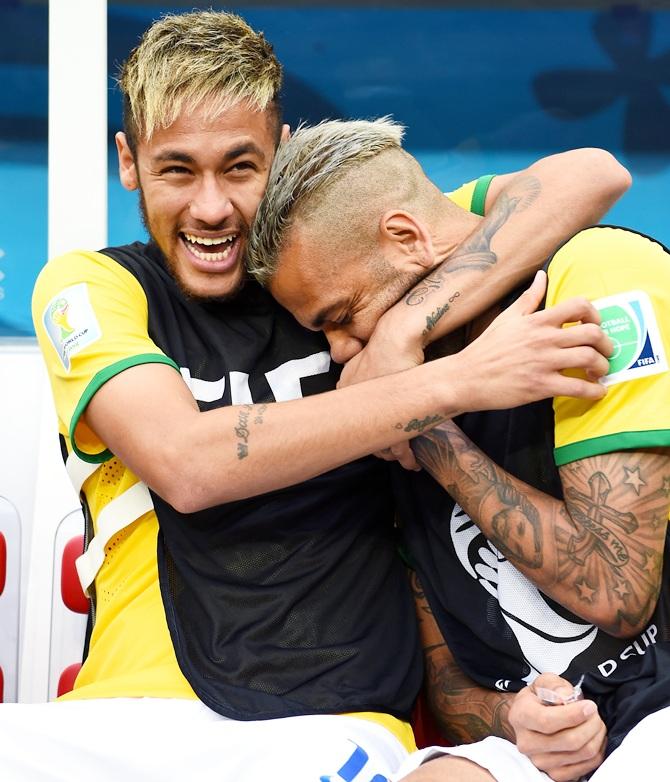 Neymar and Dani Alves of Brazil share a joke. Photograph: Buda Mendes/Getty Images
Next year's Copa America in Chile will give Brazil the chance to bury the ghosts of their miserable World Cup, the president of the country's soccer federation said on Monday.
Brazil were drawn in Group C along with Colombia, Peru and Venezuela and they will be looking to win the trophy after a dismal World Cup at home, which ended when they were hammered 7-1 by eventual champions Germany in the semi-finals.
"We need to bring joy to the Brazilian people," Jose Maria Marin said at the draw in the Chilean town of Vina de Mar.
"As I said before, before the World Cup we were in limbo. We could have reached the sky or fell to hell.
"We went to hell but we are already leaving it.
"We are back in limbo again it appears. And winning the Copa America could help us go back on the way towards the sky."
Brazil have won all six of their friendlies since the World Cup under new coach Dunga, with the team scoring 14 goals and conceding one.