Chris Ciriello struck a hat-trick as Australia humiliated India 4-0 to clinch the gold medal of the Glasgow 2014 Commonwealth Games at Glasgow National Hockey Centre on Sunday.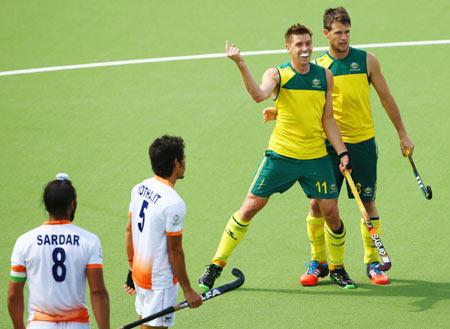 Ciriello converted from the penalty corner to put Australia 1-0 in the 13th minute. He doubled the lead in the 28th minute through a field goal. He scored his third through a penalty corner in the 2nd half.
Eddie Ockenden then added the final nail in India's coffin, sounding the board in the 53rd minute.
India wasted penalty corner chances and had to pay for slopping defending as the match progressed.
Image: Kothajit Khadangbam (5) and Sardar Singh (8) of India look on as Eddie Ockenden of Australia (11) celebrates with Matt Gohdes (16) after scoring the fourth goal in the gold medal match at Glasgow National Hockey Centre on day eleven of the Glasgow 2014 Commonwealth Games on Sunday
Photograph: Robert Cianflone/Getty Images