A player from Chilean top flight side Audax Italiano has apologised after being arrested for climbing onto a fence and kicking a spectator following a match at the weekend.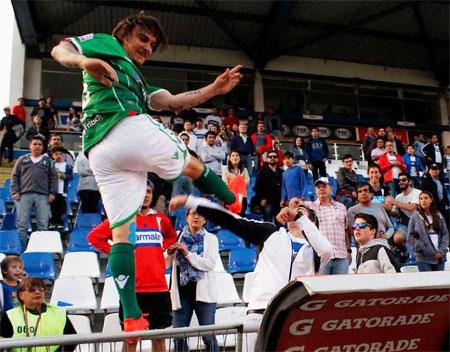 Argentine forward Sebastian Pol was detained overnight by police after his team's 4-1 defeat at Universidad Catolica on Saturday.
Television pictures showed the 28-year-old climbing onto a fence surrounding the pitch at Catolica's San Carlos de Apoquindo stadium and landing a kick on the supporter's chest. The fan was knocked backwards but did not fall over.
"I'm really full of regret for this," Pol told reporters at the police station, adding that the fan had insulted him.
"I apologise to him profusely. I didn't mean to strike him, I just wanted to frighten him.
"It's something new that life has taught me."
Chilean media said Pol, who has played for clubs in Costa Rica, Romania and Bolivia and has been at Audax since 2014, would face charges under legislation relating to violence in sports stadiums.
He was provisionally banned from attending any sports events for 20 days and also faces disciplinary action from the Chilean league.
The incident was reminiscent of one involving former Manchester United player Eric Cantona in a match against CrystalPalace in 1995. The Frenchman leapt over advertising hoardings and aimed a kick at a man in the crowd.
Image: Chilean club Audax Italiano's Sebastian Pol takes a swipe as he kicks a rival team's supporter at Universidad Catolica's Carlos de Apoquindo stadium on Saturday
Photograph: One football/Twitter