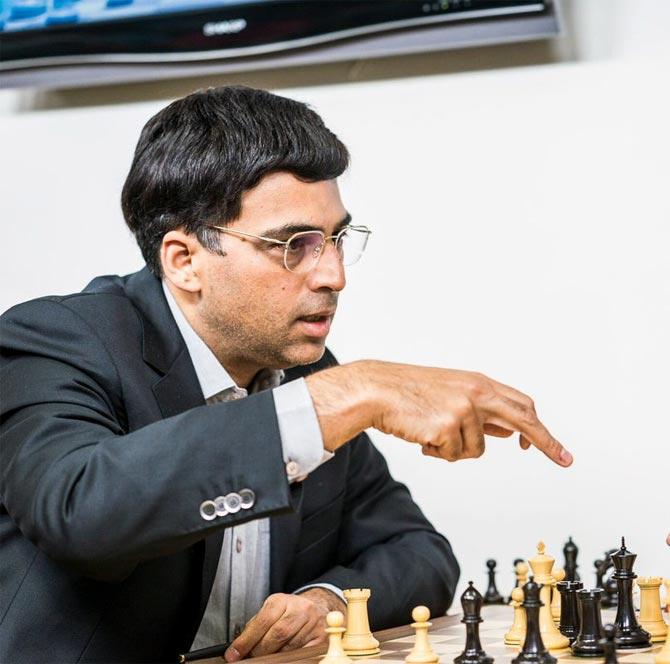 World rapid champion Viswanathan Anand lost to World No 2 Fabiano Caruana of USA as Indian men went down 1.5-2.5 at the hands of the defending champions in the fourth round of Chess Olympiad in Batumi, Georgia on Thursday.
In the women's section being held simultaneously, the Indians came back strongly to beat Poland 3-1 aided by victories from D Harika and Tania Sachdev on board two and three. Its surprising that Tania Sachdev was rested in the previous round when the Indian team drew with Serbia, losing on last two boards.
For the Indian men, this was the day when they had to hold themselves but still this is a better result than last time when they were beaten 3.5-.05 by the same team.
Anand faced a rather new setup in the Catalan opening as black and got a slightly worse position wherein Caruana, who fights for the next world championship match in just six weeks, was spot on.
While Anand did not get a second chance, P Harikrishna on board two and Krishnan Sasikiran on board four had drawn way before playing white. The two Indians got nothing as white and the pressure to hold was on Anand and Vidit Gujrathi.
Gujrathi drew an eventful game with Hikaru Nakamura and the top seeds romped to a victory.
Koneru Humpy got a huge advantage but it slipped away and she had to split the point with Monica Socko, the mainstay of team Poland.
D Harika stepped up from a clearly worse position to outwit Jolanata Zwadaska on the second board and turned the tables with some original manoeuvres while Tania Sachdev scored a clinical victory earlier in the day to give lead to the ladies. On the fourth board Eesha Karavade drew without too many hiccups.
Indian results (open): USA (8) beat India (6) 2.5-1.5 (Fabiano Caruana beat Viswanathan Anand; P Harikrishna drew with Wesley So; Hikaru Nakamura drew with Vidit Gujarati; K Sasikiran drew with Samuel Shankland).
Women: India (7) beat Poland (5) 3-1 (K. Humpy beat Monica Socko; J Zwadaska lost to D Harika; Tania Sachdev beat K Kulon; Anna Warakomska drew with Eesha Karavade).