High on confidence, but ravaged by injuries, the Indian hockey team faces a stiff challenge from reigning Olympic champions Germany in their third preliminary league match in the FIH Champions Trophy, in Melbourne, on Tuesday.
After two consecutive wins, over England and New Zealand, India sit pretty atop Pool A. But injuries to three key players are a headache for coach Micheal Nobbs ahead of the crucial encounter against the mighty Germans.
Midfielder Manpreet Singh and striker S V Sunil are on the injury list after Sunday's game against New Zealand and the team management may want to rest them as India have already won both their earlier matches.
India is the only team in the tournament to win its first two matches and lead the group with six points . All other teams in India's group have lost at least one match, with Germany and England both having three points from two outings.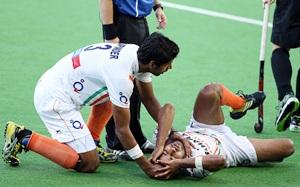 India defeated England 3-1 before posting a convincing 4-2 victory over New Zealand.
In Pool B, defending champions Australia and The Netherlands are tied on four points after Sunday's drawn encounter, leaving them with a win and a draw each from two matches.
The new format devised by the International Hockey Federation (FIH) for the Champions Trophy since last year allows all eight teams into the knock-out quarter-finals, and the significance of the group matches are only reduced to determining the last-eight line-up.
Manpreet had to leave the field in the closing stages of the game against New Zealand, clutching his jaw after being struck on the face by a Kiwi player's stick.
Although he required 10 stitches, coach Michael Nobbs is not ruling him out of the game against a new-look Germany team.
"Manpreet is an enthusiastic youngster and he's keen to play, but we'll decide tomorrow," said Nobbs, who gave his wards a rest day to recuperate from the strain of playing matches on two successive days.
Sunil has a strained hamstring and his availability will also be known on Tuesday morning after a fitness test ahead of the game.
Adding to the coach's worry is the stiffness in captain Sardar Singh's shoulder.
India's next opponent Germany have won the Champions Trophy nine times and won the Olympic gold medal in London, but only three members of the gold medal-winning side are in this squad.
The Germans began their Champions Trophy campaign with a 3-2 triumph over New Zealand, but succumbed to a shock 1-4 defeat to England on Sunday.
Nobbs is pleased with the way his wards have played so far in this tournament -- India's first major outing since their bottom-place finish at the London Olympics.
"It's been a good start and I hope the boys will keep improving," said Nobbs of the team, which is relatively younger, as many experienced players were dropped for this tournament.
"They are a very enthusiastic lot," Nobbs added.
Image: India's Rupinder Pal Singh tries to comfort teammate Manpreet Singh after he was hit in the head by a hockey stick during the match between India and New Zealand on Day 2 of the Champions Trophy.
Photograph: Michael Dodge/Getty Images