India made a bright start to their campaign at the Champions Trophy hockey tournament with a come-from-behind 3-1 win over England in Pool A at the State Hockey Centre in Melbourne on Saturday.
The new-look Indian team clinched a morale-boosting win through goals from opportunistic field goals from Danish Mujtaba (22nd minute) and Yuvraj Walmiki (38th) before Gurwinder Singh Chandi scored in a set-piece penalty corner (66th minute).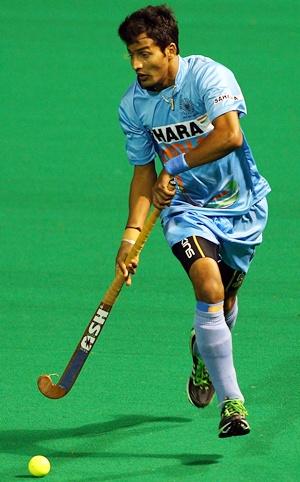 Earlier, the India defence was breached by a drag flick from Richard Smith on England's maiden penalty corner in the 14th minute.
Playing the first major international event after their disastrous last-place finish in the London Olympics, India have come to the elite eight-nation Champions Trophy with a new look team after dropping several ageing stars.
England have brought a young, experimental team here after several regular players took a break following the Olympics, where Great Britain finished fourth.
Many seasoned players in the England line-up went back to their full-time jobs or universities and left the places open for young players to be inducted for this tournament.
India will take on New Zealand on Sunday in their second outing in Pool A, which also features Olympic gold medalists Germany. Germany edged past New Zealand 3-2 in the other Pool A match.
While, Australia began their hunt for a fifth successive Champions Trophy title by spiking debutant Belgium's challenge 4-2 in a Pool A match.
Photograph: Paul Kane/Getty Images