'I'm not as strong as a guy physically and these new boats are tough'
'I'm a firm believer that if you're good enough you'll be on the good boats, male or female'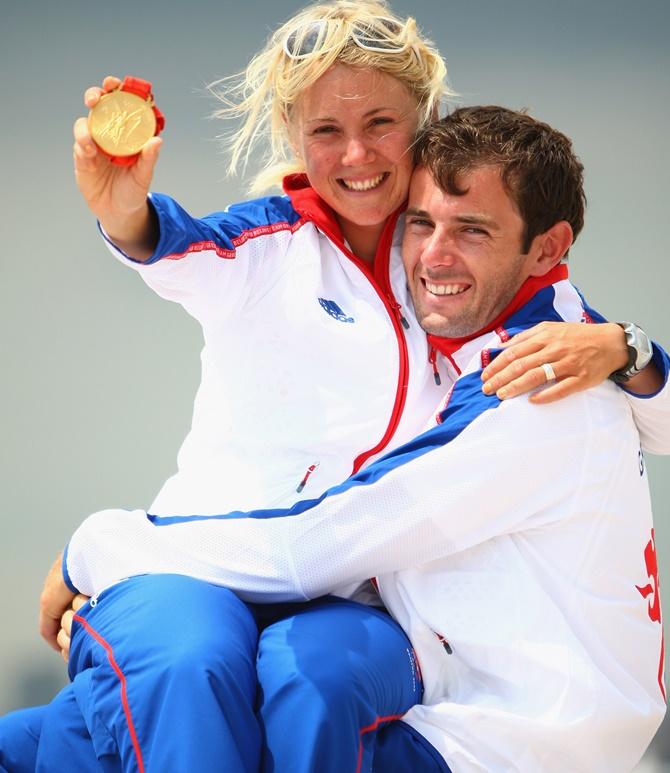 IMAGE: Beijing 2008 Olympic Games gold medal winning skipper Sarah Ayton of Great Britain poses with her husband Nick Dempsey. Photograph: Clive Mason/Getty Images
British sailor and double Olympic gold medallist Sarah Ayton is carving out a new career as a coach in the ultra-competitive, male-dominated world of high-performance sailing - a kind of Formula One on water.
The only woman to race in the Extreme Sailing Series fleet, tactician Ayton was named female ISAF Rolex World Sailor of the Year in Beijing in November, the highest award any sailor can receive.
With her four male crew mates, she capped last year by winning the Extreme series – a high-speed racing championship of 40-foot catamarans – after dominating the season.
Now it is out of the boat and into coaching, just as the Extreme Sailing Series switches to smaller, faster 32-foot GC32 catamarans which rise out of the water as they accelerate.
"It was a really good ending to 2015. I'd had my eye on Rolex sailor of the year for some time and it was a really big deal and special moment for me to get recognised and we finished off the job in Sydney winning the Extreme 40 Sailing Series," she said.
Ayton, now 35, scored Olympic success sailing with all-female crews in Athens in 2004 and Beijing in 2008. She retired from sailing in 2011 to look after her two young sons, but returned to competitive racing in 2014.
Sailing in the Yngling Olympic class with an all-female crew has the same intensity and commitment as racing the Extreme 40 catamarans - but not the physicality demanded of the latter.
"Getting back into competitive sailing in a really male environment has required me to be mentally tough and physically, I've really had to up my game," Ayton said.
Women struggle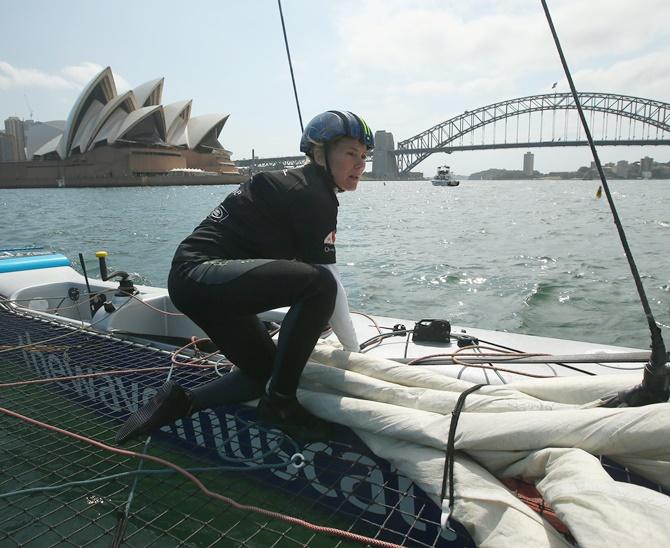 IMAGE: Sarah Ayton of The Wave, Muscat of Oman is seen racing during the 2015 Extreme Sailing Sydney series. Photograph: Mark Kolbe/Getty Images
Women's sailing has made huge strides in the last decade, with the all-female Team SCA winning a leg of the Volvo race in 2015. But top female sailors still struggle to compete with their male counterparts, in part because of the increasingly demanding requirements of strength and bulk at the top level.
As tactician, Ayton took the 'fifth crew' position on "The Wave, Muscat" catamaran during the Extreme series, a concept introduced in 2012 to give a platform for female sailors, sailors under 24 and amateurs. The new GC32s have no 'fifth crew' position at the moment.
The team decided to move Ayton off the boat into a coaching role as it learns to sail the challenging new boats, which can do speeds of up to 39 knots (74kph) and require greater strength and bodyweight to sail.
"I'm not as strong as a guy physically and these new boats are tough," Ayton said.
Ayton's change of tack this year reflects the wider issues around career progression for top women in sailing, which is crowned by the America's Cup, the world's longest-standing international sporting competition, which typically has all-male crews.
"I look at the guys who have similar achievements and they are all on America's Cup teams and that's sometimes quite hard because that's the pinnacle of our sport," Ayton said.
Ayton's new coaching role is about to start with the launch of the 2016 Extreme Sailing Series in Dubai on Feb. 10 and the first race in Muscat, Oman in mid-March.
She has, however, got her eye firmly on getting back in the boat. Re-introducing the fifth position on the new GC32 boats could create up to nine spots for top female sailors to target post Olympics and possibly feed into the America's Cup.
"I'm a firm believer that if you're good enough you'll be on the good boats, male or female. I just have to hope that next year they make it compulsory to have a female on board," she said.