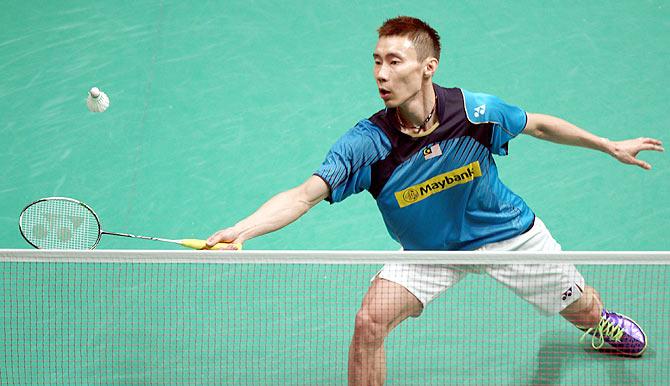 Lee Chong Wei. Photograph: Stanley Chou/Getty Images
Modern day sport is very demanding. Be it football, tennis, cricket or just about any sport for that matter.
Being on top of your game is of essence. To meet that end one needs to be consistent with speed, power and skill.
Purists believe that training, training and more training is the main catalyst for success. But, in times like these, where performance-enhancing drugs are easy to obtain, and the urge to consistently stay ahead of the pack strong, finding 'clean' athletes can be a task.
The world has been witness to many sports stars who have been caught and then punished for using drugs. Among them, most recently, is badminton World No 1 Lee Chong Wei, who had tested positive for the banned steroid dexamethasone.
The Badminton Association of Malaysia made the claim in a statement on Saturday even as the 32-year-old Wei thanked fans for their support and denied using drugs to gain any advantage.
Eventually, on Tuesday, he was provisionally suspended for an "apparent" anti-doping violation by the Badminton World Federation (BWF).
Following, Wei's ban Rediff.com brings you ten leading sports people who gave in to drugs, one of the mighty perils that has affected modern sporting culture.
Marin Cilic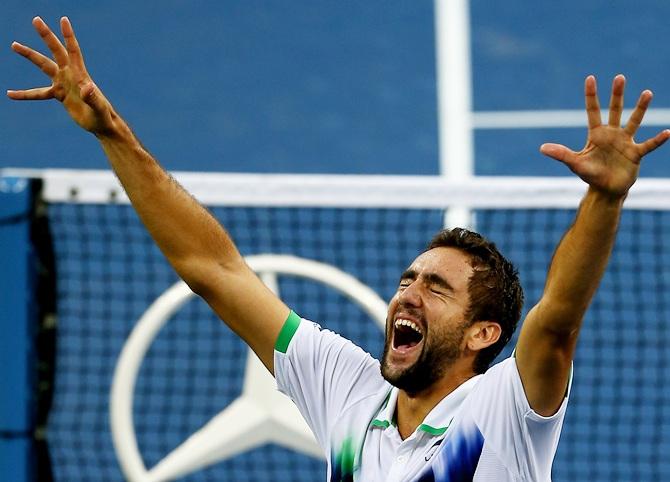 Marin Cilic. Photograph: Elsa/Getty Images
There are fewer fairy tales scripted on the tennis court than that of this big-serving Croatian.
Cilic served a nine-month ban, starting May 1, 2013, for returning a positive dope test during the BMW Open in Munich last April.
His ban was reduced to four months after the Court of Arbitration for Sport (CAS) accepted his appeal.
He returned to the circuit last October, winning events in Zagreb and Delray Beach while reaching the final in the Rotterdam.
His life came a full circle when he returned to this year's final Grand Slam in September and clinched the US Open, beating Japan's Kei Nishikori in the final.
Despite all the positives Cilic claimed to have gained from his brief exile from the sport.
"It angered me how all the process went because it was not fair to me," said Cilic, who maintains he never knowingly took any performance-enhancing drugs.
"It wouldn't be fair to any tennis player. So that was just very bad memories. But, you know, when you're against big organisations you are small ants. You can't do much. So I just accepted it. When I came back to the tennis court I erased it from my memory. I just used the positive parts," he had said after his US Open triumph.
Lance Armstrong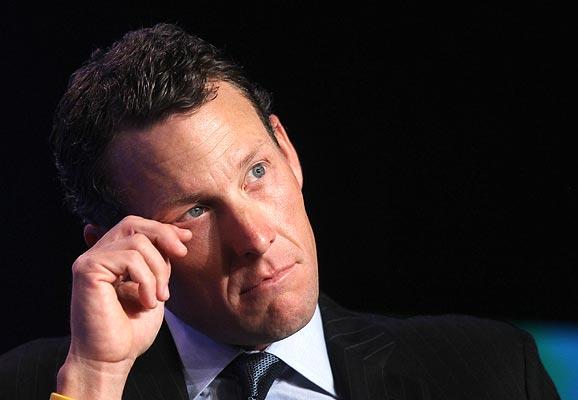 Lance Armstrong. Photograph: Mario Tama/Getty Images
Seven-time Tour de France champion Lance Armstrong was consistently accused of using performance-enhancing drugs to further his career.
The cancer survivor faced a barrage of allegations, especially after his first Tour title in 1999, when French cyclist Christophe Bassons had openly told French newspapers of Armstrong's use of drugs.
Twelve years later, his former team mate, Tyler Hamilton, told the US television programme 60 Minutes he witnessed Armstrong inject himself with a blood-booster during the 1999 Tour de France won by Armstrong.
Armstrong always denied taking banned substances and repeatedly had to fend off accusations despite having never failed a drugs test.
In January 2013, in a long interview with celebrity host, Oprah Winfrey, he finally confessed to using performance enhancing drugs during his cycling career, admitting he cheated to win all seven of his Tour de France titles.
The confession came after a US Anti-Doping Agency report detailed widespread use of performance-enhancing drugs by him and his USPS team.
Following his public confession, the International Olympic Committee ordered the return of the bronze medal he won in the time-trial at the Sydney 2000 Games and declared the race results void.
Armstrong was also stripped of the seven Tour de France titles he won from 1999 to 2005.
Shane Warne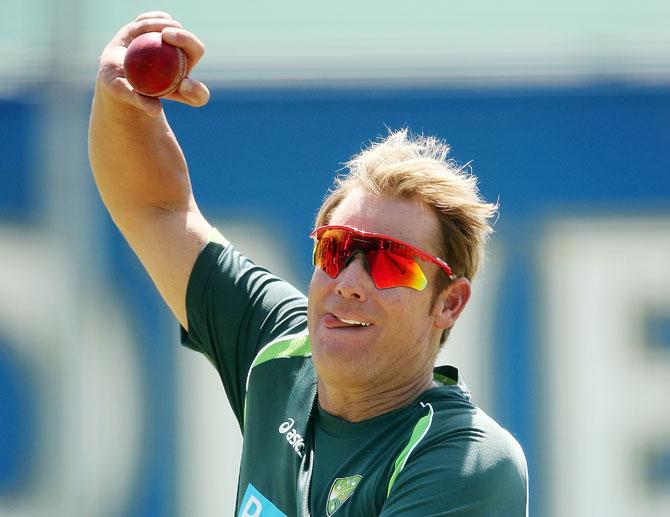 Shane Warne bowls during an Australian nets session. Photograph: Morne de Klerk/Getty Images
In February 2003, prior to the start of the cricket World Cup, the ace Australian spinner was sent home after testing positive for a banned diuretic during the One-day series in Australia earlier that year.
Warne initially claimed that he took only one of what he called a "fluid tablet" -- the prescription drug Moduretic -- on his mother's suggestion, in an attempt to improve his appearance.
He claimed ignorance of the banned nature and tablet he took, as well as much of the drug policy of the Australian Cricket Board despite extensive briefings on the matter in the past.
Charged with using "a prohibited method to enhance performance", he faced a two-year ban from cricket if found guilty.
Considerable pressure was placed on the panel considering his case by Dick Pound, head of the World Anti-Doping Agency. In the end, the panel found Warne guilty of breaching the ACB's drug code, and imposed a one-year ban.
It was further revealed, and confirmed by Warne in a subsequent television interview, that he had actually taken two of the pills.
Warne's testimony, and that of his mother, was described by the panel as "vague and inconsistent".
The panel decided against imposing the full two-year ban because the drug would have had no performance-enhancing effect, there was no evidence that Warne used the diuretic to mask steroid use, and medical opinion stated that steroids would not have enhanced Warne's recovery from a shoulder injury he had suffered several weeks earlier, or assisted his game in any case.
A disappointed Warne initially considered appealing, but decided against it, as several people, including Pound, pointed out that the penalty could have been increased if an appeal was made.
Wasim Akram, Waqar Younis, Aaqib Javed and Mushtaq Ahmed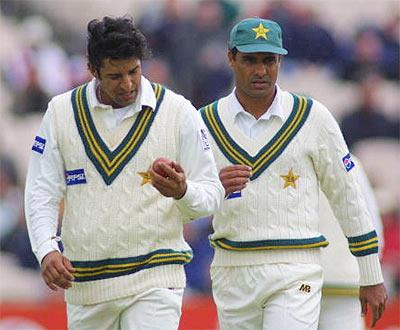 Wasin Akram and Waqar Younis. Photograph: Getty Images
During the 1992-93 Caribbean tour, on the night the Pakistanis arrived in Grenada for their last match before the first Test, four members of the team -- captain Wasim Akram, vice-captain Waqar Younis, Aaqib Javed and Mushtaq Ahmed -- were arrested on a beach, and charged with constructive possession of marijuana.
They were frogmarched to the police station and taunted by officers and onlookers. The charges were dropped later but the whole episode had left the team without the mental and physical strength to play a series.
Some of the cricketers just wanted to fly back home. After negotiations, it was agreed that the start of the first Test be put back by a day to give the Pakistanis time to get over the trauma.
It showed on the field that the Pakistanis were depressed by the events in Grenada.
Akram was jaded and did not have the confidence to run in to bowl at full throttle.
Lack of self-assurance was most apparent when he was reluctant to bowl, as was Waqar.
Pakistan went on to lose the Test series 2-0.
Tyson Gay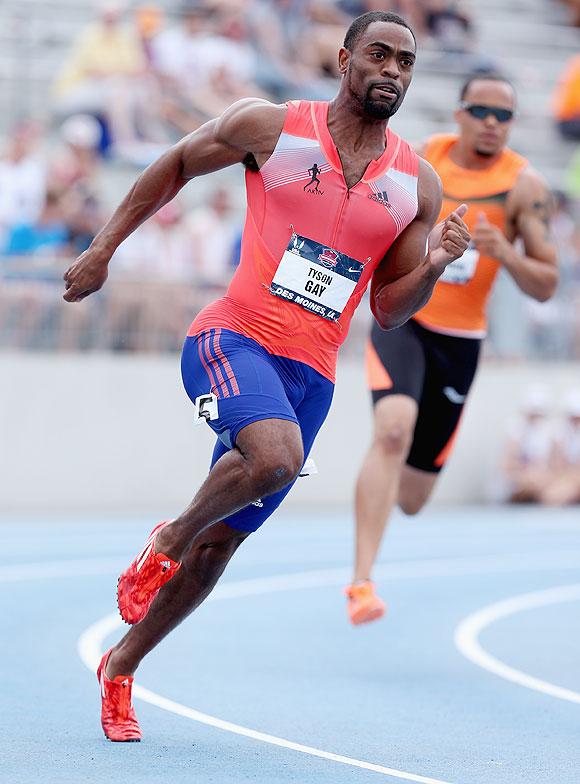 Tyson Gay. Photograph: Andy Lyons/Getty Images
More recently, in May this year, former World double sprint champion Tyson Gay was suspended for a year after testing positive in 2013 for a banned anabolic steroid by the US Anti-Doping Agency (USADA).
Gay returned the silver medal he won with the US 4x100 metres relay team at the 2012 London Olympics.
He was eligible to return to competition as early as in June after admitting his offence and co-operating with investigators.
As part of the suspension he accepted, Gay, the joint-second fastest man in history, was disqualified from all competitive results since July 15, 2012, the date he first used a product that contained a prohibited steroid.
The start of his ban was backdated to June 23, 2013, the day his doping sample was collected at the USA Outdoor Track & Field Championships and when he voluntarily stopped competing after being notified of his positive test.
Shoaib Akhtar and Mohammad Asif
Shoaib Akhtar and Mohammad Asif. Photograph: Getty Images
Prior to Pakistan's opening match of the Champions Trophy against Sri Lanka, in 2006, Pakistan fast bowlers Shoaib Akhtar and Mohammad Asif tested positive for a performance-enhancing drug, nandrolone.
Both cricketers received bans of up to two years if a second test confirmed the positive result.
WADA, the World Anti-Doping Agency, and the International Cricket Council had an understanding as per which the cricketers would undergo random testing during the Champions Trophy.
In November that year, Akhtar was handed a two-year suspension and a one-year suspension was given to Asif, this accompanied by a ban from professional cricket during the period.
A month later, the duo was acquitted by the tribunal appointed to review their appeals against the drugs ban imposed on them by an earlier committee.
However, the decision was challenged by WADA, who took the case to the Court of Arbitration for Sport.
A year later, CAS dropped the case, saying it had no jurisdiction to challenge PCB's decision.
Andre Agassi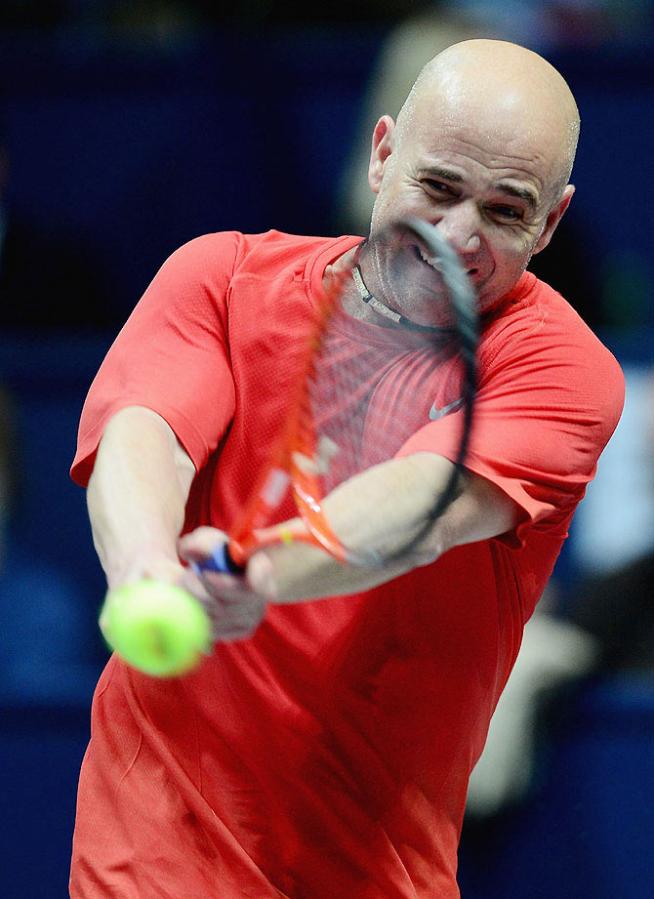 Andre Agassi. Photograph: Jamie McDonald/Getty Images
Andre Agassi's admission in his autobiography, Open, that he lied to tennis authorities about the use of addictive stimulant crystal methamphetamine to escape a ban shocked the world.
The eight-time Grand Slam winner said he wanted to share "my bad decisions which, in a few instances, nearly ended in catastrophe".
He admitted he used the drug with an ex-assistant in 1997.
Martina Hingis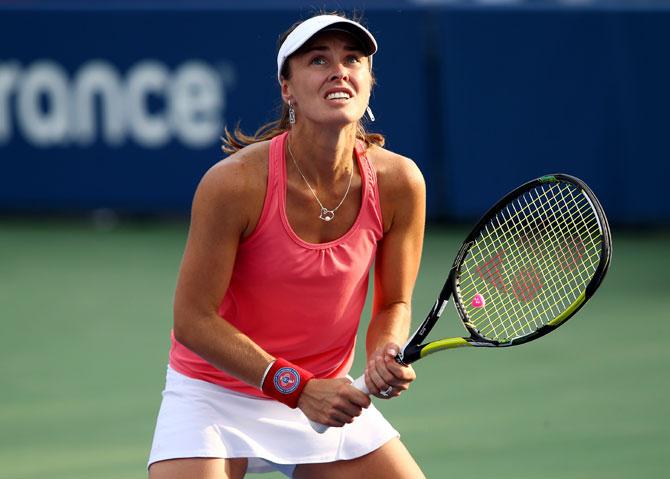 Martina Hingis. Photograph: Elsa/Getty Images
This tennis wonder girl was not too lucky in her second innings. She tested positive for cocaine during Wimbledon in 2007, her comeback year.
She was banned for two years and quit the sport, but made a return to playing doubles in 2013.
The 'Swiss Miss' has repeatedly protested her innocence.
Alberto Contador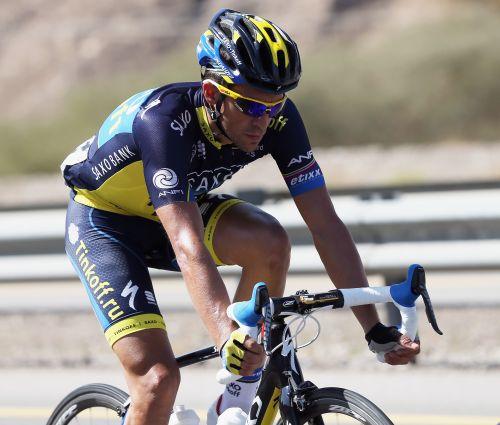 Alberto Contador. Photograph: Bryn Lennon/Getty Images
Alberto Contador, winner of the 2010 Tour de France, tested positive for the banned anabolic agent clenbuterol during the race.
The Spanish Cycling Federation (RFEC) initially proposed a one-year sanction for Contador after he tested positive for the banned anabolic agent clenbuterol, which he blamed on eating contaminated meat.
He was later cleared by the Spanish cycling federation (RFEC), but the International Cycling Union (UCI) and the World Anti-Doping Agency (WADA) appealed to CAS.
Contador was stripped of one of his three titles and banned for two years by the CAS for failing a dope test during the 2010 race.
He was Tour winner in 2007, 2009 and 2010.
He claimed innocence and returned after the retroactive ban ended in August 2013.
Pradeep Sangwan and others...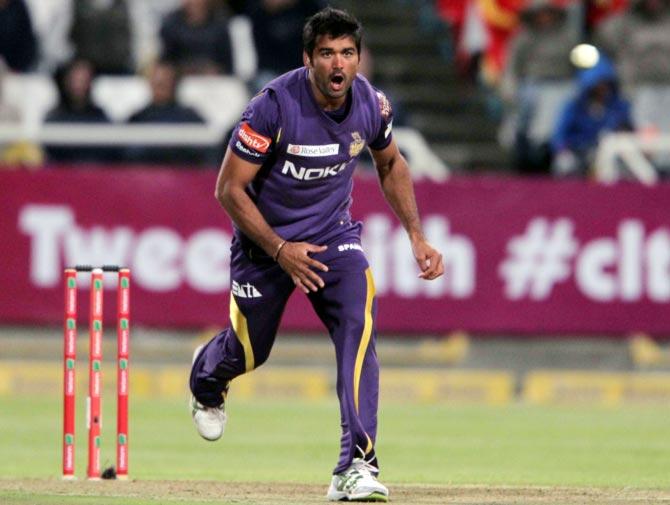 Pradeep Sangwan. Photograph: Carl Fourie/Gallo Images/Getty Images
Among other modern sportsmen who have resorted to drugs is Delhi left-arm pacer Pradeep Sangwan, whose 18-month doping ban ended last week.
Sangwan, who played for Kolkata Knight Riders in the sixth edition of the Indian Premier League in 2013, was the first Indian professional cricketer to be banned after he had tested positive for stanozolol -- a prohibited steroid -- which was found in his urine sample.
The 24-year-old, who was part of India's World Cup-winning Under-19 team in 2008, was banned for use of the prohibited substance during the sixth edition of the Indian Premier League in 2013.
Even the likes of Rafael Nadal have faced constant scrutiny, with opponents and critics alleging his use of drugs to gain power to hit his big forehands.
According to some international reports, "some tennis watchers suspect that Nadal's seven-month absence from the professional circuit between July 2012 to February 2013, and his loss at the 2009 French Open and withdrawal from Wimbledon that year, may actually have been a silent doping ban that was never publicly disclosed."