American twins Bob and Mike Bryan will end the tennis season on top of the world for a record eighth time, the sport's governing body said on Monday.
The Olympic gold medallists are the only doubles team to win at least five titles for 10 consecutive years, and won a record-equalling 12th Grand Slam title at the US Open last month.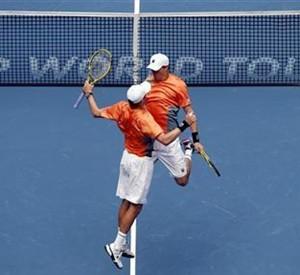 "Finishing number one is always our ultimate goal when we start any season and to achieve this again feels amazing," a statement from Bob read.
"The quality of doubles continues to get tougher each year and it is an honour to finish ahead of so many strong teams."
The 34-year-old Bryans are one of only two teams to have won every Grand Slam title as well as Olympic gold. Australians Todd Woodbridge and Mark Woodforde also achieved that feat.
The Bryans hold the record for winning the most doubles team titles (82) since tennis turned professional in 1968.
Photograph: David Gray/Reuters