'Andy you should be in bed. I don't know why you're here taking photos'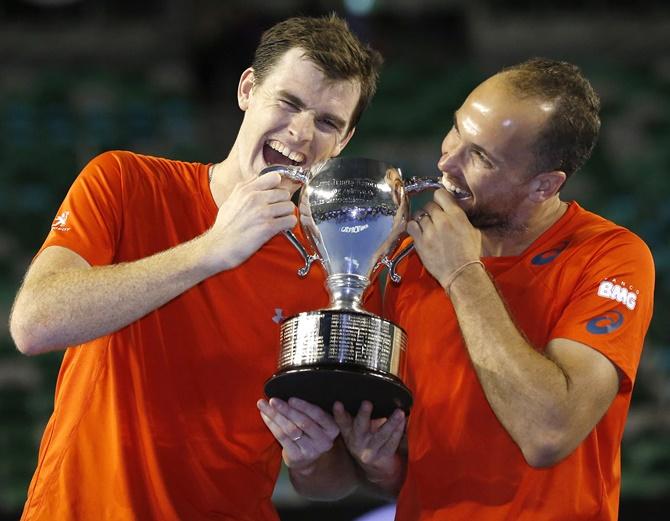 IMAGE: Britain's Jamie Murray, left, and Brazil's Bruno Soares celebrate with the men's doubles trophy. Photograph: Issei Kato/Reuters
Britain's Jamie Murray gained an early claim to bragging rights over younger brother Andy when he combined with Brazil's Bruno Soares to win the Australian Open men's doubles title early on Sunday.
Murray and Soares beat Canada's Daniel Nestor and Czech Radek Stepanek 2-6, 6-4, 7-5 in the final that followed Angelique Kerber beating Serena Williams for the women's' title.
Andy Murray, who turned up for the trophy presentation, will meet five-time champion Novak Djokovic in the men's singles final later on Sunday.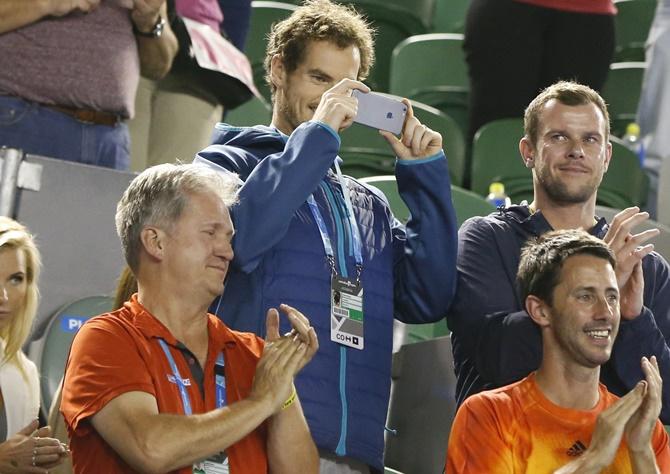 IMAGE: Britain's Andy Murray, centre, uses his mobile phone after his brother Jamie Murray and Brazil's Bruno Soares won their doubles final. Photograph: Issei Kato/Reuters
"Andy you should be in bed. I don't know why you're here taking photos but we'll be there supporting you," a tearful Murray said in a courtside interview.
It was the first Grand Slam title for the Briton and his Brazilian partner, in their first major tournament together.
The Murrays are also the first brothers to make the men's singles and doubles finals at the same grand slam in the Open era.
IMAGE: Britain's Jamie Murray, right, and Brazil's Bruno Soares celebrate with the men's doubles trophy as Murray's brother Andy Murray claps. Photograph: Issei Kato/Reuters
Murray actually held a championship point while serving at 5-4 in the deciding set but blew the opportunity, though the Canadian and Czech pairing were unable to consolidate.
Soares then gave them a 40-0 advantage in the 12th game and held on to clinch the title two points later.
"We had them on the ropes for a bit in the second set but they came through and that's why they're Grand Slam champions," Nestor said.