'This is someone playing dirty - we are getting it sorted'
'As far as Sushil Kumar is concerned, I think there is practically no chance for him (to replace Narsingh)'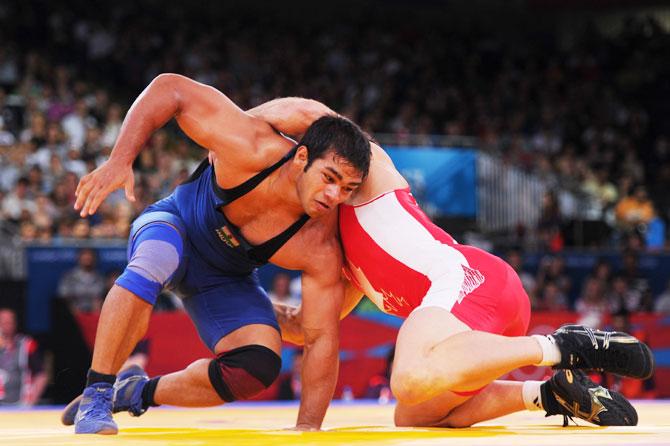 IMAGE: Narsingh Yadav competes in the Men's Freestyle 74 kg wrestling event at the 2012 Olympic Games. Photograph: Michael Regan/Getty Images .
Barely 10 days before the start of the Olympics, India suffered a huge embarrassment as 74kg freestyle wrestler Narsingh Yadav failed a dope test.
The National Anti-Doping Agency (NADA) Director General Navin Agarwal confirmed that they found two samples taken from Yadav positive for dope.
"Yes, he (Narsingh) tested positive for a banned steroid. His B sample was also found to be positive. Narsingh was personally present when his B sample was opened," NADA DG said.
"He appeared before a disciplinary panel yesterday. The panel sought for more reports regarding the matter. We will proceed further and I am hoping that the panel will proceed quickly. Till then we will have to wait," he added.
Asked if Narsingh will miss the Rio Olympics, Agarwal said, "It is too early to comment in that regard. We will try to complete the whole thing quickly. I cannot speculate on that."
The NADA conducted a random dope test on Yadav on July 5 at the Sports Authority of India's (SAI) regional centre in Sonepat. The report of his 'A' sample test came out positive, say the sources. Later, he was called for his 'B' sample test, which also returned positive. NADA sent its final report to the Wrestling Federation of India (WFI) last Saturday.
There are indications that Yadav appeared before the NADA panel on Friday and has pleaded his innocence. According to a NADA source, Yadav has told the panel that the whole affair seems to be a conspiracy by some rival or rivals to put roadblocks in his participation at Rio.
The Sports Ministry also confirmed that a wrestler has failed a dope test even though it desisted from giving out Yadav's name.
"One wrestler has been detected by National Anti-Doping Agency (NADA) as dope positive. An Anti-Doping Disciplinary Panel(ADDP) has been constituted by NADA under its rules for hearing the case. Its first hearing was held yesterday in which the wrestler was given an opportunity to defend himself," the Ministry said.
"After the hearing, the panel has asked NADA for some further reports. After these reports are received, the panel would hold further hearing in the matter. ADDP is headed by a legal expert and includes doctors and sportspersons.
NADA is an autonomous body under the Ministry of Youth Affairs and Sports to check doping in sports.
"India is committed to the World Anti-Doping code and follows prescribed procedures. Government does not interfere in the day-to-day functioning of NADA and is committed to total transparency and objectivity in matters relating to doping," it added.
Indian Olympic Association Secretary General Rajeev Mehta, on the other hand, ruled out the possibility of Sushil benefitting from the episode, saying that the last date for sending Olympic entries, July 18, is well behind them now.
"As far as Sushil Kumar is concerned, I think there is practically no chance for him (to replace Narsingh). Everything is closed as far as entry of athletes is concerned," he said.
WFI sources said Narsingh had been discouraged from attending the preparatory camp in Sonepat given the acrimony leading up to his selection in the Olympic team.
"But he still went ahead," said the source.
Narsingh's sponsors JSW Sports backed the 26-year-old.
"This is someone playing dirty - we are getting it sorted. He is the biggest hopeful and he is shaken up. Sad how in India we can't even allow our athletes to train in peace," JSW Cement MD Parth Jindal tweeted.
Earlier, the Delhi High Court had dismissed Olympian Sushil Kumar's plea for a trial against Yadav to decide on a berth in the 74kg category at the Rio Olympic berth.
Sushil had appealed to the court, seeking a trial to participate in the 74 kg weight category.
Sushil had won both his Olympic medals in 66kg category but had to move up to 74kg after the International Wrestling body (FILA) rejigged the weight divisions post the London Games.
After jumping up the division, Sushil had fought in just a couple of international tournaments. In fact, what has gone against Sushil is that he had last fought in 2014 Commonwealth Games at Glasgow, where he had won a gold medal. Since then he has not participated in any major event owing to injuries.
Before the World Championship last year, WFI had conducted trials but Sushil opted out of that as well as he sustained a shoulder injury at that time.