Some of the top tennis players, including world No. 6 Tomas Berdych and No. 9 Janko Tipsarevic, will take part in the 18th Aircel Chennai Open 2013, beginning December 31.
This will be 26-year-old Berdych's second visit to the tournament, while Tipsarevic will open the new season at the Chennai Open for the fifth successive year.
"We are pleased to announce the participation of two top-10 players. Tomas Berdych had a huge fan following in India after he reached the semi-finals in 2011. He has had a great year thus far and we are sure he will continue his winning streak in Chennai," President of Tamil Nadu Tennis Association, M A Alagappan said.
"Tipsarevic is a regular to Chennai and loves to play here. He has been doing well in 2012 and I am sure his presence will ensure that fans will get to see some fantastic games being played during the tournament. We would like to take this opportunity to welcome him to India," he added.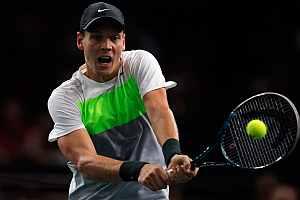 Berdych, who started 2012 with a win in the Hopman Cup for the Czech Republic with compatriot Petra Kvitova, continued his top form throughout the year.
He reached his career best at the US Open Championships where he stalled the progress of Roger Federer to enter the quarter-finals.
In September, Berdych led the Czech team to victory to set-up a face-off against Spain in the Davis Cup final which would be held later this year.
He seized his second ATP title of 2012 by rallying past top-seeded Jo-Wilfried Tsonga in the Stockholm Open.
Tipsarevic also had a productive year, besides leading his country to a Davis Cup first round win over Sweden, he compiled a 15-5 record during the spring European clay swing.
Photograph: Dean Mouhtaropoulos/Getty Images