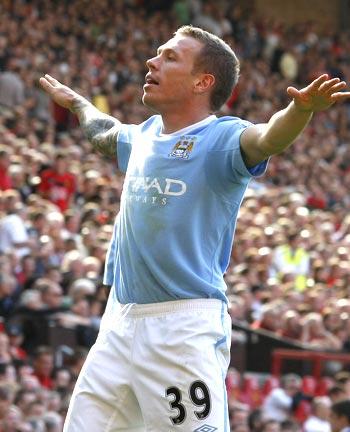 Manchester City forward Craig Bellamy and Manchester United defender Gary Neville both escaped charges from the Football Association on Tuesday following their antics in Sunday's highly-charged Manchester derby at Old Trafford.
The FA warned both players as to their future conduct after investigating Bellamy for shoving his hand into the face of a fan who invaded the pitch.
Neville, a non-playing substitute, was warned following his over-enthusiastic celebrations following United's winning goal which came in the sixth minute of stoppage time.
Neville celebrated Michael Owen's goal, which gave United a 4-3 win, by running down the touchline towards the City fans but the FA decided against charging either player with improper conduct.
In a statement the FA said: "The FA has today warned both Manchester City's Craig Bellamy and Manchester United's Gary Neville following separate incidents in Sunday's fixture at Old Trafford."
United have also avoided any disciplinary action after City substitute Javier Garrido was struck on the head by a coin as he headed towards the tunnel at halftime.