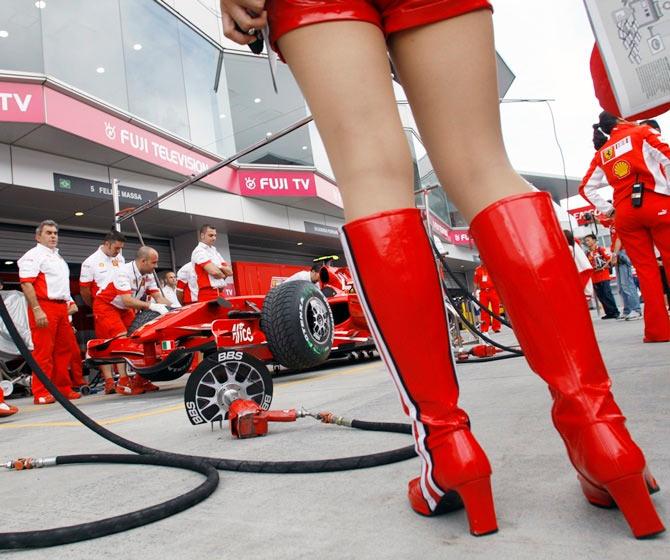 A race queen stands next to a Ferrari Formula One car at the pit. Photograph: Kim Kyung-Hoon/Reuters
Azerbaijan will make its Formula One debut in July next year with Germany returning after a year's absence, according to a 21-race provisional calendar published by the sport's governing body on Friday.
Malaysia moves to a September slot, with the race back-to-back with Singapore, while Russia takes a May 1 slot as the fourth race of the year a weekend after Bahrain.
This year's calendar has 19 races, with Germany absent for financial reasons and Mexico making its return for the first time since 1992, and 21 would be a record number.
Provisional calendar:
April 3 - Australia
April 10 - China
April 24 - Bahrain
May 1 - Russia
May 15 - Spain
May 29 - Monaco
June 12 - Canada
June 26 - Britain
July 3 - Austria
July 17 - Azerbaijan
July 31 - Germany
Aug 7 - Hungary
Aug 28 - Belgium
Sept 4 - Italy
Sept 18 - Singapore
Sept 25 - Malaysia
Oct 9 - Japan
Oct 23 - US
Oct 30 - Mexico
Nov 13 - Brazil
Nov 27 - Abu Dhabi