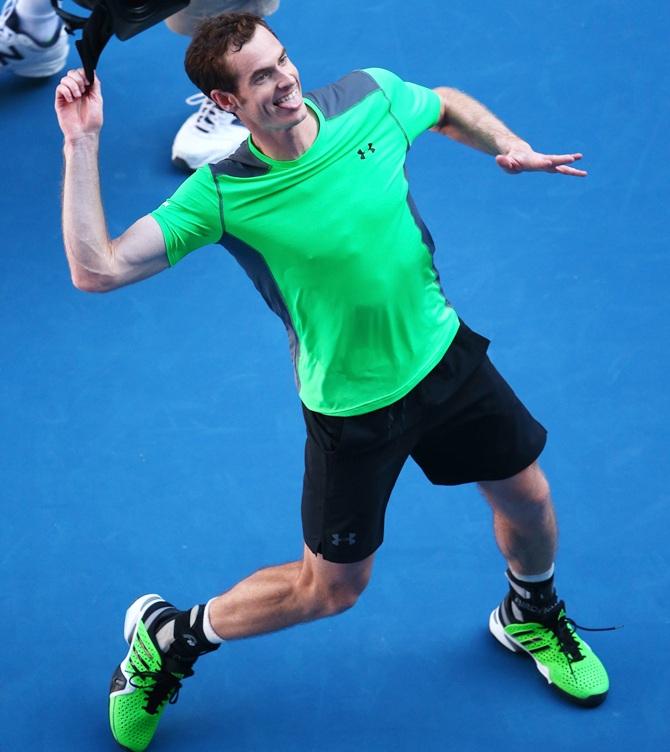 Andy Murray celebrates winning in his third round match. Photograph: Clive Brunskill/Getty Images
Andy Murray has set up a mouth-watering clash with Grigor Dimitrov and a chance to avenge his defeat at Wimbledon after hammering Portugal's Joao Sousa 6-1, 6-1, 7-5 to reach the fourth round of the Australian Open in Melbourne, on Friday.
- SHOCKING! Seppi dumps Federer out of Australian Open

The Briton had his Wimbledon title defence ended by Dimitrov in the quarter-finals last year and will face the rising Bulgarian after he prevailed in a five-set dog-fight against Marcos Baghdatis.

"It will be a tough match obviously," sixth seed Murray told reporters.

"He's played well in the Slams the last year or so. Yeah, he's obviously a talented player. You know, he's one of the young guys trying to make a breakthrough, so he'll be motivated.

"Hopefully I can play a good match and make it tough for him."
- Male presenter's 'twirl' request to Bouchard sparks controversy

Murray heads into the match without dropping a set, but was disappointed with himself for allowing 55th-ranked Sousa to recover a break in the third set and hurled his racquet in disgust.

Murray would blow two match points before closing it out but the Scot may take some comfort that Dimitrov was made to work much harder against big-hearted Cypriot Baghdatis, who famously made the 2006 final without a seeding.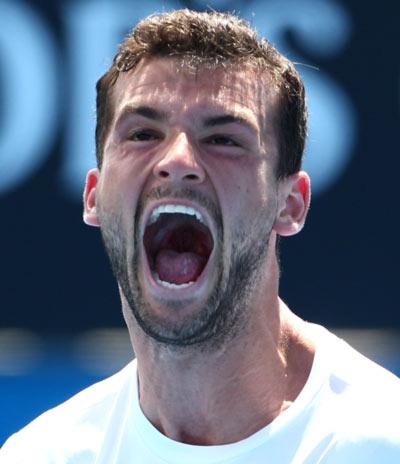 The 23-year-old Dimitrov clawed back from a set down at a rowdy Showcourt Three to win 4-6, 6-3, 3-6, 6-3, 6-3, a confidence-building win after having felt like he had got out of the wrong side of bed in the morning.

"Because it's not every day you wake up in the morning and you feel 100 percent to play tennis," the 10th seed said.

"Especially on days like that, it's really important to keep your sanity, you know, give what you got, play with what you have.

"So to me (it) was just one of those days that pretty much nothing was going my way."
- Australian Open: Bopanna, Paes, Sania lose doubles matches

Dimitrov, who was well beaten by the Scot at the Paris Masters -- a defeat that cost him a spot in the season-ending ATP Tour Finals -- said he expects a different Murray to come out than the listless opponent he despatched at Wimbledon.

"I think we all know that," he said. "I think all the other matches have been always close against him.

"We always had good battles. We know how we play, so there's no secrets out on the court, which is in a way nice to have.

"At least you know what to expect. I think it's going to come down to those kind of little moments that we can use."
Image: Grigor Dimitrov celebrates winning his third round match.
Photograph: Robert Prezioso/Getty Images