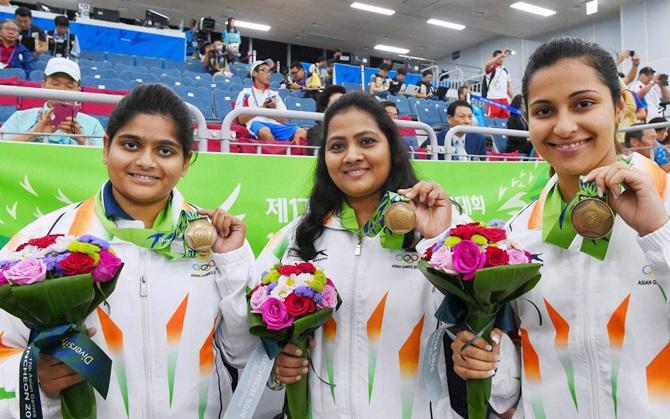 From left,

Rahi Sarnobat, Anisa Sayyed and Heena Sidhu pose with their medals

. Photograph: PTI
Shooters continued to deliver medals for India at the 17th Asian Games with the trio of Heena Siddhu, Rahi Sarnobat and Anisa Sayyed cliching a bronze in the women's 25m pistol event in Incheon on Monday.
- Complete coverage: 2014 Asian Games
Heena (572), Anisa (577) and Rahi (580) combined for a score of 1729 to finish third behind silver-medallists China (1747) and hosts South Korea, who won the gold with a score of 1748.
The top-finishing South Korean team comprised Jangmi Kim (584), Junghye Kwak (583) and Jungeun Lee (581).
While Anisa and Rahi did well in rapid fire, Heena was better in the precision rounds.
'Lot of pressure'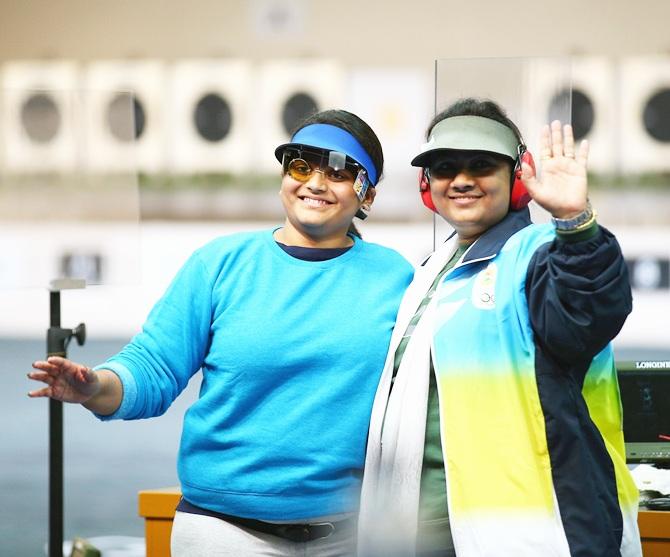 Rahi Sarnobat of India, left, and Anisa Sayyed of India celebrate. Photograph: Paul Gilham/Getty Images
"There was a lot of pressure as we knew that Rahi and I had to do well in rapid fire as Heena is new to this format," said Anisa.
"It is my first Asian Games medal and I am very happy because otherwise people would have said that we did not deliver despite being rapid fire experts," she added.
However, the troika of Ayonika Paul, Apurvi Chandela and Raj Chaudhary finished a disappointing sixth in the 10m Air Rifle Women's Team Finals.
World No 8 Ayonika scored a creditable 417.7 but Apurvi Chandela (413.8) and Raj Choudhary (407.6) failed to come up with a better show and their combined total of 1239.1 left them at the sixth spot.
China rode on Siling YI, Binbin Zhang and Liuxi Wu to clinch the gold with an aggregate score of 1253.8, while the Iran team comprising Najmeh Khedmati, Narjes Andevari Emamgholinejad and Elaheh Ahmadi won the silver.
Kim Seola, Kim Gaenam and Mira Jeong earned hosts Korea a bronze with a combined score of 1241.6.
Ayonika finished 7th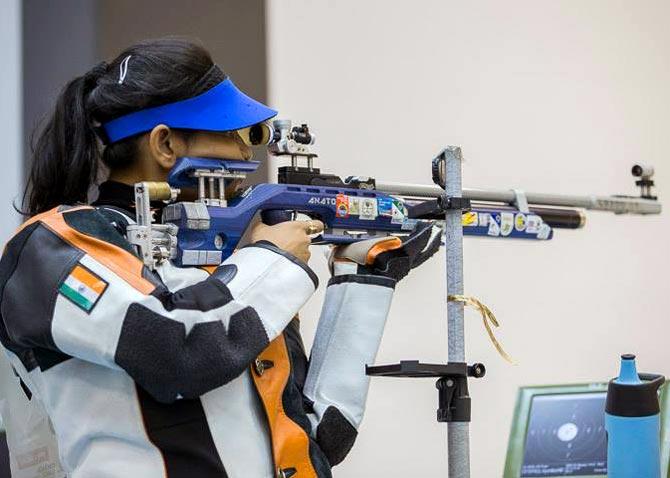 Ayonika Paul of India in action. Photograph: Olympic Gold Quest
The 21-year-old Ayonika, who had clinched a silver medal in Commonwealth Games and also fetched a World Cup bronze in Slovenia, qualified for 10m rifle individual final but finished seventh after coming up with scores of 101.9.
The Indian was tied third with 30.8 after the first series but dropped to sixth place with 61.4 next. She remained tied sixth after the third series but by the end of the fourth series, Ayonika was out of the competition following shots of 9.7 and 10.5.
Iran occupied the first two places with Najmeh Khedmati and Narjes Andevari Emamgholinejad winning the gold and silver. China's Binbin Zhang won the bronze.