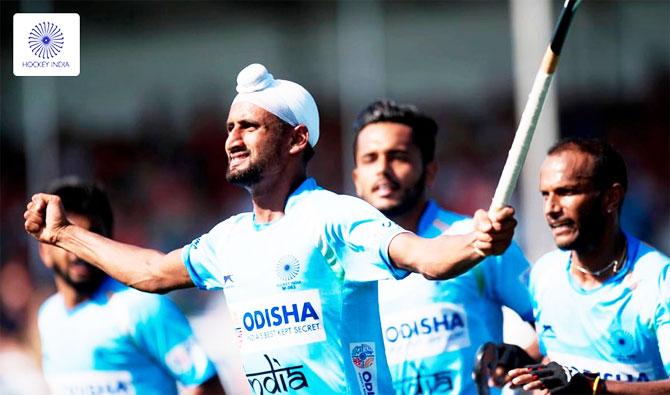 The Indian men's hockey team recorded its biggest ever win in international hockey as it annihilated Hong Kong China 26-0 in a Pool B match of the Asian Games, bettering an 86-year-old mark in Jakarta on Wednesday.
Defending champions India bettered its record set way back in 1932 when the national team, which had legendary Dhyan Chand, Roop Singh and Gurmeet Singh, thrashed USA 24-1 in the Olympics at Los Angeles.
The record for the biggest win remains with New Zealand, who beat Samoa 36-1 in 1994.
Such was their dominance that with seven minutes to go India took its goalkeeper off the field.
As many as 13 Indian players registered their names in the scoresheet.
Rupinderpal Singh (3rd, 5th, 30th, 45th, 59th minutes), Harmanpreet Singh (29th, 52nd, 53rd, 54th) and Akashdeep Singh (2nd, 32nd, 35th) scored a hat-trick each, while Manpreet Singh (3rd, 17th), Lalit Upadhayay (17th, 19th), Varun Kumar (23rd, 30th), SV Sunil (7th), Vivek Sagar Prasad (14th), Mandeep Singh (21st), Amit Rohidas (27th), Dilpreet Singh (48th), Chinglensana Singh (51st), Simranjeet Singh (53rd) and Surender Kumar (55th) were the other goal getters for India.
It was always expected to be a lop-sided affair between world no. 5 India and world no. 45 Hong Kong China and it turned out to be exactly the same.
With a keeper-less Indian goalpost to attack, Hong Kong China earned its first chance to get on when they earned their first penalty corner but India went for the review which turned out to be successful.
India's chief coach Harendra Singh was happy for his players and said they are now part of a legacy which will be always be remembered in the history of Indian hockey.
"For me it does not matter, but for the players it is a proud moment. When history will be discussed, the names of these 18 players will be there. The record is always for the players," Harendra told reporters.
India did not show any mercy to their opponents, scoring four goals in the first five minutes of the match. They ended the first quarter with a comprehensive six-goal lead and made it 14-0 after adding eight in the second quarter.
It turned out to be just a practice match for India, which had trounced hosts Indonesia 17-0 in their first pool match.
The play was restricted to Hong Kong China's half and Indian captain P R Sreejesh, guarding the goal post, was not challenged even once.
If goalkeeper Michael Chung had not made a few good saves in the third quarter, the scoreline could have been even more worse for Hong Kong China.
While Sreejesh guarded the post in the first half, Krishan Bahadur Pathak did the duty after the change of ends.
With India set to take on Japan on Friday and Korea on Saturday, India coach Harendra said "the real Asian Games will begin now" for the defending champions.