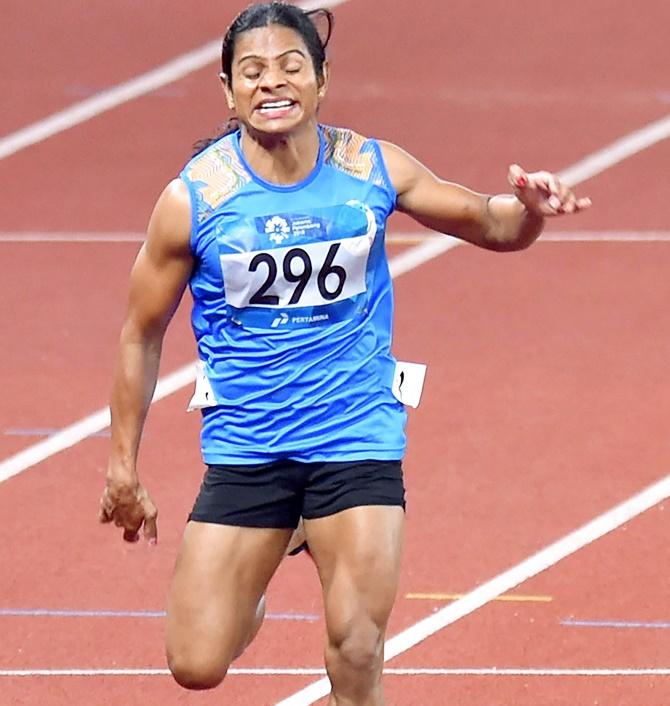 Swapna Barman became the first Indian heptathlete to win an Asian Games gold while Arpinder Singh ended a 48-year long wait for triple jump victory after Dutee Chand blazed the track for her second silver on an action-packed day of athletics, in Jakarta, on Wednesday.
Barman, who has six toes in both her feet, battled sever tooth ache during her event and competed with a tape on her right cheek. Still, she produced her career-best performance by logging 6026 aggregate points from the seven events.
A dehydrated Arpinder jumped 16.77m in his third attempt to win the men's triple jump gold.
Wednesday's mark of Arpinder was, however, well below his season best of 17.09m which he did during the National Inter-State Championships in June, which had put him at number three in the Asian rankings.
He has a personal best of 17.17m. He had finished fifth in the 2014 Asian Games.
Dutee added a silver to her kitty by finishing second in the women's 200m after finishing second in the women's 100m dash a few days before. She crossed the finishing line in 23.20 seconds, behind Bahrain's Edidiong Odiong who clinched the gold in 22.96. The bronze went to China's Wei Yongli (23.27).
The 22-year-old Dutee was not allowed to participate in the 2014 Asian Games as she was serving a ban under the hyperandrogenism policy of the IAAF (international athletics federation).
She filed an appealed against this policy before the Court of Arbitration for Sports and won it. In a recent revision of the IAAF's hyperandrogenism policy (which bars women athletes having male hormones above permissible limit from competing), Dutee has been left out of its purview.
The rule now applies to events from 400m to the mile, including 400m, hurdles races, 800m, 1500m, one mile races and combined events over the same distances.
"I have faced a lot since 2014. No one has gone through such a bad phase. I am glad that I could win two medals for the country. As of now there is no issue but there is no guarantee (of any ban)," the diminutive but gritty Dutee told reporters.
"Yes, there is always this fear that it (the ban) might come back. But more the fear, the harder I train," said Dutee who was suspended from competing in 2014-2015.
"It feels great to win two silver and that too with my personal best time in semifinals. I was little tight today because I had given my all in the semifinal. I could not give my best (in the final) but I have trained hard," she said.
Dutee joined her illustrious compatriots such as P T Usha in the list of athletes who have won more than one medal at the Asian Games.
The legendary Usha had swept four gold medals at the 1986 Seoul Games, winning 200m, 400m, 400m hurdles and 4x400m relay. Jyotirmoyee Sikdar (800m and 1500m) had also won two medals at the 1998 Bangkok Asian Games. Sunita Rani (1500m, 5000m) also returned with two medals from the 2002 Busan Games.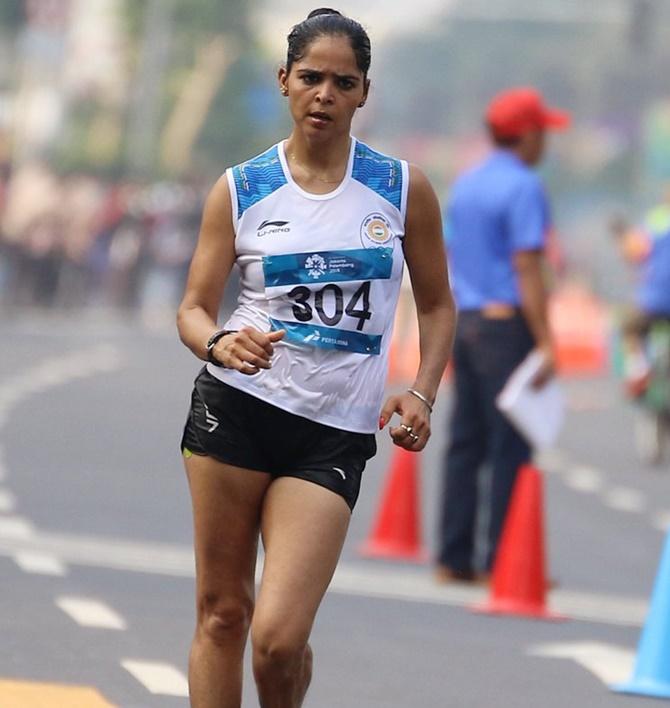 Meanwhile, Khushbir Kaur, who won a silver in the 2014 Asian Games in Incheon, finished fourth in the women's 20km race walk with a timing of 1:35:24 while compatriot Soumya Baby was disqualified after receiving her third warning for 'loss of contact' after the 14km mark.
In the men's 20km race walk event also, both national record holder K T Irfan and Manish Rawat were disqualified in similar situations as Soumya.
Both Irfan and Rawat received their third warning after the 12km mark for 'loss of contact'. Their disqualification was also under the IAAF Rule 230.7c.
In men's 1500m, Jinson Johnson and Manjit Singh made it to the final race at overall second and seventh in the qualification race.