Aditi Mutatkar braved a calf injury en route to a straight-game triumph over Sri Lanka's Thilini Jayasinghe as Indian shuttlers began their individual campaigns at the Asian Games on a bittersweet note in Guangzhou on Tuesday.
Aditi beat her rival 21-11, 21-19 in just 19 minutes after gaining a comfortable 10-point lead in both games.
Aditi hit four smash winners, the same as her rival, and the two were also more or less matched well in net play. But the Indian woman had a clear edge otherwise.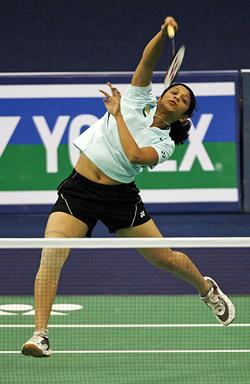 Aditi will meet fourth seed Erika Hirose of Japan, quarter-finalist in the World Championship this year, in the pre-quarterfinals. The Japanese got a first round bye.
In the women's doubles, Jwala Gutta and Ashwini Ponnappa, fresh from their Commonwealth Games women's doubles gold, sailed through against the Thai pair of Savitree Amitrapai and
Punyada Munkitchokecharoen.
The Indians were leading 21-13 when their rivals retired after one of them got hurt.
But the second doubles pair of Aparna Balan and Prajakta Sawant exited after losing tamely to Malaysia's N G Marylen Poaulen and Woon Khe Wei 21-17, 21-7 in a 20-minute drubbing.
Indian coach P Gopichand said it was a decent beginning by the women.
"But the main matches are yet to come," he added.
Gopi also revealed that another player, Trupti Murgunde, will fly back home and is due to miss the Games after picking up an ankle injury.
The Indian pair will take on the top Chinese combination of Tian Oing and Zhao Yunki, seeded second, in the next round and Jwala said that she and her partner need to be patient.
"Against China we need to be patient but persistent. I have always enjoyed playing against the Chinese. Playing them on their home ground will be a one-of-a-kind experience," she said.
Ashwini said the match would not be easy though she had adjusted well to the conditions.
"I am going to enjoy our match against China. I've adjusted well to the conditions here. At the start of my other matches I got a little frustrated and eager to win but Jwala calmed me down," she said.