There is a regular pattern in the performance of the Indian hockey team -- they start getting sloppy after posting healthy leads early in matches.
- Asia Cup Hockey: India thrash Oman 8-0 in opener
That trend was again seen on Saturday when India hammered Oman 8-0 in the opening encounter of the Asia Cup in Ipoh, Malaysia and India's interim coach Roelant Oltmans pointed out the flaw.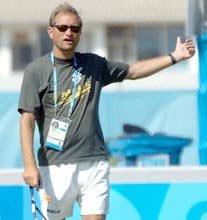 "It was a regular win. We played very well in the first half, but in the second half we were a bit sloppy. But it happens because it is difficult to give your 100 per cent concentration throughout the match, especially when you are 7-0, 8-0 up. The heat took a toll on us (in the second half)," the coach said.
"But I am happy with the overall performance. It's always nice to get on the points tally."
Oltmans said he went against his own instinct and opted to play Sardar in India's opening Pool B match against the minnows to give the star midfielder time to get back to full shape before the business end of the tournament.
"I spoke to him last night as well as this morning and I must say he recovered very well from his throat problems. We all know Sardar will be important for us in the last stage of the tournament," the Dutchman said.
"So to bring him up to great shape he needed his minutes to play so we decided to play him 10 minutes in each half. Sardar is a great player when he is great shape. He can create a lot of opportunities for us. Our aim is to bring him a lot closer to the goal of the opponent," he added.