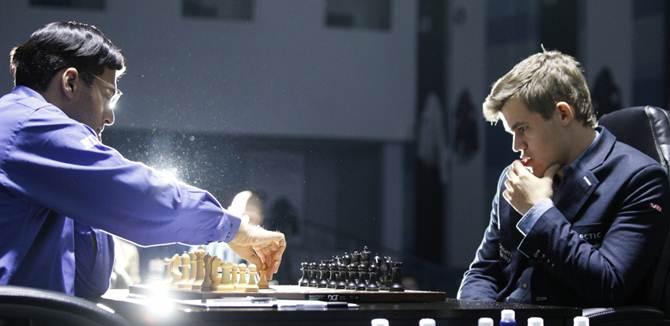 Viswanathan Anand in action against Magnus Carlsen in Round 8. Photograph courtesy: FIDE World Chess Championship match
The result, which came after 41 moves, left the Norwegian still leading 4.5-3.5 with four rounds to go.
After the marathon game in Round 7 that lasted six hours, five-time World champion Viswanathan Anand and defending champions Magnus Carlsen played out a quick draw in the eighth round of the World Chess Championship, now underway in Sochi, on Tuesday.
Challenger Anand did not get much out of his prepared variation and had to settle for a draw. With the match score reading 4.5-3.5, he remains a point behind.
Carlsen, not known for preparation, again matched Anand move for move like the last game and had nothing to worry about as the Indian's white pieces were neutralised move for move.
The match seems to have tilted in favour of Carlsen post this game as Anand could not produce anything decisive in terms of opening preparation.
As the game started, it was clear that Carlsen and his team were happy to get an equal position out of the opening, and while Anand spent too much time on the first few moves, it was clear that the task given to team Carlsen was performed pretty nicely.
The Indian king tried and did not succeed in finding the path to execute some pressure on the Norwegian giant. The end result was a draw.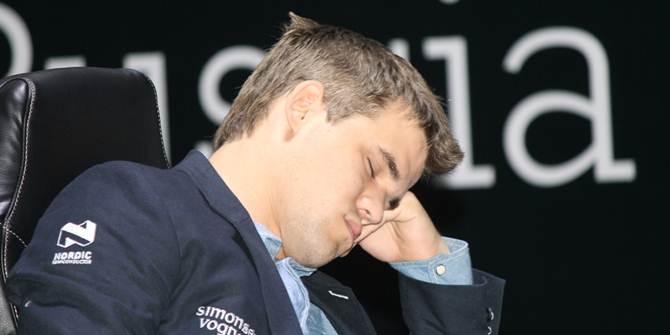 Magnus Carlsen of Norway during Round 8. Photograph courtesy: FIDE World Chess Championship match
It was surprising to see Anand thinking for long, as Carlsen seemed better prepared in the opening. The middle game that arrived was about equal when many of the top Grandmasters were predicting a drawn result on the social network.
Anand, from his end, did his best but it was not enough as the final result justified.
"It was a nice middle game and a decent advantage in the endgame, but it was never close to being winning," said Grandmaster Abhijeet Gupta, who had been watching the game right from the word go.
Indian Grandmaster Sahaj Grover had a different take on the game as he said, "Anand should have pressed harder for the win in this eighth game.
"I guess Anand needed to do better, it was clear that Carlsen had to come back to his best opening today and the Queen gambit declined was no exception. If Anand could not find a fault in Carlsen's stars today then he might find it difficult in the course of the match," he said.
In the post-match conference, Anand gave nothing away, which could mean that the Indian might be plotting a way to disrupt Carlsen's plans.
Wednesday is a rest day followed by Game 9 in which Anand will play with black pieces.
World Chess Championship 2014 Sochi (Game 8):

1.d4 Nf6 2.c4 e6 3.Nf3 d5 4.Nc3 Be7 5.Bf4 0-0 6.e3 c5 7.dxc5 Bxc5 8.a3 Nc6 9.Qc2 Re8 10.Bg5 Be7 11.Rd1 Qa5 12.Bd3 h6 13.Bh4 dxc4 14.Bxc4 a6 15.0-0 b5 16.Ba2 Bb7 17.Bb1 Rad8 18.Bxf6 Bxf6 19.Ne4 Be7 20.Nc5 Bxc5 21.Qxc5 b4 22.Rc1 bxa3 23.bxa3 Qxc5 24.Rxc5 Ne7 25.Rfc1 Rc8 26.Bd3 Red8 27.Rxc8 Rxc8 28.Rxc8+ Nxc8 29.Nd2 Nb6 30.Nb3 Nd7 31.Na5 Bc8 32.Kf1 Kf8 33.Ke1 Ke7 34.Kd2 Kd6 35.Kc3 Ne5 36.Be2 Kc5 37.f4 Nc6 38.Nxc6 Kxc6 39.Kd4 f6 40.e4 Kd6 41.e5+
Image: Viswanathan Anand and Magnus Carlsen at the ongoing World Chess Championship
Photograph: FIDE