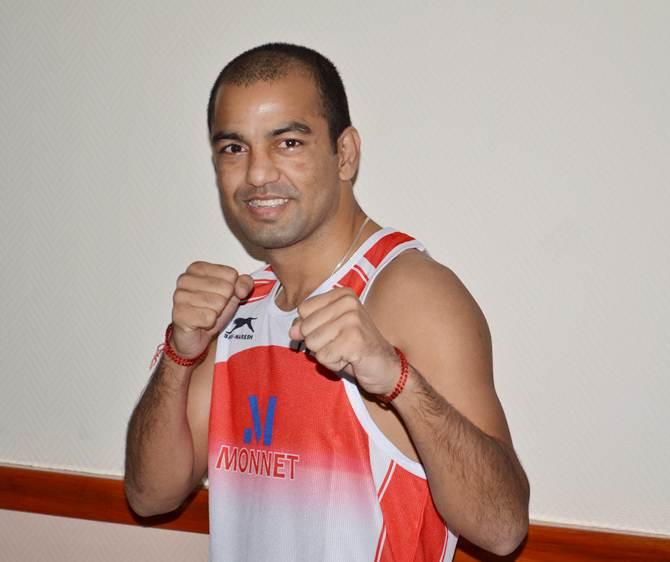 All but written off after a string of injuries wrecked havoc on his career four years ago, enigmatic boxer Akhil Kumar staged a remarkable comeback to make the 10-member Indian men's team for the Asian Games, in Incheon, South Korea.
The 33-year-old, who rose to fame in the bantamweight 56kg category, moved up a division to 60kg for the September 19 to October 4 event, the two-day trials for which ended in Patiala on Wednesday.
"I am back and I promise the temperature inside the ring will go up when I step in," the boxer, known for his daredevil style of fighting with an open guard, said after his selection.
In the women's team, five-time World champion M C Mary Kom (51kg) made the cut, putting behind the disappointment of being omitted from the Commonwealth Games' squad after losing to eventual bronze medallist Pinki Jangra in the trials.
- Mary Kom stuns CWG medallist Jangra to qualify for Asian Games
Commonwealth Games silver medallist L Sarita Devi won the 60kg spot, as expected.
But the star of the day was undoubtedly comeback-man Akhil, a 2006 Commonwealth Games gold-medallist and 2008 Olympics quarter-finalist, who had was laid low by a string of injuries that forced him to skip the trials for the 2012 London Olympics.
But the experienced pugilist's never-say-die spirit finally paid off as he impressed one and all at the Asian Games trials in Patiala.
Akhil got the better of medallist Vikas Malik before winning the final bout against Rohit Tokas on Wednesday.
"It was important to fight hard and prove it to myself and nobody else that what I had been trying for, and all my efforts were working towards the right direction," said the World Cup bronze-medallist, who credited his wife. Poonam Beniwal, for being his biggest support system through the tough period.
"She has been the backbone of my efforts and I know this is as much her achievement as it is mine.
"Through moments of self-doubt, through times where too many thoughts have cluttered my mind, I feel today I have fought through all of them. It was not about being negative, but at times, your will and your results go in opposite directions. I had to fight through all of it, and I thank God for giving me the strength to be able to do so," he added.
Akhil also thanked national coach Gurbax Singh Sandhu for keeping faith in him.
"Without his support, it would have been tough. He backed my abilities and gave me the chances. Besides, my other coaches -- Jaidev Bisht and Amreek Singh -- have taken such good care of my body that I am feeling very confident right now," he said.
"I feel very fit, very determined and very focused. I am glad that I am back in the fold. I have had my share of injury problems and now I am just going to focus on staying fit and giving my hundred per cent," he added.
The ace boxer also thanked Dr. Sanjay Vats, who is treating him since the last year.
"I met Dr. Vats through Olympic gold-medallist wrestler Yogeshwar Dutt, who is a dear friend. I feel that having people like him and wrestler Ravinder Sangwan, kept me motivated to get back at the top of my game."
Akhil, whose last national appearance was way back in the 2011 World Championships, also thanked Sports Authority of India and Haryana Police, his employers, for their continued support.
"They have supported me and the continue to support so many sportspersons. It is incredible how they let us focus on our sporting requirements, and go all out to ensure that we are aided in every which way by their efforts. I really wish to extend my gratitude for their help in my efforts," said Akhil, who completed his training for the DSP's position during the sabbatical from the ring.
The rest of the men's team does not offer too many surprises. Commonwealth Games silver-medallists L Devendro Singh (49kg), Mandeep Jangra (69kg) have expectedly made the cut.
Star boxer Vijender Singh's injury-forced sabbatical opened the gates for Vikas Krishan, the 2011 World Championship bronze-medallist in the 64kg division.
It is a comeback for Vikas as well after injuries kept him out of the limelight following the 2011 mega-event.
Teams for the Asian Games:
Men: L Devendro Singh (49kg), Madan Lal (52kg), Shiva Thapa (56kg), Akhil Kumar (60kg), Manoj Kumar (64kg), Mandeep Jangra (69kg), Vikas Krishan (75kg), Kuldeep Singh (81kg), Amritpreet Singh (91kg), Satish Kumar (+91kg).
Women: M C Mary Kom (51kg), L Sarita Devi (60kg), Pooja Rani (75kg).
Image: Akhil Kumar