From a career-high ranking of 62 in 2011, Somdev Devvarman has plummeted to 279.
He now struggles to make it to the main draw of ATP events.
Bikash Mohapatra/Rediff.com spoke to former Davis Cup captains to see if there's hope yet for the 31 year old.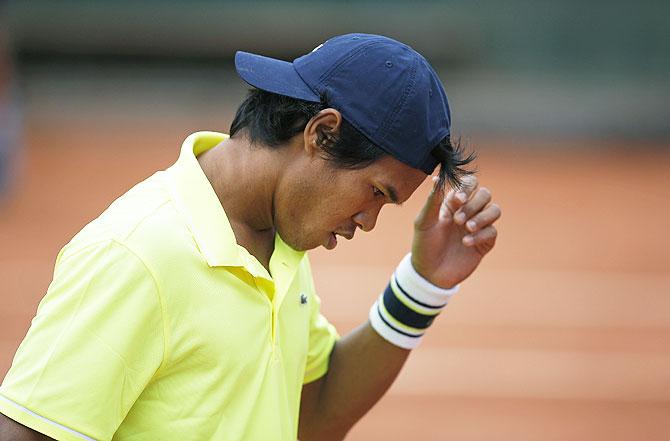 IMAGE: Somdev Devvarman, once India's brightest tennis talent. Photograph: Gonzalo Fuentes/Reuters
For a player in the early stages of his career, and working towards making a strong initial impact, expecting (and receiving) financial assistance from the authorities is a positive sign.
For someone approaching the twilight years of his career to be a beneficiary of such generosity is baffling.
A couple of days before he turned 31 on February 13, the sports ministry handed Somdev Devvarman a surprise birthday present, approving financial assistance of Rs 35 lakh (Rs 3.5 million) for his training, travel and accommodation requirements this season.
This, at a time when a run of poor form and indifferent results has seen his ranking plummet to 279.
These days, Somdev plies his trade mostly on the Challenger circuit, struggling to make it to the main draw of ATP tournaments.
So bad is his ranking that Somdev had to, for the first time, play as a qualifier in the Chennai Open, where he had made it to the final back in 2009 (he lost to Marin Cilic).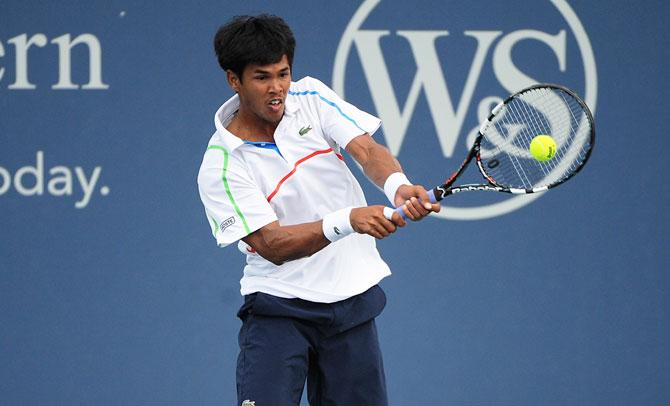 IMAGE: One reason for Somdev's decline is that he has no major weapon in his game. Photograph: Jonathan Moore/Getty Images
"Somdev has lost the edge," Nandan Bal tells Rediff.com
"He was always dependent on a good defence to win matches. He is a counter-puncher. But there is nothing in his game that can dominate his opponent," adds the former Davis Cup captain.
"As you age, your legs are definitely not going to carry you through in matches. A lot of physical effort needs to be put."
"Somdev's legs aren't getting any younger," says Bal. "And when you lose a few matches on the trot, it shakes you further. It saps the mind."
Akhtar Ali, the doyen of India's tennis coaches, concurred with Bal.
"The major reason Somdev couldn't go further up owes to the fact that he has no major weapon," says Ali.
"He is essentially a defensive player, a counter-attacking type. He doesn't have a particularly good shot that can hurt his opponent," Ali adds.
IMAGE: Somdev is now reduced to being a journeyman after the lull in his career. Photograph: Kevin C Cox/Getty Images
For a player who contested two ATP finals and won back-to-back gold medals at the Commonwealth Games in New Delhi and the Asian Games in Guangzhou, during the best phase of his career, the recent years have been dry and demoralising.
He remains a journeyman, failing in his attempts to get a notch or two higher.
"Winning gold medals in the Commonwealth Games or for that matter the Asian Games is easy because the big players don't play those events," Ali points out.
"The biggest part of Somdev's game was his physical fitness and that is no longer the case," he adds.
Somdev, who reached a career-high ranking of 62 in July 2011, has hired a new coach, Theodoros Angelinos.
So, is there hope still?
"Somdev needs to get his mind together," feels Bal. "Players like him who play mostly from the back of the court need to be very strong mentally."
"It is this exceptional mental strength that translates into the physical part when on court. Somdev needs to work on that aspect."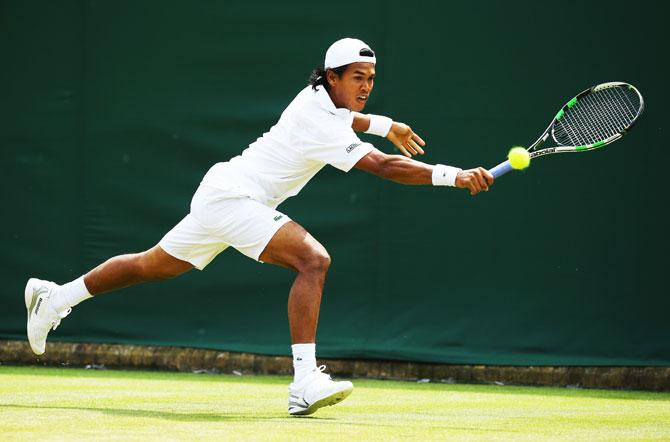 IMAGE: An analogy can be drawn in Somdev's and Rafael Nadal's careers. Photograph: Al Bello/Getty Images
Bal draws an analogy.
"What has happened in Somdev's case, at a much higher level I see the same thing happening with Nadal," says Bal.
"Most players now know how to beat Nadal. If he is not playing at the same physical level, he is not winning matches consistently."
"Mind you, when I give Nadal's example it implies at a much, much, higher level. I am not in any way comparing Somdev with Nadal."