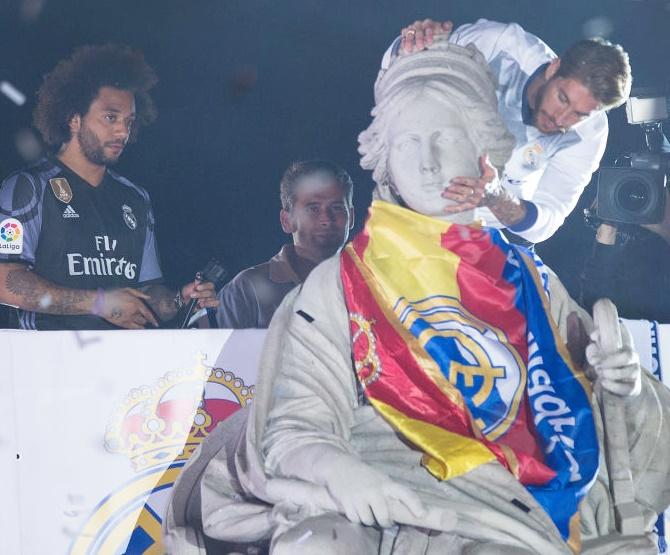 IMAGE: Sergio Ramos of Real Madrid CF touches the statue of the goddess of Cibeles at Cibeles square after winning the La liga title. Photograph: Denis Doyle/Getty Images
Real Madrid became La Liga champions for the first time since 2012 on Sunday with a 2-0 win at Malaga, denying arch-rivals Barcelona three consecutive league titles.
Before Zinedine Zidane's Real team triumphed, the Catalans had lifted six of the previous eight championships. Here's how Madrid broke Barca's stranglehold on the Spanish top flight.
Goal after goal
Real Madrid have scored in every match this season. The last time they failed to net was against Manchester City in April 2016 during the first leg of the Champions League semi-final.
This has not just been a case of Madrid bullying La Liga's minnows because they have scored against sides like Bayern Munich and Atletico Madrid in Europe as well as home and away versus Barcelona and Atletico in domestic action.
The goals have come from across the team and not just the forwards, with Dani Carvajal and Fabio Coentrao the only outfielders in the squad who failed to score in the league.
Squad players deliver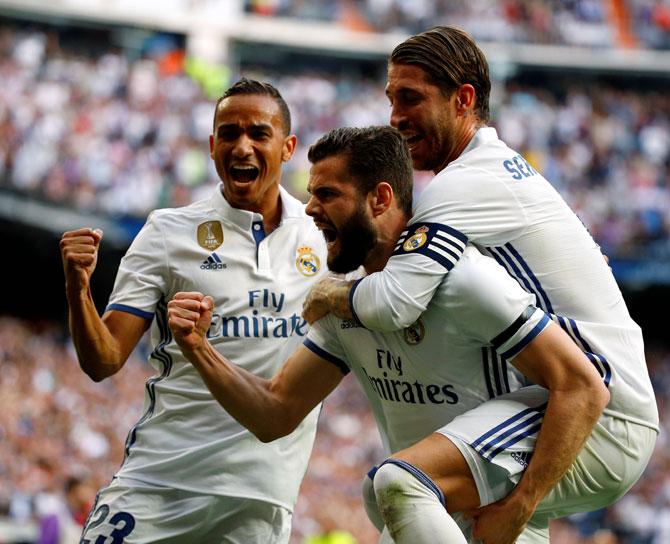 IMAGE: Real Madrid players celebrate after Nacho, centre, scored the first goal. Photograph: Paul Hanna/Reuters
Real Madrid sometimes appear to have an A team and a B team. World-class players like Isco, James Rodriguez and Alvaro Morata are often left out of the starting lineup for important matches.
They form part of Zidane's second side, who are almost as good as the men that start on the big occasions, with Karim Benzema and Gareth Bale, fitness permitting, ahead of them.
The commitment and quality of his B team players meant Zidane could frequently rotate the side, keeping everybody fresh and leaving his reserves constantly trying to impress him.
Madrid and Barcelona's first XIs are relatively even, judging by the teams' head-to-head matches against each other, but the champions' strength in depth helped them win the trophy.
Ronaldo's transformation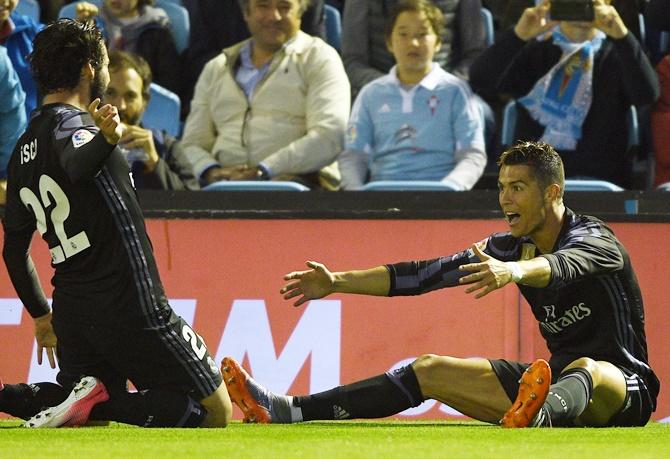 IMAGE: Isco celebrates with Cristiano Ronaldo of Real Madrid against RC Celta during the La Liga match. Photograph: Octavio Passos/Getty Images
Cristiano Ronaldo has changed in two ways. Firstly, he now plays as a centre-forward instead of a winger, which gets him in the right positions to display his lethal finishing skills without costing the team defensively.
Secondly, Ronaldo accepts the need to rest and has been left out of several squads by Zidane to recharge his batteries. In the past he would have fought to be included so he could boost his goal tally against the lesser lights in the top flight.
Ronaldo has come to the fore at a crucial stage in the season, the 32-year-old scoring important goals against Sevilla, Celta Vigo and Valencia that helped Madrid fight off Barca and lift the title. While the Portugal forward finished a long way behind Lionel Messi in the Pichichi (top scorers' chart), he finally has another league title for his trophy collection.
Zidane's calming influence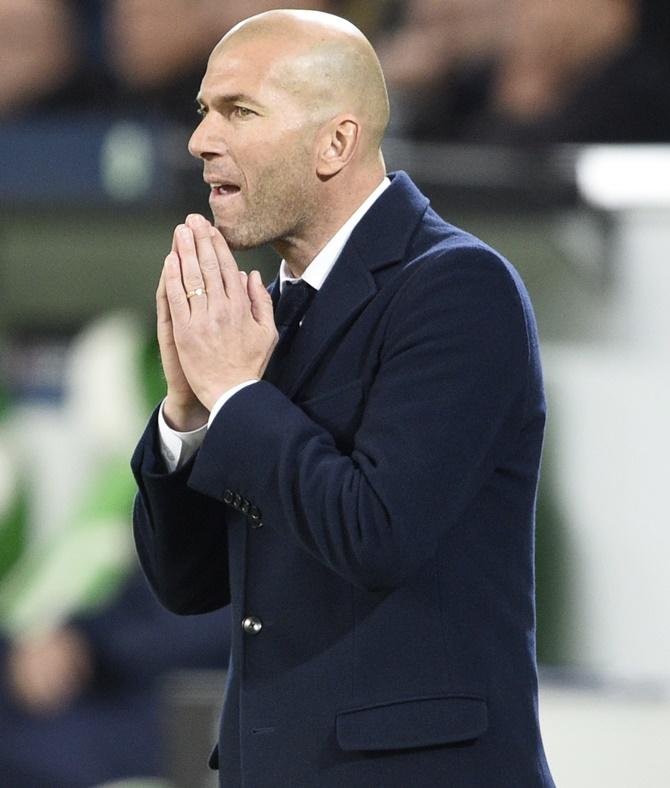 IMAGE: Real Madrid coach Zinedine Zidane. Photograph: Fabian Bimmer/Reuters.
Under Rafa Benitez last season there were lots of reports of tension in the Madrid camp from the Spanish media, but one of Zidane's greatest achievements has been to calm the squad down.
The Frenchman is widely respected for his achievements as a player and his cool demeanour as a coach is helpful when it comes to tranquilising situations which could otherwise be dangerous for squad harmony.
Zidane managed the demands of having a large squad well and brought the most out of players like Lucas Vazquez and Marco Asensio, who were mostly unused but played their part when called upon.
Consistency and desire
Madrid could have thrown in the towel after Barcelona beat them at the Santiago Bernabeu in April but instead they battled right to the end to finish first.
They fought back from 2-0 down against Villarreal to win 3-2 in February, showing just how much they wanted the title.
Few of these players were at the club when they won the league in 2012 so tasting domestic glory is new to them.
Barca, meanwhile, at times seemed to struggle for motivation against some of the smaller teams, with key defeats coming against Alaves at home and Malaga away.
In the big matches the Catalans raised their game and got good results, but winning the title needs consistency and durability, which Madrid produced.