After being booted out of BBC's Top Gear -- the world's most watched factual television programme, with an estimated 350 million viewers! -- for bad behaviour, Jeremy Clarkson is back. This time on Amazon Prime, the e-commerce mammoth's streaming video network.
Amazon Prime paid Clarkson and his buddies Richard Hammond and James May as much money as Amazon boss Jeff Bezos paid to snap up the venerable Washington Post. $250 million!
Now that Jeremy is going to try his hand at something new, we asked Top Gear's Top Fan Anywhere, Raja Sen, to give Mr C some advice.
Jeremy Clarkson, the middle-aged television presenter of the enormously popular BBC television series Top Gear, lost his longstanding job a few months ago following a row where he physically assaulted one of the show's producers.
This was a scandal too big even for Clarkson, an old racist with a deplorable track record, to casually sidestep with his usual insincere apology, and despite British Prime Minister David Cameron throwing his support behind him, Clarkson got what he considered least important in a high-performance vehicle: The boot.
We're told Top Gear will roll on, without Clarkson or his co-hosts Richard Hammond and James May, even as those three chums have moved on to sunnier climes, having recently been hired by American giant Amazon to make a new show for Amazon Prime.
Which basically translates to the BBC soon turning out a bad knockoff of their greatest international hit, and, as is inevitable, all of us soon streaming episodes of an odd new Top Gear with a wholly different name.
But dear Mr Clarkson, despite how much we love you three and your tomfoolery -- and, as you claim is the case with Lamborghinis, we do so despite having outgrown you -- the world isn't quite the same as before you spent a decade comparing cars to various famous bottoms.
Here, then, I wish you the very best of luck and offer up a few sincere pointers for you guys on your next outing. (You've seen Top Gear, now meet the Knobs!)
1. If punching producers, do it when the cameras can see you.
Ah, Jeremy. If (when?) you want to get drunk and act like a tosser, it's such a waste to do it off-screen.
Amazon is broadcasting you fellows across America, a land that celebrates louts like Simon Cowell and Piers Morgan. Throw your weight around in high-definition video, giving out enough behind-the-scenes meat to furnish its own spinoff -- not to mention potential spots guest-hosting WWE Raw.
2. Limit the racism to the Europeans or you'll be tossed aside before you can say 'Hulkamania,' brother.
Speaking, as we were -- bizarrely enough -- of WWE, do remember that the n-word is entirely off limits. Continue with your distasteful puns against Mexicans and Italians and Albanians, but don't you dare make a slavery gag. You will die.
3. The douchey one, the short one and the slow one may not be thrilling enough archetypes for American television, even if Amazon is more expansive.
Perhaps some repackaging is in order. Might I suggest fully fleshed backstories? This is Amazon, the home of creatively layered and complex television shows like Transparent, a world where characters are defined by more than the same pink-striped cardigan (external link) every alternate episode.
If James May is indeed to continue with that particular jumper (as I loyally hope is the case), I feel we're entitled to a flashback-aided revelation about why that particular My Little Pony friendly outfit matters the world to Captain Slow. (Or shall we now turn it into Captain Slowburn? Much better suited to a blues riff in the background, don't you think?)
4. Prepare for the May-invasion. Amazon's original content is significantly highbrow.
Do not be surprised if the aforementioned well-read and self-effacing James May becomes the big star, the king of the hill, the favourite Beetle.
In such a dynamic, any pranks you and Richard Hammond play on him would be seen as mean and low. As will the dick-puns. Growing up a tad might be a wiser plan.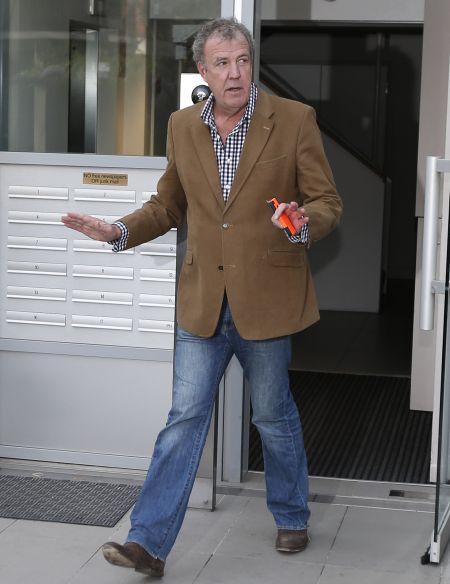 5. Drop the "star in a reasonably priced car" act entirely.
Americans, quite simply, do not believe in reasonably priced cars. Make celebrities race in ludicrously expensive cars or bikes or jets -- even if you need to stunt doubles for the actual driving.
You always flub up the time-sheets for the big A-listers anyway.
6. Go at least a bit green.
Start showing a wee bit of love for hybrids and electronic engined cars. America might adore its giant muscle cars, but Amazon viewers will likely be more ecologically conscious.
Most of the country simply isn't favourably disposed toward gas-guzzlers -- just ask Formula One. (Plus, they're a massive enough country to actually possess as many power sockets as it may take to really pull off the whole electric gimmick.)
7. And finally...
Bring back the Cool Wall? Pretty please?
That's that. Now bring on the lunacy and the tame racing driver. Some say... he'll watch the new show, no matter what. (As will I.)
Eternally tuned in,
Raja Sen
PS: Tell Richard we all miss Oliver.