The government says it will deport all 40,000 Rohingyas soon.
Rediff.com's A Ganesh Nadar meets a community of Rohingya refugees on the outskirts of Chennai who are happy to have found a place where their lives are not in danger.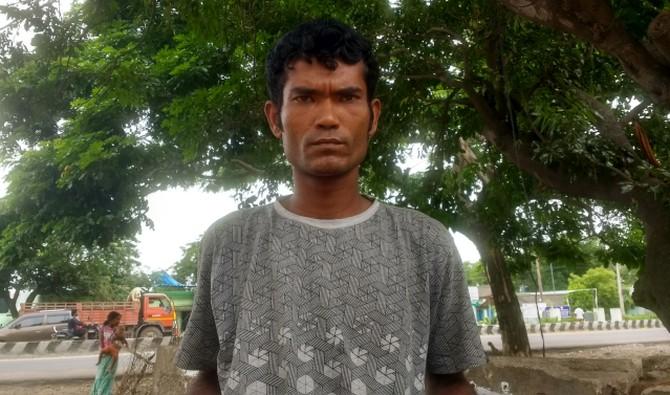 IMAGE: Mohammad Yusuf is 28 years old, but looks a lot older. Photographs: A Ganesh Nadar/Rediff.com
The mass migration from Africa into Europe may grab the world's attention for its tragic poignancy, but an equally grim migration closer home, that of the Rohingya Muslims from Myanmar into India and other nations in Asia, seems to have been largely overlooked.
In 2012, a group of Rohingyas, unable to bear the harassment of the Myanamerese army and the killing of their young men, got into boats and sailed away to Bangladesh from where they caught a bus to Kolkata and then a train to Chennai.
Today, there are an estimated 40,000 Rohingya refugees all over India; in Tamil Nadu itself, there are around 7,000 of them.
Some 18 Rohingyas families live in a rotund building on the outskirts of Chennai. The ground plus one storey building has been allotted to them by the Tamil Nadu government, and houses 93 refugees.
It has two toilets, of which one does not work so it is basically 93 people sharing one loo.
There are two taps for water, but again one does not work so one tap is shared by everyone.
IMAGE: The building on the outskirts of Chennai that houses 93 Rohingya refugees.
"My parents are still in Myanmaar. They are old so the army will not harm them," says one young man while a younger one interjects, "But if a war starts, they (the Myanamarese army) will kill the young and old, nobody is safe there."
A few Rohingyas work in butcher shops in the area, the rest gather scrap on the roads and make their living selling it. An NGO has given them three sewing machines, and young women are learning how to sew.
Mohammad Yusuf is 28 years old, but looks much older. Life's difficult circumstances have added lines to his face.
An eloquent speaker, he says he wants to go to the Vellore hospital and shows me a photograph of the hospital which he found on the Internet.
"One of my relatives is admitted there and I want to visit him," he explains, undaunted by the long journey.
Quizzed about events in Myanamar, about Nobel Peace Laureate Aung San Suu Kyi who is now the country's leader, elections and the return of democracy, Yusuf says angrily, "She (Aung San) is a pawn in the hands of the military. She cannot do anything without their go ahead."
"Everything there happens with the barrel of the gun."
"They call us Bengalis, they say that their country is only for Buddhists and nobody else," he adds in despair.
The crisis, in brief
The Rohingyas are described on Wikipedia as Indo-Aryan Muslims from Rakhine state, Burma (present day Myanmar).
According to it, Muslims settled in Rakhine (also known as Arakan) in the 15th century.
After Burmese independence in 1948, a separatist movement began to merge the region into then East Pakistan and continued into the 1960s, alongside an Arkanese independence movement mounted by Rakhine Buddhists.
This rebellion left enduring mistrust and hostilities in both Muslim and Buddhist communities.
In 1982, then military ruler General Ne Win's government enacted the Burmese nationality law, which denied citizenship to the Rohingyas, rendering a majority of them Stateless, says Wikipedia.
Yusuf is married and has two children, one of whom stands between his legs looking up at me with a grin.
Yusuf has studied till Class 7 -- his family did not have enough money for higher education. His wife, he says, "studied in a madrassa and knows the Quran."
Though they are a small and poor community, the Rohingyas have built a tiny madrassa with a teacher.
Each family contributes Rs 300 a month to pay the teacher a salary of Rs 6,000 to teach the children Arabic, Urdu and the Quran. The teacher, Hafiz Usman, turned out to be a young man of 25.
The Rohingyas are happy that 20 of their children go to a nearby government school and another 10 go to a nearby balwadi or nursery.
In Tamil Nadu all schools provide students a wholesome lunch and this goes a long way in helping the child's nutrition intake.
Though the elders converse in passable Hindi it is a delight to hear the young children speak in fluent Tamil which they have picked up from their friends.
Yusuf says he knew three languages in Myanmar -- Rohingya, Burmese and Rakhine -- while in India he has learned Hindi.
"My parents and their parents' ration cards says they are Rohingyas, but my ID card says I am Bengali. My mother's father was a policeman, but they removed him when the trouble started," Yusuf says.
Yusuf carries his family ID card from Myanmar giving the family name as well as a United Nations refugee card. In India he has been given an Aadhaar card and a long-term visa.
IMAGE: Yusuf shows his family's ID card issued in Myanmar.
"I love this country," Yusuf says of India. "The people are so friendly and welcoming and we have no fear here."
The Rohingyas, he says, are spread out from Kashmir to Kanyakumari. They are also in Bangladesh, Pakistan, Malaysia, Thailand and other places in East and West Asia.
"We are happiest in India," says Yusuf, "Bangladesh is a small country and the population is too much with too little space, so we are not welcome there."
Apart from accommodation the government does not provide the Rohingya refugees with anything, except for free medical treatment at the primary health centre across the road.
In contrast, more than 100,000 Tamil refugees from Sri Lanka are provided money, rice at 57 paise a kilo, subsidised kerosene and access to all ration shop items.
Although the registered number is 14,000, Yusuf believes there must be about 40,000 Rohingyas in India.
Anwar Khadar is 25 years old and came to India five years ago.
"We used to stay in a marriage hall and then in a field," Khadar, who works in a butcher shop, says. "Two years back we moved into this building."
IMAGE: The communal kitchen set up in a shed.
Inside the building, which is actually one big room on the ground floor and one on the first floor without individual rooms, the Rohingyas have put up partitions using saris so each family has its own space and privacy.
All cooking is done outside where they have set up a small shed with a line of mud fire places which are fed with wood gathered from nearby.
The 'kitchen' is about three feet lower than the road, so when it rains it floods faster than a swimming pool.
'The panchayat is very helpful," says one Rohingya, "they come with lorries and pump out the water."
It takes four lorries with a capacity of 12,000 litres each to drain the place of water.
Whatever the Rohingyas' worries about the future, they are happy that they are safe from bullets here.
There are good Samaritans always willing to help. Hearing of the mosquito menace, Alinawaz Raja, a former student of Barnes School, Deolali, and proprietor of Marathon Needs, Chennai, donated 20 double-size mosquito nets to the Rohingyas.
Union Minister of State For Home Kiren Rijuju told Parliament recently that the Centre has directed all state governments to detect and deport all illegal migrants, including Rohingyas.
Rijju subsequently clarified to Reuters that all 40,000 Rohingyas in India were illegal immigrants, including those holding UN refugee cards, and would be deported.
Sri Lankan Tamil refugees, in contrast, have been living in Tamil Nadu for decades even after the ethnic war on the island ended eight years ago.