'He is London ka raja. I offered her a dosa, but she said no thanks.'
'She was elegant not just in beauty, but in heart and nature too.'
'I was awestruck to see them both. Such a handsome charming prince. And very beautiful, pretty, Kate'
Vaihayasi Pande Daniel/Rediff.com discovers that Will and Kate collected quite a few Mumbai hearts on two sweltering days in April.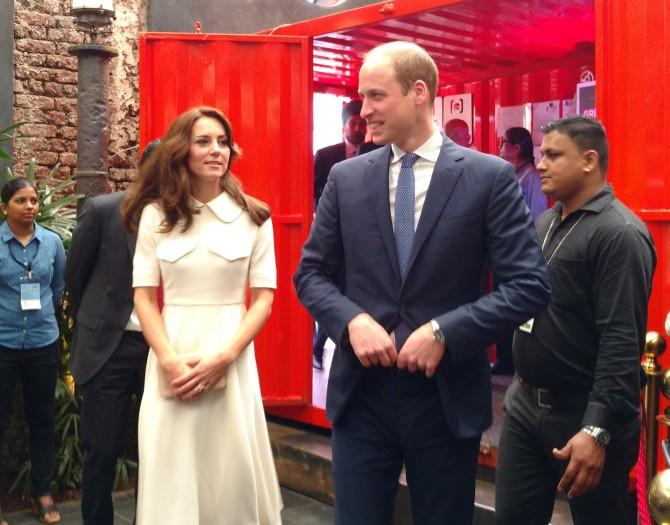 IMAGE: The Duke and Duchess of Cambridge enter the Todi Mills Social cafe, Parel, central Mumbai. Photograph: Vaihayasi Pande Daniel/Rediff.com
Sahil Khan, 22, is not over enthused. Just cool.
He has already met Narendra Modiji at the Make in India event in February. And the chief minister of Bihar, Nitish Kumar, in Patna last year. And the minister of health from Karnataka. He will meet a couple more ministers in Gujarat when he goes on another road show.
Khan takes therefore a meeting with Britain's Duke and Duchess of Cambridge unflappably in his stride. Never mind that he and his boss got the longest, and probably the most intriguing, audience, with the royal couple on their first trip to India.
The 22-year-old resident of Govandi, north-east Mumbai, who has a diploma in mechanics from Al Kabir Polytechnic, Bhagalpur (where he and his family hail from), and Eshwar K Vikas, 24, CEO, Mukunda Foods, merrily fry dosas with the royal couple, using the start-up's automatic, table-top hands-free dosa machine as British High Commissioner Sir Dominic Asquith and Deputy High Commissioner Kumar Iyer patiently stand by, along with a host of palace officials, surely drooling.
William has not heard of dosas before.
Kate apparently has. "Oh dosa, I know this!" she says, knowledgeably.
They are eager to try out the machine that functions quite literally like a food printer. He pours the batter with a steady hand. She presses the buttons. They work always carefully and charmingly in tandem, these two, in public; he very deferential to her.
Delicious smells began to waft...
Bingo! Lolz. They make their first Cambridge Dosa together, as crispy and delicious as what Thiru Muthuswamy makes, close by in Matunga. He gamely samples his creation and pronounces it very good. She asks if she could use the machine to make pancakes. And is told it could make crepes, omelets too.
No doubt Kensington Palace will soon order the Rs 150,000 (nearly £1,600) machine and George and Charlotte will grow up in a radically-pc, dosa-and-crumpets-inhabited world (where Thomas the Tank Engine also now lives with Ashima & Co).
Says Khan, whose father is also a technician: "He is London ka raja. I didn't know who they were initially. They seemed like very nice people. I offered her a dosa, but she said no thanks."
"I was sceptical if they would know what a dosa was or not," says Bangalore-based Vikas. "I said this is an Indian crepe. The duchess (knew). So I thought: My job is easier now. I told them how the machine works. They were more excited to make the dosa. They said: 'Oh okay, let's make the dosa now.' The machine was so easy that they could make it easily."
"I said if you are in India and haven't tasted the dosa, then you have not visited India! He said, 'No, I would like to taste the dosa.' He took a bite of it. And he said: 'Awesome. It is very nice.'"
He asked whether you have these machines in London. So I said yes we have commercial machines out there (Mukunda Foods has sold 500 machines to 16 countries). He said they definitely needed one of those in the palace. They were very friendly. They were cool. Normally they don't eat in public. The dosa was so irresistible they had it," he adds proudly.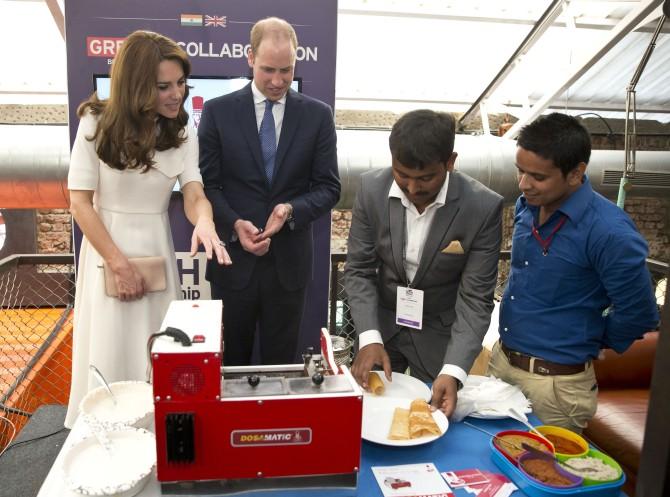 IMAGE: The Duke and Duchess of Cambridge with Eshwar Vikas and Sahil Khan (far right). Photograph: Getty Images
Like the dosa-making session, the Cambridges' 40-minute high-energy interaction with young entrepreneurs at the Todi Mills Social, a Parel, central Mumbai, cafe, is imaginatively and meticulously choreographed. The couple arrive, in spite of a morcha that had traffic in a tangle, hardly four minutes behind time, in a shiny black Jaguar, flying royal standard colours.
Before their arrival, gathered Young Entrepreneurs (as they were labeled on their tags; many of them graying and sporting reading glasses) and the media were reminded not less than three times to remember to cheer the couple by an enthusiastic Brit-Indian host-handler.
"They haven't seen a lot of that this trip," he remarks quizzically. He also politely instructs the gathering that while speaking to Britain's HRHs, in the first instance to address them as Your Highness and thereafter as Sir or Ma'am.
When the Cambridges enter along a route approved (and secured) by umpteen people (including a clutch of Mumbai's top cops) -- she leads, flawlessly elegant in a boxy, military-ish cream suit (not as pretty as the loveliest outfit of her India trip so far, the flowing red and green cricket match Rs 14,000/£147 Anita Dongre dress) and he trails her in a blue suit -- they head to meet Mahindra group head Anand Mahindra.
The prince tries out Mahindra Racing's fire-engine red Formula E simulator, taking a screeching round of the Buddh International Circuit, Noida, while sitting right here in Mumbai, the stuff of modern-day fairy tales, being in two places at once. Mahindra tweets later: 'Told him last evening that he would be in a car simulator & he reminded me he was a pilot. He's a real competitor!'
They then trip up to the gallery above and meet a few, even more interesting and younger entrepreneurs. Like Sanskriti Dawle who along with partner Aman Srivastav created the ingenious Mudra Braille Dicta teacher, a Raspberry Pi-based device that is an invaluable teaching tool for the visually handicapped. It teaches Braille by translating speech to Braille symbols.
Most of India's blind, Dawle discovered, she tells the audience, to her horror, have too limited resources and access to Braille lessons and this broad-based, cheaply priced device solves that.
A blindfolded Kate took the opportunity to type out her now nursery-going toddler George's name in Braille, to a chorus of hurrahs. William also has a try. Sanskriti, who described herself as being psyched ahead of the visit, was much lauded for putting BITS-Pilani's Goa campus on the map via the royals.
When they descend, William and Kate take the stage to launch the Tech Rocketship Awards 2016-2017 between India and the UK. He offers a Namaste Mumbai and says with a broad, captivating smile: "Thank you for my dosa experience!" Laughs.
"Catherine and I are very impressed by the energy and ideas we see. Being here today, it is clear that India is leading the way in so many areas of innovation and technology. The ability to innovate is not just good news to India, it is great news to the world. With one-sixth of the world population, young innovators like you play a major role."
Confetti is popped. Lots of jolly-good-fellows bonhomie all about. Angrezi-Hindustani bhai bhai.
On their way out, to the airport, heading to Delhi, they stop to talk to a few entrepreneurs, all of whom had been especially invited by the British high commission.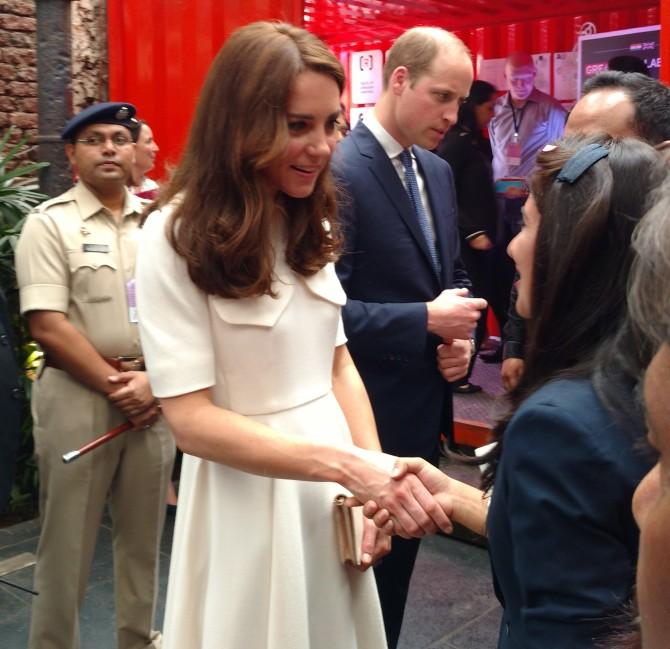 IMAGE: Kate meets young Bangalore entrepreneur Anita Tejwani. Photograph: Vaihayasi Pande Daniel/Rediff.com
"She asked me, 'What are you into? You look so young'," says Anita Tejwani, 21. "I smiled back and said, 'You guessed it right. I am the youngest entrepreneur in the hall today'."
Anita describes to Kate her seven-month-old start up, wingstowills.com, which builds brands for individuals from various fields and the duchess wishes her all the best. Admires Anita, "She was elegant not just in beauty, but in heart and nature too. They were extremely down to earth and that's what is lacking in many Indian people who reach heights. We have a lot to learn from their way of speaking and giving respect."
That seems to be the hallmark of the Cambridge duo which made them a great hit wherever they went on this Mumbai trip, a visit whose planning was very dear to Kate's heart, William revealed on Sunday night at the Taj Mahal Hotel and Palace.
From the relentless column centimetres of press coverage, we are already too familiar with this young couple's elegance, poise, good humour and friendliness in public. You have seen their faces so often you feel like you have already met them or know them from before.
What then takes you aback? Surprises you, even as a dedicated royal watcher? Probably that they are as glossy as the magazines they appear in, even if their high maintenance costs guarantee that.
So glossy that you feel like stretching your hand out to run it over the shininess to see if it is real.
Glossy also in a nicer sense too: You feel, palpably, that they are trying their utmost, in an earnest, shy way, to be the best ambassadors their country has to offer (Take that, royalty dissers).
Since coming to India was top priority on Kate's world travel list, you imagine they had a definite influence over what was lined up for them to do and view in Mumbai. They both seemed to have borrowed a page out of their royal mom/mom-in-law Diana's stylebook and graciously and effortlessly -- not a drop of sweat rolled, nary a frown -- whirlwinded through bathroom-less slums, saluted 26/11 terror attack victims, met the handicapped and financially challenged, played ball and cricket with the under-privileged, offered luck to the young educated and innovative.
A quick but thorough sampling of a slice of the diverse Mumbai paav bhaji-ish hodge-podge -- little bit of sport, a pinch of religion, a dab of history, a spot of fashion, a dash of films, thoda food... Schmoozing with Mumbai's rich and famous had a purpose -- to raise funds for charity. Their movements were tracked by a large contingent of British journalists, who kept mostly to themselves, and seemed startled by the excessive lack of access the Mumbai police ingeniously crafted for the media.
Not everything went exactly to plan...
There was an off-schedule sudden but colourful engagement on Day 1.
The Cambridges totally transformed Boman Kohinoor's Sunday taking it to a magical realm. And likely his next ten summers too, as he recalls the tale, over and over again, in sheer delight, trying not to pinch himself, standing outside his eatery, that still retains its pucca British address of Wakefield House, 11, Sprott Road.
Kohinoor, 93, the sprightly proprietor of Mumbai's landmark Parsi restaurant Britannia, at Ballard Estate, south Mumbai, was snoozing at his Cusrow Baug, Colaba, home on a lazy hot afternoon (the restaurant is closed on Sundays), when the phone rang.
It was from the Taj. From, he says one "Mr James and (one) Mr Satish" asking if they could welcome Kohinoor to the hotel to meet the prince and princess.
Says his son Afshin: "They said, 'Would you like to meet the royals? They have asked after you since you have shown such a lot interest for the royal family'."
Afshin laughs heartily, continuing, "At that moment he got so nervous. He said I am old (and wondered if he could go). You won't believe it, he got up in the morning (earlier that day) and wanted to go to The Oval (where the Cambridges played cricket). And then he developed cramps in the leg. I said, 'Shall I call the ambulance. We'll go in the ambulance to The Oval'."
"Mr James gave him one hour's time to think about it. He said, 'If he wants to come I will send the car from the Taj, pick up and drop. He will be safe you don't worry.' I was with him. My brother was with him. (My dad) decided okay."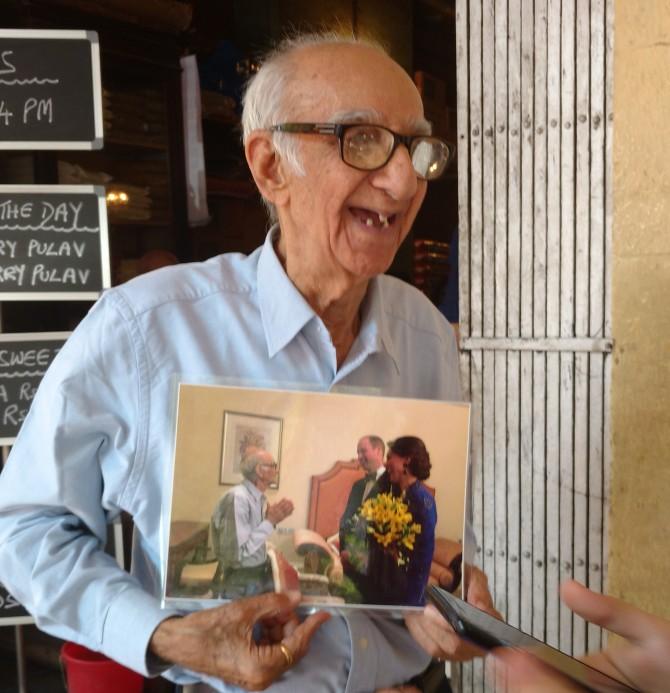 IMAGE: Boman Kohinoor, 93, the sprightly proprietor of Mumbai's landmark Parsi restaurant Britannia, holds up a photograph of his meeting with the royals. Photograph: Vaihayasi Pande Daniel/Rediff.com
Shortly after, a car showed up outside the Kohinoors' home, which is not far from the Taj. Says Kohinoor, "My son came and said: 'Someone has come from the Taj and the prince and the princess want to meet you. We have to go and meet them'."
So Kohinoor, and his sons Afshin and Boman Junior, excitedly bundled themselves into the car, stopping for five crucial minutes to hurriedly buy a modest bouquet of yellow lilies, from right outside the Baug's gates, before heading to Apollo Bunder on a memorable expedition. The only regret being that no one else could make it from the family, since it all happened in a happy blur.
Afshin's daughter -- named Diana Kohinoor, yes you got it right (a fact that stuns British immigrant officers when she visits) -- was understandably disappointed. Says Afshin, "She said, 'Daddy, why you didn't tell me, why you didn't phone me!?'"
This was a royal engagement that Kohinoor pulled off all by himself, with generous help from social media and its powerful newfangled kingdom of tweeters.
Kohinoor is an avid royal fan. His restaurant is adorned with a portrait of Queen Elizabeth II next to Mahatma Gandhi. A cut-out of Kate and Will hangs from Britannia's balcony, watching as you satisfyingly tuck into their famous pulaus and Salli Boti Mutton or sip bottles of Pallonji's brand tongue-tingling neon yellow ginger soda.
He also has a letter from the queen on file. He talks about British royalty as if they are old friends. He is probably more British than even the Windsors.
His repeated request to have the Cambridges visit his restaurant, outlined in articles in several newspapers, had gone viral on Twitter and reached the notice of the HRHs. They obligingly organised the impromptu visit with the nonagenarian -- his very first royal audience. Persistence does sometimes pay, especially of the Kohinoor variety.
But Kohinoor sees it differently. He extravagantly expands on the topic as he clutches to his chest a laminated photograph of his best day out: "This meeting happened because I had written a letter to her majesty Queen Elizabeth a few years ago. I requested her, that whenever she comes to Mumbai, I will entertain her. Now I got the opportunity (when) his highness Prince William and Princess Kate were coming to Mumbai. I took the opportunity to see that I meet them."
Afshin says his dad's admiration for the royals is because he spent his happiest days in a Mumbai that was under the crown and the city was orderly and much cleaner.
Kohinoor's friendship has not been entirely one-sided. The photograph he has up on his wall, he says, was sent to him by Buckingham Palace when the queen was celebrating her diamond jubilee.
"Her Majesty (you have to capitalise the word here, given the restaurateur's reverence) sent me the picture," Kohinoor recalls. "I got it framed. And then eight British people -- (precisely) four ladies and four gentleman -- brought me one package. They said there was a surprise inside. I opened the package. Kate and William (cutouts) came out of it!"
At the Taj the Kohinoors were escorted to a banquet room on the first floor at 8 pm. And within a few minutes the HRHs were with them.
Kohinoor was overjoyed, almost swooning in complete pleasure. Nirvana. "The prince and the princess met me for about five, ten minutes. They asked how old I am. And how old was the restaurant. What are the favourite dishes. So I told them about Berry Pulau (a recipe as much a secret as the Coca Cola formula, he declares). I said I was 93 years old and the restaurant was 93 years old," established just a over a decade after Prince William's great, great, grandpapa, George V, visited the jewel in the crown.
Did he wear anything special for the encounter? "I was wearing what I am wearing today. I'm a simple man" -- a light blue oxford shirt and blue Cambridge (coincidentally :))) slacks.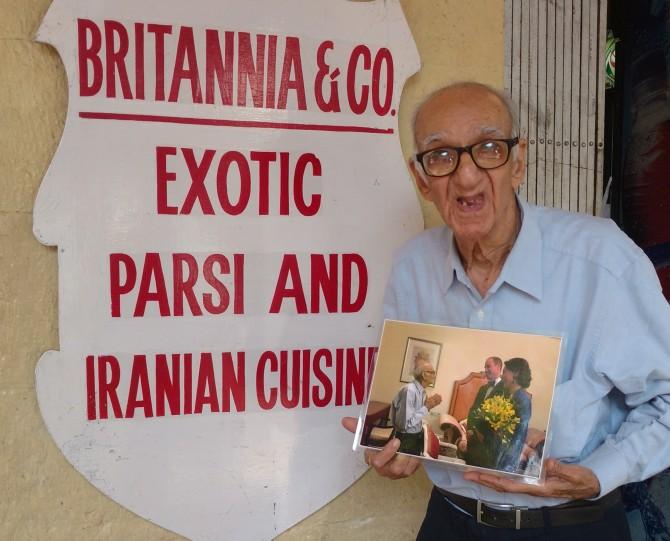 IMAGE: The picture that changed Boman Kohinoor's life. Photograph: Vaihayasi Pande Daniel/Rediff.com
"I was awestruck to see them both. Such a handsome charming prince. And very beautiful, pretty, Kate. They looked much prettier and (more) handsome than if you see them in the newspapers. She was wearing a dress that suits any princess, I cannot explain to you, I was so awestruck to see them!" he repeats dizzily.
"Beautiful people," Afshin adds. "Very humble. The main seven to eight minute conversation took place with my dad... My dad said give my love to the queen. He said bless your children."
"I took a photograph and they will be sending me another photograph with their signature," says Kohinoor. "I invited them to come here (to his restaurant). They said they were on a tight schedule. I said better luck. There is always a next time. We shall meet!"
When you eat your next Berry Pulau (don't wait too long, folks) at Britannia -- that receives visits certainly from Indian royalty -- Abhishek Bachchan, Aishwarya Rai, Boman Irani (Parsi king of hearts) and (favourite) Vidya Balan and Ranbir Kapoor -- look out for a photograph of the most wonderful eight, pocket-full-of-sunshine, minutes of Boman Kohinoor's life.
They happened April 10. When a prince and princess provided a sparkling happily-ever-after twist to a dear old man's life.