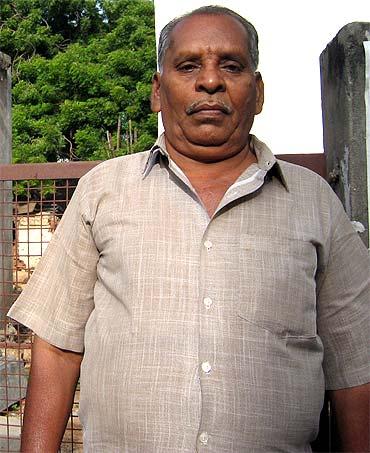 A Ganesh Nadar continues his series on the Jayalalitha government's crackdown on land grabbing in Tamil Nadu.
Part I: Jayalalitha cracks the whip on DMK land grabbers
Tiruchirappali is in the heart of Tamil Nadu, with the Cauvery flowing through it.
Tiruchi has registered a record number of land grabbing complaints: 290 petitions have so far been received by the anti-land grabbing cell; 14 cases have been filed. Some petitioners have got their land back.
Kamaraj Thevar, left, is one of those who got his land back after he petitioned the police after the change of government in the state in May.

Thevar, 60, migrated to Tiruchi 42 years ago from Rajapalayam in southern Tamil Nadu. He worked for a milkman, and later started a milk business. He worked hard and saved some money.
Four years ago he bought 1,120 square feet of land on Wallajah Road in the heart of Tiruchi.
"I had planned to build a commercial complex after five years," he says.
Six months after he bought the property, it was encroached upon by R Arivudainambi, the Dravida Munnetra Kazhagam's corporation council zonal chairman. Arivudainambi, adds Thevar, stationed animals -- cows and goats -- on his land. The DMK leader also dumped some wooden logs there.
Thevar asked Arivudainambi to remove the animals and wood. But Aruvudainambi told Thevar he had planned to buy that piece of property and that he should not have bought it. Thevar then offered to sell it to Arivudainambi at the price he had bought it -- Rs 800,000.
Aruvadainambi told Thevar he had paid too much for the land and it was not worth that much money. Thevar refused to sell the property at a lower price. Though he kept the land in his possession Aruvadainambi did not build anything on it.
Thevar did not complain to the authorities as he did not expect them to take any action. After the government changed in May, Chief Minister J Jayalalithaa announced that if anyone had lost their land they could complain to a special police cell she had set up.
Thevar then filed a written complaint with Tiruchi Police Commissioner E Masanamuthu's office. The same night he was called to the concerned police station. The police officers examined his documents and told him to return the next morning. This was in July.
At 10.30 am the next day, Aruvadainambi was arrested on land grabbing charges. The police made him remove the animals and wood from Thevar's land.
Thevar's property was then returned to him. He quickly built a wall around it, installed a gate and locked it.
A week later, people from the neighbourhood approached Thevar. They told him, 'You both live on the same street and belong to the same community, you have got your property back. Why do you want continue the enmity?'
Thevar agreed with them. His lawyer Muthukumar and Aruvadainambi's lawyer Om Prakash spoke to each other. "We decided to go in for a compromise," says Thevar.
Thevar met Commissioner Masanamuthu and told him, 'I am thankful to Jayalalithaa and the Tamil Nadu police for helping me get my land back. Now I have no problems.'
The police commissioner assured him that if he encountered any further problems he could always approach the police.
Aruvadainambi was released on bail. He later met Thevar and made his peace with him.
"We had lost all hope of ever getting the land back," says a relieved Thevar. "Now we are happy."