Generations of Indians don't quite grasp that there would barely be an India had it not been for the Sardar whose steadfastness and guile stitched together that which had been united only in philosophy and spirituality and sometimes not even then -- for thousands of years.
A fascinating excerpt from Hindol Sengupta's The Man Who Saved India, Sardar Patel and His Idea of India.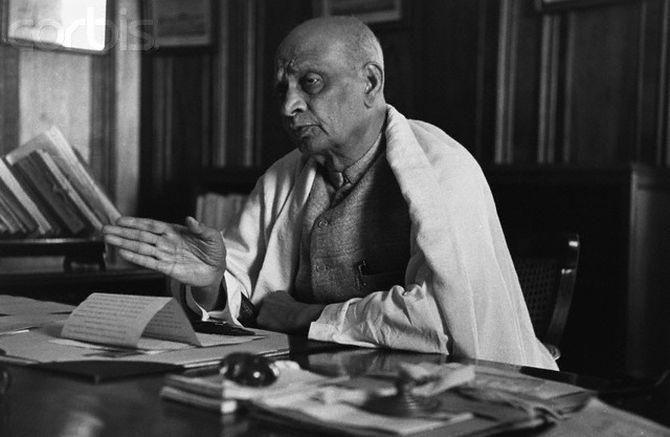 Patel died on 15 December 1950. It was in the ten years between 1940 and 1950 that this 65-year-old man (his age in 1940, but it could well have been more since the exact year of his birth is a bit of an assumption) changed the cartographic destiny of India.
Faced with a division of the country that none of the Congress leaders wanted, and Gandhi never agreed to till the end, Patel took it upon himself to save, indeed salvage and rescue, the rest of the country from breaking up into pieces.
The journey through these ten years is over a bitter path, fraught with quarrels, heartbreak and schisms that all but broke the ties between the men who won India its freedom.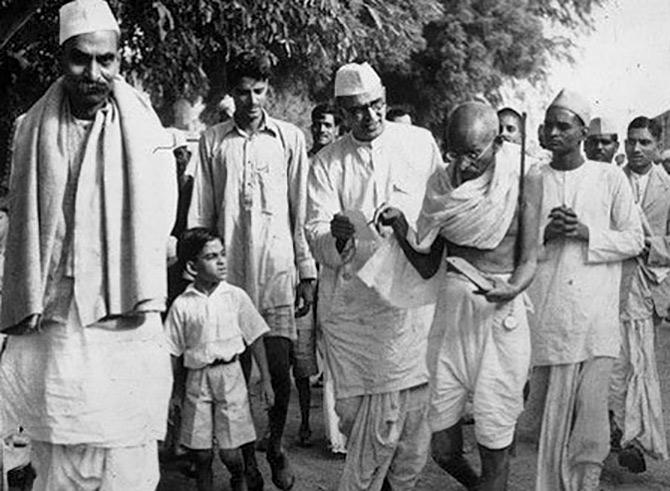 In tone and verve, freedom for India would assume mythical proportions in everything -- from the cataclysmic hatred, bloodshed and shenanigans to the epic morality and courage, superhuman tenacity and the debris that glows ominously even seventy years later.
In the end, freedom, for Gandhi certainly, and for the subcontinent, would be a pyrrhic victory -- India would never be the same again.
But generations of Indians don't quite grasp that there would barely be an India had it not been for the Sardar whose steadfastness and guile stitched together that which had been united only in philosophy and spirituality and sometimes not even then -- for thousands of years.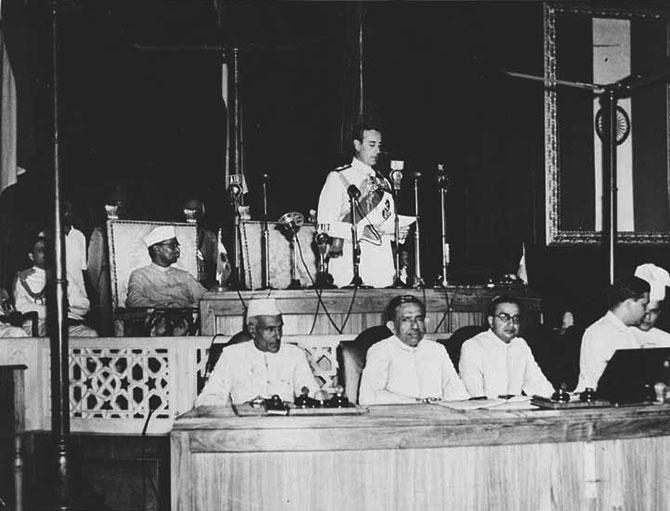 Patel had spent the 1930s not only clashing with the British for India's freedom but also facing some of the most vicious attacks, including attempts on his life, and fighting for democracy in the princely states of India ruled by an assorted bunch of rajas and maharajas operating under a British umbrella.
In October 1935, in Madras, he spoke about how the people of the princely states had the same rights to freedom as citizens living in those parts of India under direct British control.
In June 1936, writing from Ooty, he said, '[I]t is quite unsafe for the princes to believe that they can maintain a despotic rule.' In 1937, he visited the princely states of Mysore and Rajkot to push them for a more representative government for their subjects.
In May 1938, he was in Sangli, Rajasthan, where he spelled out, 'There are six hundred native states in India. There is no country in the world which has so many states. Some states are so small that even a person who rules over six or seven villages announces himself a ruler. Simply because the kings wear a crown, they do not become totally independent. They are also slaves, and we who are their subjects are slaves of slaves.'
'Though there are so many native states, India is a unit which has unity of a unique type. All the differences have been created by the foreign government in order to firmly establish their rule here.'
Patel blamed the British for allowing despotic rule in many of the states. 'The atrocities committed by native state rulers knowingly or unknowingly are under the impression that the [British] empire is at their back. But only corpses can be ruled like that. Everywhere despots are being overthrown.'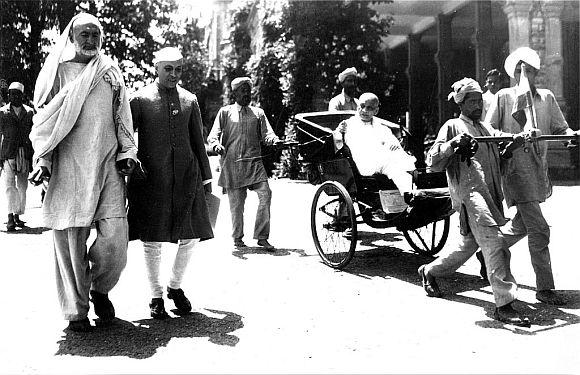 In August 1938, at Rajkot, he warned his listeners: 'Today in Rajkot the law of the jungle prevails... Today there is revolt in the whole world. Kings hearing echoes of the revolt. They have understood by now that they are doomed so they are giving us least dose of atrocities. So we have to view Rajkot situation from that point of view.'
In Baroda in October 1938, Patel used the old carrot-and-stick when he said, 'In the country there are many people who believe that now native states should be totally abolished. People like me and Gandhiji are dreaming that the rulers will again become like the kings of the Puranic Age and ideal Ram Rajya conception will be implemented.'
The interesting thing in this speech is the duality -- on one hand the talk of the dream of Ram Rajya and a policy of friendly ties, and on the other he describes some states and their administration as garbage.
This sort of optimism and pessimism sums up the kind of relationship Patel had with many of the princely states.
'This is the policy of the Congress and Congress wants to have friendly relations with the rulers as far as possible. The state of Kathiawad is garbage, and the states of Central India are like gutters... The ruler has so much distrust over his own people that he thinks his own people will snatch the kingdom from him... To me the state is like a fruit which is attractive from outside, but it is rotten from inside. I want to stop that rot.'
In Rajkot in November 1938, he egged people on: 'In Rajkot there is not a single person who is pro-ruler. How long the ruler will indulge in lathi-charging? One day, two days, but on the third day the head of the devil will be crushed. If one who wields lathi is stoned, abused, then the devil will turn wild. But if without opposing him if he suffers, then there is a change of heart, and that is the significance of satyagraha.'
By December 1938, Patel had got what he wanted, at least to a degree.
A meeting with the local ruler that resulted in amnesty for all political prisoners who had been arrested for protesting the misdeeds of the ruler, the Thakore Saheb, and a remission of all fines. A procession of 50,000 residents of Rajkot marched through the city in celebrate this.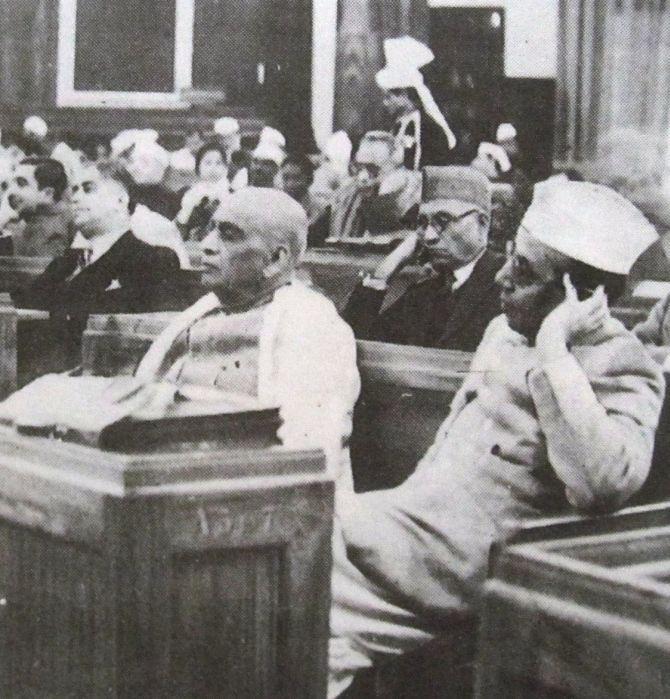 But sometimes this kind of activism extracted its price. Members of the royal entourage (more often than not Hindu) in different states incited mobs by telling them that Patel and Gandhi were against Muslims.
And armed gangs came looking for Patel and, once, even Gandhi. But Patel survived and persisted, constantly telling the various rajas that they could not escape the advancing wave of democracy.
One can see why by the time the 1940s came along, Sardar Patel had become a figure of awe and fear among the native princes. And Patel would use this power ruthlessly to build the India he wanted.
But in 1940, he was already disagreeing on the fundamental ideas of the future independent Indian State with Mahatma Gandhi, and even on the question of nonviolence in this, the seemingly last leg, of the freedom movement.
Excerpted from The Man Who Saved India, Sardar Patel and His Idea of India, by Hindol Sengupta, Penguin RandomHouse, with the publisher's kind permission.